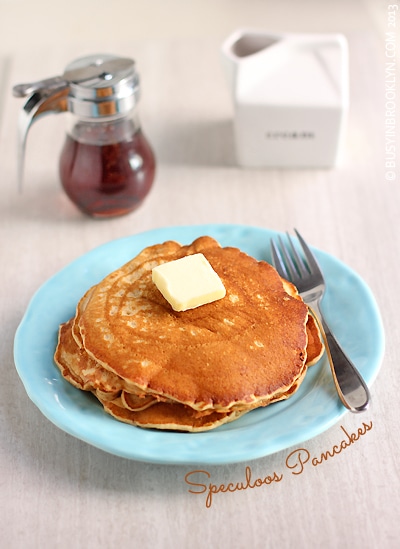 If you've read this post, you know all about my (not so) little obsession with speculoos cookies right now. My Lotus cookie cinnamon buns with speculoos cream cheese frosting were a huge hit, and I received several emails from readers who made them to rave reviews. After making 2 batches of speculoos chex party mix (recipe coming up soon!) I was running low on my spiced shortcrust biscuit stash, with only about 10 of them left (cookies, not packages…I'm not THAT crazy).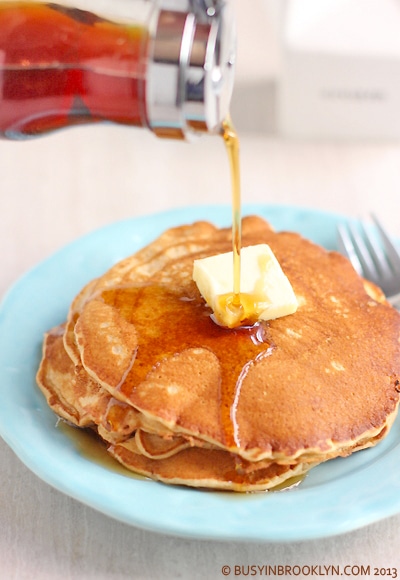 I pulsed the cookies into crumbs, leaving me with just about a half cup of golden delicious speculoos "flour". It was Sunday morning, and what better way to use it, than in pancakes. The hint of speculoos spice paired so perfectly with butter and maple syrup that my kids kept asking for more. The pancakes were gone before you could say speculoos.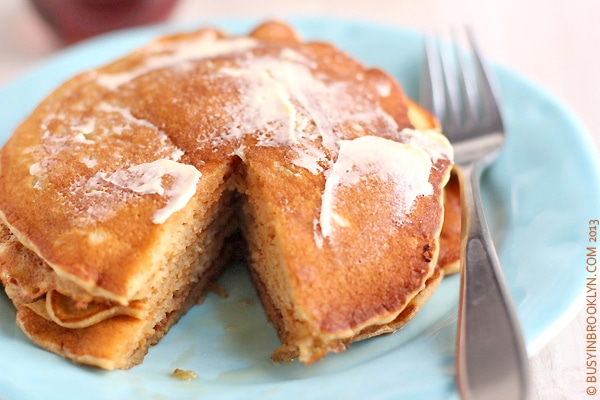 Forgive the load of pictures here, but do you see what I see? Butter. Pure Maple Syrup. Speculoos-scented pillows of fluff. I can drool over these all day.
What am I gonna do now that I'm out of speculoos cookies?!
P.S. If you live under a rock and you STILL don't know what speculoos is, you can read all about it in this post.
Speculoos Pancakes
1/2 cup speculoos cookie crumbs (from approximately 8 cookies)
1/2 cup flour
2 tsp baking powder
3 tbsp sugar
1/2 tsp salt
pinch of cinnamon
1 egg
1 cup milk
2 tbsp butter, melted
butter, for frying
Method:
Pulse speculoos cookies (I used Lotus caramelized biscuits) in a food processor or blender until crumby.
In a bowl, whisk the speculoos cookie crumbs, flour, baking powder, sugar, salt and cinnamon. In a separate bowl, light beat the eggs and add milk and butter, mixing lightly to incorporate. Add the dry ingredients to the wet ingredients and mix together with a fork until the batter is slightly lumpy.
Heat a nonstick skillet and grease lightly with melted butter or oil. Spoon 2-3 tablespoons of batter into the skillet and cook until bubbles appear. Flip the pancake and cook on the other side, until golden. Repeat with remaining batter.
Yields approximately 12 pancakes.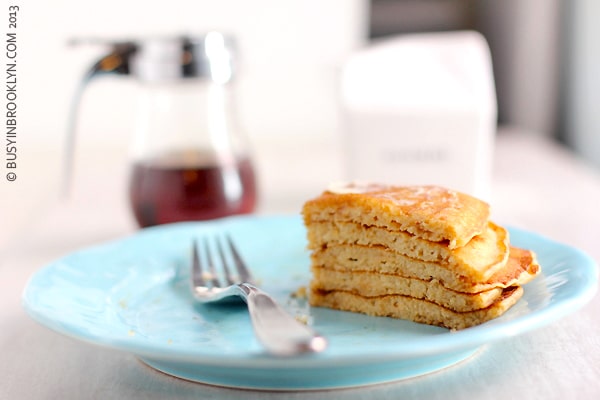 1 year ago: kid-friendly dirty rice
2 years ago: quick, easy & tasty chicken