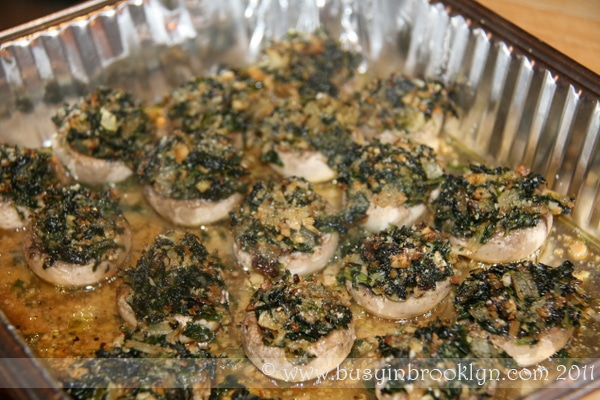 I love stuffed mushrooms and often order them in restaurants. They're usually filled with parmesan and bread crumbs or covered in a cheesy crust. You may also find them in a pool of marinara sauce. Whatever their filling, stuffed mushrooms serve as a delicious appetizer or side dish. Here is a pareve version that can be served alongside a  fleishig meal.
Check out my tutorial on how to clean mushrooms!
Spinach Stuffed Mushrooms
2 packages stuffing mushrooms, stems removed and finely chopped
1 small onion, diced
2 cloves garlic, minced
1-2 cups frozen spinach, thawed and squeezed of excess water
Salt, to taste
freshly ground black pepper, to taste
flavored breadcrumbs
olive oil
Method:
Saute onion in olive oil until translucent. Add garlic and continue to saute until fragrant. Add chopped stems, sauteing until golden. Add spinach, season with salt and pepper and continue to saute until incorporated. Spoon mixture into mushroom caps. Sprinkle lightly with flavored breadcrumbs. Drizzle with oil and sprinkle with salt and pepper. Bake, covered, at 350 degrees for 30 minutes. Uncover and bake for another 5-10 minutes.