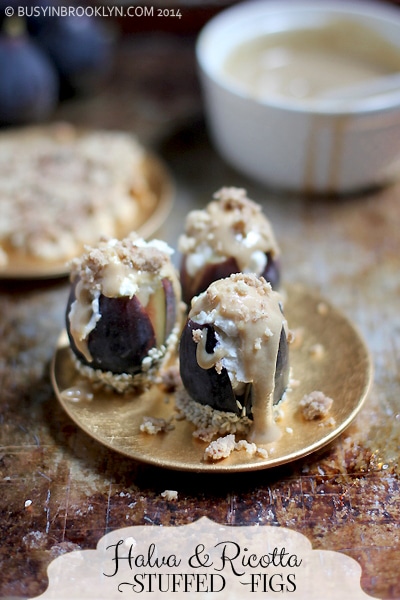 Recently, I was lucky enough to attend a fabulous kosher foodie potluck, arranged by the talented Kim Kushner, author of The Modern Menu. It was such an honor to meet Kim and taste her delicious food! She blogged about our amazing evening under the stars here.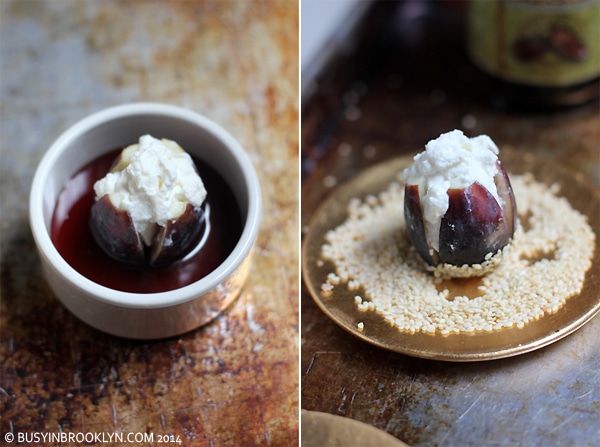 Kim set up the most beautiful tablescape on a rooftop in Midtown Manhattan (which also happens to be her husband's office). With the help of Marzan Flowers, and other generous sponsors, the table was set with a rustic vibe and the most amazing swag! We were surrounded by the New York City skyline, the most incredible kosher food, and the who's who of the kosher blogging world.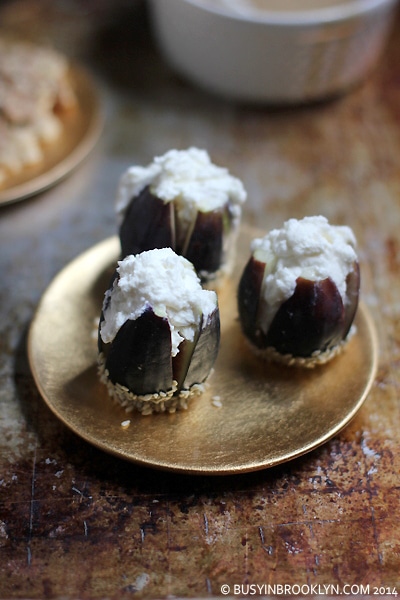 Since it was a potluck, each guest was required to bring a kosher dish (or two), all of which were laid out on a round buffet table. I made my malawach cheese pastries with tomato & schug dipping sauce, plus some incredible goat cheese popovers! Some of the other dishes included nachos by The Patchke Princess, creamy hummus, salmon, roasted veggie salad and pavlova by Kim Kushner Cuisine, fava beans by BeautyandsomeBeef, panzanella salad with cashew bread and s'mores caramels by KitchenTested.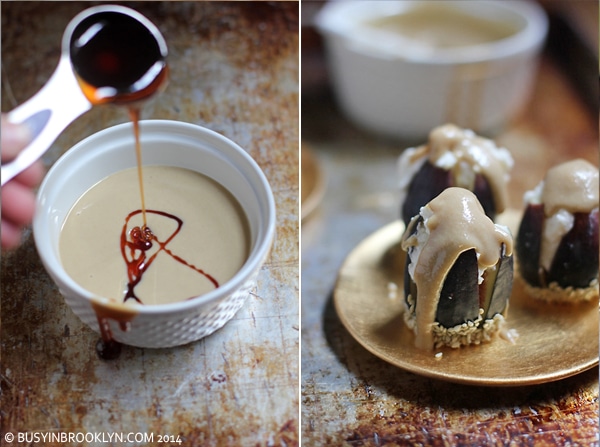 We also had some famous kosher Instagrammers like @cookinginheels, @chefchaya and @theghettogourmet who brought drunken fish tacos with pickled onions, cronuts with nutella pastry cream and Asian quinoa lettuce wraps, respectively.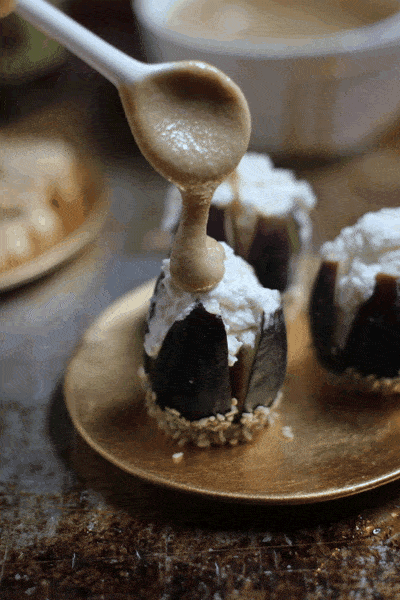 What has all that got to do with these AMAZING, droolworthy stuffed figs?! Well, BeautyandsomeBeef made the simple ricotta stuffed figs that inspired these halva-drenched ones! Check out these pics for a peek!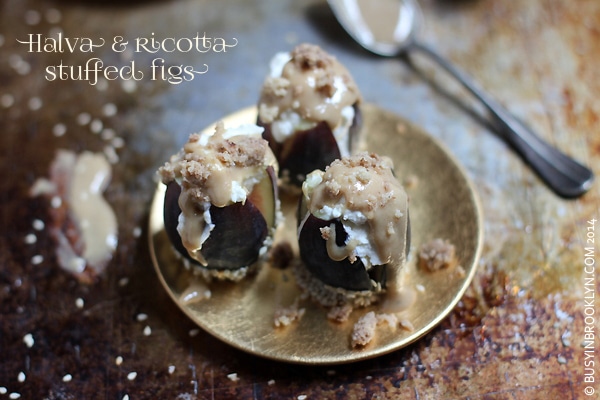 I'd heard of ricotta stuffed figs with honey before but I'd never tasted them until the potluck. I couldn't believe how such a simple dish could taste so fantastic! Of course I couldn't stop thinking about how I could make them even better…and then THESE happened.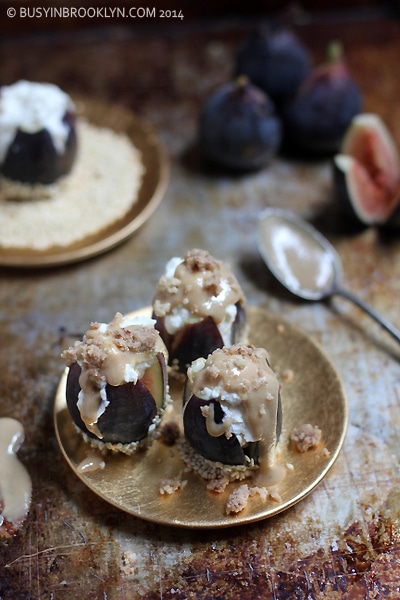 And by these I mean the insanely decadent jewels of perfection you see here. Fresh seasonal figs stuffed with ricotta, dipped in silan and sesame, dripping with sweetened tahini sauce and finished with halva crumbs. Shall I get you a napkin?!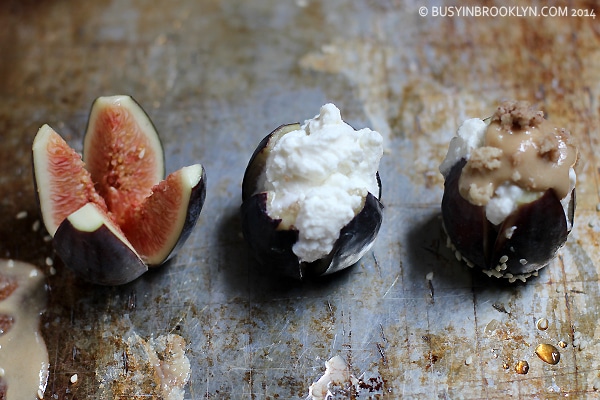 If you've never heard of silan before – hop on the silan train because it'll take you to syrup heaven! Silan is a honey syrup made from dates. It's got an intoxicatingly rich flavor that is so much better than whatever else you've been using! When mixed into tahini paste, it creates the most decadent halva sauce that you'll want to eat by the spoonful! It's interesting to note that when the Torah speaks of honey it is actually referring to date honey. Israel, the land of halva and "Milk & (Date) Honey" is what inspired this Middle-Eastern twist on a classic recipe!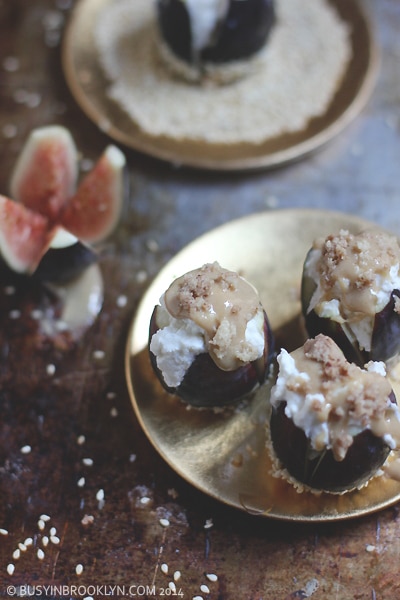 Do yourself a favor and grab some fresh figs, before the season is over! 
Halva & Ricotta Stuffed Figs
1 pkg (16 oz.) fresh figs
1 15oz. container ricotta cheese
1/2 cup tahini paste
2 tbsp silan (date syrup), plus more for dipping
sesame seeds, for dipping
chopped halva, for garnish
Method:
In a small bowl, add 2 tbsp of silan and 1/2 cup tahini paste and stir until combined. If the mixture is thick, add water until it's thin enough to drizzle over the figs.
Trim the tips of the figs to remove the stems. Cut an X shape into each fig, as if you are cutting it into quarters, but do not cut all the way through. Using a small spoon, fill each fig with a generous dollop of ricotta cheese.
Pour some silan into a small bowl, and place sesame seeds onto a small plate. Gently dip the bottom of the figs in the silan, letting the excess drip off. Dip the silan-coated figs into the sesame seeds to coat.
Place the figs on a serving plate and drizzle with tahini sauce. Garnish with chopped halva.
NOTE: if you tahini has separated, stir well with a spoon before using or turn the jar upside down for 30 minutes.
VARIATION: If you cannot find silan (available at Middle Eastern stores), you must use honey instead.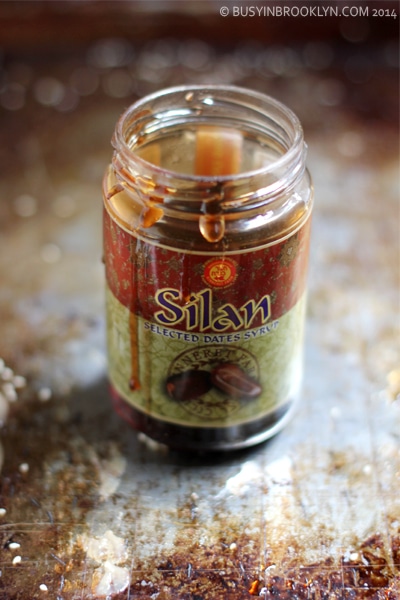 Related Recipes:
breakfast quinoa with silan roasted figs
grilled cheese with figs and honey
holiday fig salad