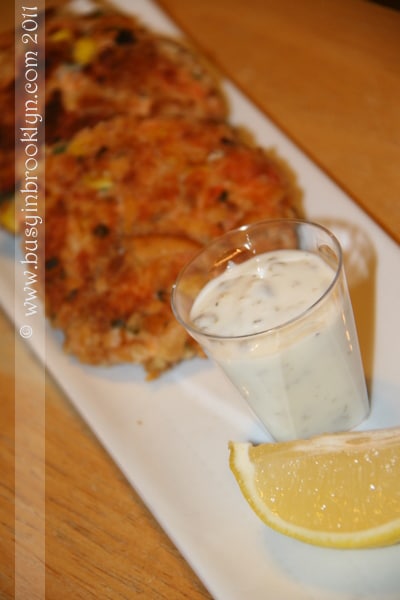 I love fish cakes, but I rarely make them. I'm always ordering them in restaurants. I've made salmon cakes before, but only using canned salmon. The result is usually quite fishy and fishy just doesn't fly in my house. When I saw this recipe for salmon patties using fresh salmon, I just had to try it. And let me tell you people, I don't think I can ever go back! These croquettes were crunchy on the outside, full of flavor, and not fishy at all! My husband is the ultimate meat and potatoes kind of guy, and when he saw that I made fish cakes, he kind of rolled his eyes. But then he tasted them. And tasted them again. ZERO fishiness. TONS of flavor. And the sauce was equally delicious! Light, creamy, and lemony.
I doubled the recipe and froze some of the patties. I also refrigerated a few for lunch the next day. They are delicious on a baguette with some mayo or tartar sauce.
Snacker-Crusted Salmon Croquettes with Lemon-Caper Yogurt Sauce
adapted from a recipe by Giada de Laurentiis
Salmon:
1 pound skinless salmon fillet (about 2 large slices)
Olive oil, for drizzling
Kosher salt and freshly ground black pepper
Patties:
1 large egg, beaten
1/3 cup (1/2-ounce) chopped fresh chives
15 snackers, crushed (for filling)
1 package snackers (or Ritz crackers), crushed (for crust)
1/2 cup frozen corn, thawed
2 tablespoons Dijon mustard
3 tablespoons mayonnaise
1 tablespoon capers, rinsed and drained
1 tablespoon lemon juice
1 tablespoon lemon zest
canola oil, for frying
Sauce:
1/2 cup plain lowfat yogurt, such as J&J
1 1/2 tablespoons capers, rinsed, drained and chopped
1 tablespoon lemon juice
1 tablespoon lemon zest
Kosher salt and freshly ground black pepper
Method:
Salmon: Preheat the oven to 400. Drizzle the salmon with olive oil and season with salt and pepper, to taste. Put in a baking dish and bake until just cooked through, about 15 minutes.
Patties: Using a fork, flake the salmon into 1/2-inch pieces and put into a medium bowl. Add the egg, chives, 15 crushed crackers, the corn, mustard, mayonnaise, capers, lemon juice, and lemon zest. Mix gently until just combined. Form the mixture into 2 1/2-inch diameter patties, about 3/4 inches thick. Carefully coat the patties in the package of crushed crackers and refrigerate for 1 hour. In a large nonstick skillet, heat the oil over medium heat. Add the patties and cook until golden and crispy, about 7 to 8 minutes each side. Drain on paper towels.
Sauce: In a small bowl, mix together the yogurt, capers, lemon juice, and lemon zest. Season with salt and pepper, to taste.
Arrange the salmon cakes on a platter and serve alongside the sauce.
Notes:
If the mixture seems too wet to form patties, refrigerate for an hour or longer until mixture is set.
If the mixture is too dry to form patties, add extra mayonnaise, 1 tablespoon at a time.
To crush crackers, put into a Ziploc bags, and crush with your hands.