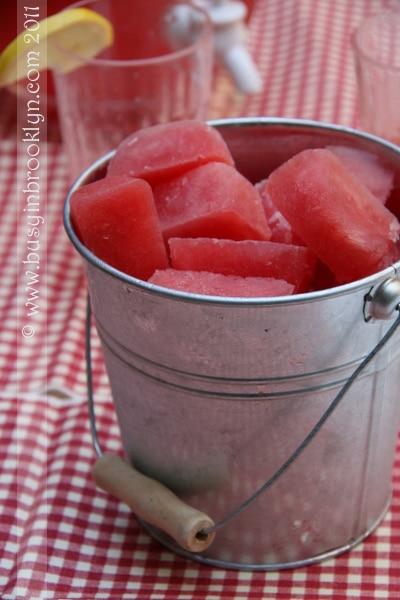 The weather here in New York last week was truly unbearable, with temperatures over 100 degrees. I am the kind of person that just cannot stand the heat. Anything over 75 degrees is too hot for me. But of course, I cannot control the weather, so I need to come up with ways to deal with it. If there's a heat wave going on, I usually don't leave the house. Otherwise, on hot days, I tend to go from my house, to the car, to any indoor place with air conditioning. If I have to be in the sun, I make sure to have cold water with me, and if there is a sprinkler around, I'm more than likely to drench myself!
It was one such day that I was dreaming up some ideas for an ice cold drink to cool off with. I decided to make some lemonade, but instead of traditional ice cubes that tend to water down beverages, I opted to make some cranberry-juice ones to turn it into pink lemonade. I was about to head out for some lemons when the amazing food guru Alton Brown tweeted about watermelon iced cubes. Brilliant! I knew I had to make them!
Ice cubes are a great way to cool down on a hot summer's day. Here are some other fun ice cube ideas:
– For iced tea or coffee, make a tray of tea or coffee ice cubes to keep your beverage cold without watering it down.
– Citrus ice cubes are great for tea or cocktails. Juice lemons, limes or oranges and put a quarter slice of citrus in each cube.
– Decorate your ice cubes with sprigs of mint, maraschino cherries, or edible flowers.
– Coke and ginger ale ice cubes are a great addition to any cocktail.
– Punch ice cubes work well in a punch bowl for your next party.
Watermelon Ice Cubes
watermelon
food processor, blender or juicer
bowl or pitcher
mesh sieve, strainer or cheesecloth
ice cube trays
Method:
Cut up watermelon into pieces (they don't have to be perfect, you'll be blending them anyway). With a spoon, scrape away any leftover bits of watermelon off the rind. Blend the watermelon in a grinder until pureed. Over a bowl or pitcher, pour the mixture through a strainer and press pulp to remove all the juice. Pour watermelon juice into ice cube trays and freeze. If you have leftover juice, just remove the ice cubes from the tray, store in a ziploc bag and refreeze. You can make more cubes, or, add the juice to lemonade, or use it to make popsicles.
Yield: 1 quarter watermelon equals approximately 2 trays of ice cubes.