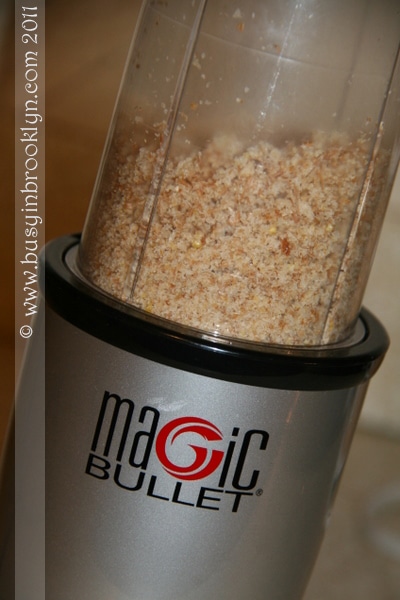 So many of us are stuck with leftover challa each week, wondering what to do with it.
You can:
1. Guiltily throw it away (and think about how they would give anything for a morsel of bread during the holocaust!)
2. Feed it to the birds (whenever I do this with my kids, they start feeding themselves the challa, instead of the birds!)
3. Make French Toast on Sunday morning.
4. Use it for Sunday lunch sandwiches.
5. Save it for bread pudding/challa kugel for later in the week.
6. Make stuffing for your leftover Shabbos chicken (I love to repurpose leftovers!)
7. Make garlic bread.
8. Make home-made croutons.
9. Make home-made bread crumbs.
10. Stuff it in your freezer, only to pull it out Erev Pesach and burn it with the chometz.
This week, I really wanted to make bread crumbs with my leftover Ezekiel English Muffin. Going into summer with lots of pregnancy weight left to lose, I'm trying to watch my carbs. I absolutely love Ezekiel bread because it is low in carbs (only 35 on the GI index), it's completely flourless and made of 100% organic sprouted whole grain making it a complete protein. You can read more about it here. I especially love the muffins because I can use them as burger buns, challa rolls, and in place of bagels. I usually take two rolls out of the freezer before shabbos, one for the Friday night meal, and one for Shabbos day. This week, I took out an extra one, and decided to use it to make healthy bread crumbs to use in meatballs and other recipes.
Making breadcrumbs is fairly easy. You'll need day-old bread (I prefer not to use stale bread, because you'll be left with stale bread crumbs), which has been left out to dry, or toasted at 300 degrees for 10-15 minutes (turning over in the middle). Once the bread has been dried and cooled, simply tear it into pieces and blend in the food processor until crumbly (but not too fine). If you wish, you may add oregano, basil, garlic powder and salt for seasoned bread crumbs.
Cool bread crumbs completely and store in an airtight container or freezer bag, date, and freeze. Lasts approximately 3 months.
You can find Ezekiel bread in the freezer section of many supermarkets and most health food stores.