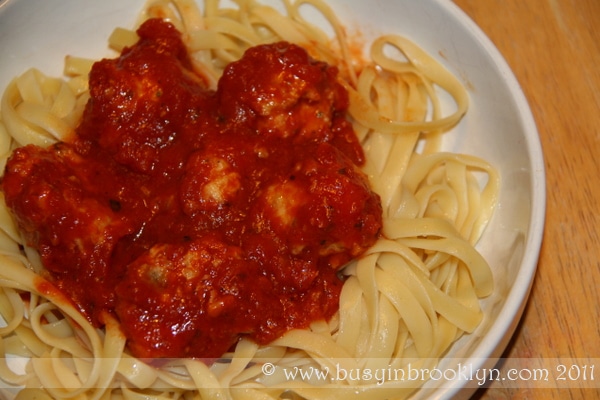 Because I have little kids, I find myself making meatballs quite often. These chicken meatballs are a refreshing change from the typical meatball and spaghetti dinner. You can make them small and serve as an appetizer or mix into marinara sauce and serve a' la classique.
PS I ran out of cocktail picks so that's why I used matchsticks, just in case you were wondering!
Baked Chicken Meatballs
2 lbs ground chicken
1 cup soft bread crumbs (from about 3 pieces of bread)
1 tbsp oregano
1 tbsp basil
2 tbsp minced onion flakes
1 tbsp garlic powder
1 tsp salt
1/2 tsp pepper
1/2 cup water
2 eggs
2 heaping tbsp tomato paste
chili sauce, for dipping
Method:
Preheat oven to 400 degrees. Combine bread, oregano, basil, onion, garlic, salt and pepper.  Add water and let it sit for a few minutes to soak up the liquid. (If using dry bread crumbs, increase the water by another 1/2 cup). Mix bread crumbs mixture with ground chicken, eggs and tomato paste. Form balls (if you find the mixture too sticky to handle, put it in the fridge to set) and place in a greased pan. Bake for 15-20 minutes or until cooked through.
NOTE: You can easily halve this recipe to make a smaller amount.