Busy in Brooklyn is giving away a ONE YEAR SUBSCRIPTION to Bitayavon Magazine. For a chance to win, "like" our facebook fan page (click the "become a fan" button on the side of the blog or go to www.facebook.com/busyinbrooklyn to get to our fan page). A winner will be chosen on Sunday, April 17th.
If you love cookbooks as much as I do, you probably love cooking magazines too. Cooking magazines, to me, are like mini cookbooks, with a lot more advice and interesting food-for-thought (pun intended!). And so back in the day, when eBay used to offer magazine subscriptions for next to nothing, I subscribed to a LOT of them. Here's the problem (besides for the fact that I had piles and piles of cooking magazines) – every page you turn to has another mouth-watering photo that you just have to make. Then you look at the recipe and either it has meat seared in butter, or it's loaded with nonkosher unmentionables. And so, after admiring the food photography of loads of magazines, I let the subscriptions run their course and I didn't renew a single one.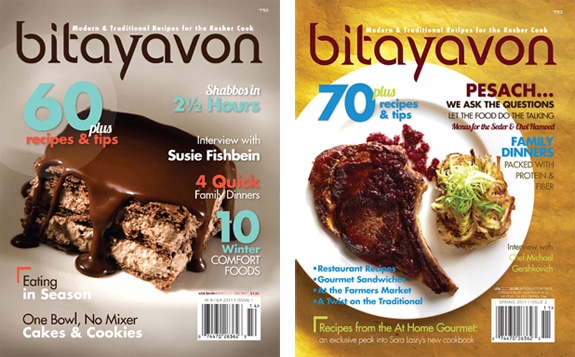 Imagine my excitement when I heard about the new kosher magazine, Bitayavon. I was first in line for their premiere issue back in February, and I couldn't wait for their spring edition. The premiere issue was full of exciting recipes, articles and tips. The spring issue shines even more, with brighter pictures and even better recipes (yes, even, and especially, the Pesach ones). You'll find a nice mix of simple fare for the on-the-go cook, and more advanced recipes for the gourmand.
The Pesach issue boasts over 70 recipes and tips. It starts off with protein-packed family dinners like Quinoa israeli salad and Bran Flake crusted turkey breasts. The "Going Gourmet" section is chock-full of original gourmet sandwich ideas such as Banh Mi, a Vietnamese recipe that uses leftover roast chicken as well as a Tiramisu sandwich using store-bought sponge cake. The recipes are paired with mouth-watering photos as well as additional winning recipes from the sandwich contest that was introduced in the previous issue.
The magazine continues with a twist on traditional recipes such as "gefilte fish crab cakes" and an "eggplant deli roll". These deconstructed recipes are creative and simple enough for the novice cook. It's Pesach section runs the gamut of fish, salads, meat/poultry, sides and desserts. Each recipe is clear with numbered instructions. You will find original preparations such as salt encrusted sea bass, as well as chicken noodles, all paired with an apropo wine.
Rounding out the issue are articles on kashrus, the kosher challenge abroad, seasonal recipes, an interview with a chef and a look at a cookbook, among others. The magazine is well thought out, with interesting topics and an all-encompassing menu (both in the articles and recipes) for the kosher consumer.
I guess I will be subscribing to a food magazine after all. This time, only one.
Bitayavon!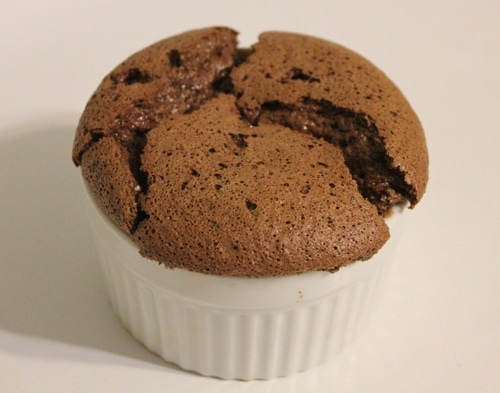 Chocolate Souffle
Servings: 8
12 ounces bittersweet chocolate
6 large egg yolks
12 egg whites
1 cup sugar
1. Preheat oven to 375 degrees.
2. Using pastry brush, brush sides of ramekin with oil and a sprinkle of sugar, put in fridge to keep cold.
3. Melt chocolate in a double broiler.
4. Mix egg yolks with melted chocolate.
5. Beat egg whites until foamy and slowly add sugar, mix until firm peaks form.
6. Incorporate 1/3 of egg whites into chocolate mix, mix well.
7. Gently fold in the remaining egg whites into chocolate mix.
8. Fill ramekins half way with souffle mix, gently bang ramekins on counter so batter will settle evenly.
9. Fill ramekins till the top. Smooth batter with a knife and run finger around edge of ramekin (helps souffle rise).
10. Place souffle in the oven and lower temperature to 350 degrees.
11. Bake for 12 minutes.
Thanks to Bitayavon Magazine for sponsoring the subscription.
Photos & Recipe courtesy of Bitayavon magazine.
{UPDATE added April 17th, 2011: Mashi Laufer of Brooklyn, NY has won the Busy in Brooklyn subscription giveaway! Congratulations Mashi and Chag Kasher Vesameach!}