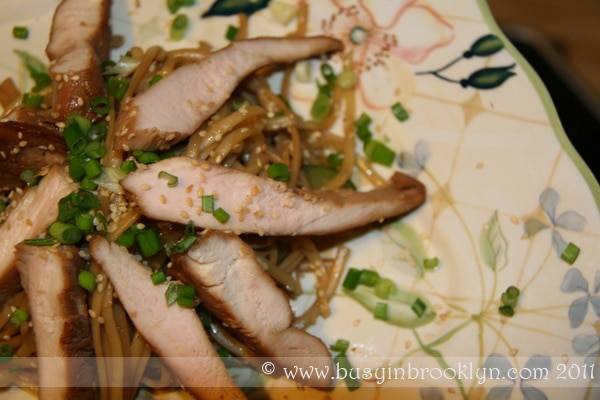 After having a baby recently, I was lucky enough to have some friends and family send me over dinner for the first two weeks. Needless to say, I felt really pampered to have hot and delicious food delivered to my door each day! Making dinner for a kimpeturin is such a wonderful mitzvah, one which I enjoy doing myself, and I encourage others to do as well. My friend Dina sent over a variation of this dish and it was a huge hit. Here is my adaptation:
Sesame Linguini with Marinated Chicken Breast:
For the pasta:
1 box linguini
1 onion, cut into half circles
1 zucchini, cut into half circles
1 container mushrooms, sliced
1 head baby bok choy
1/2 cup dark soy sauce
1/2 cup toasted sesame oil
1/2 cup sugar
3 scallions, for garnish
sesame seeds, toasted, for garnish
Method:
Prepare linguini according to package directions. Saute onion until translucent and add zucchini, bok choy, and mushrooms. Continue to saute until zucchini is tender-crisp. Add vegetables to pasta. Combine the soy sauce, sesame oil and sugar and pour over pasta.
For the chicken:
1/4 cup soy sauce
1/4 cup teriyaki sauce
1/4 cup dark brown sugar
4-5 boneless chicken breast
Method:
Mix soy sauce, teriyaki sauce and sugar. Pour into a ziploc bag to which chicken has been added. Marinate for 2-3 hours (or minimum 1 hour). Remove from marinade (you can discard it) and pan-fry the chicken over medium heat, using sesame oil to coat the pan. Cool and slice over pasta.
Note: Feel free to grill the chicken breasts. I, of course, was too lazy to shlep down my George Foreman, but if you have yours handy, I would recommend grilling over pan-frying (for health and taste!)
Garnish with sesame seeds and scallions.