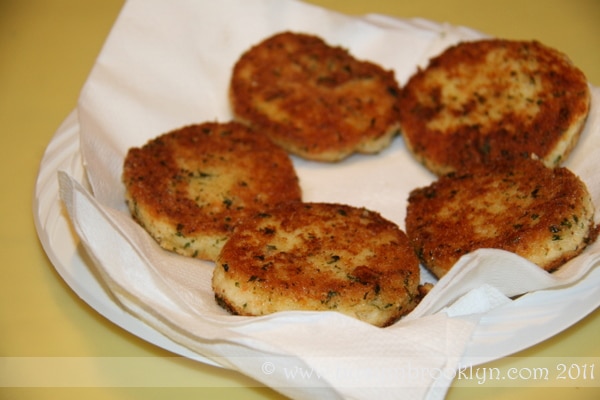 I think I have tried every possible cooking method for gefilte fish (many ideas to come in the future!)…boiled gefilte, baked gefilte, fish latkes, fish balls, gefilte loaf…Why? well for one, I like to change up the menu. I never make the same things for Shabbos, I'm always coming up with something different to try. Additionally, I love to entertain, and if you're having a lot of guests, fish can be quite pricey. Eight pieces of salmon can run you upwards of $30. Gefilte fish, even if you are making two packages, will run you about $5-$6 each.
My kids absolutely adore fish latkes. I even make it for supper on occasion. It's something about finger food, where they can just hold it in a napkin and bite into it, that makes them love it so much. I like to convince myself that it's packed with protein, but really, I do wonder, how much fish is there really in gefilte fish!
Breaded Gefilte Fish Patties
1 loaf gefilte fish
flavored bread crumbs
oil for frying
How to:
Leave the gefilte fish out to thaw slightly, just enough so that you can cut through it with a knife (but not too much otherwise it will not maintain it's shape and will turn to mush). Slice the loaf into 1/2″ pieces. Press pieces into flavored bread crumbs, coating all around. Heat oil in a skillet. Add fish to hot oil and fry until golden brown on both sides. Remove to paper towels to absorb excess oil.
For a healthier version, bake on a greased cookie sheet at 350 for 1 hour.
Variation: my friend, Rochel Leah, an avid follower of my blog (thanks Slaichy!), just called to tell me a little twist on this recipe. She lightly fries the patties, puts them in a dish, covers them with marinara sauce and bakes at 350.