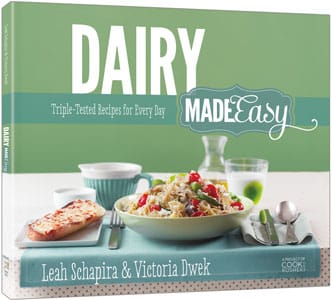 Leah Schapira & Victoria Dwek turn out new cookbooks faster than I develop recipes. Their latest addition to the Made Easy series is a fantastic collection of dairy recipes, just in time for Shavuot!
Like Starters & Sides Made Easy, Passover Made Easy, and Kids Cooking Made Easy, the Dairy edition is layed out in the same attractive, easy-to-read style. Even their cookbook-making skills seem made easy. They've mastered a template that provides a small soft-cover book that's beautifully styled, easy to flip through, and filled with tips and tidbits, all without seeming overwhelming. The beautiful pictures draw you in and the down-to-earth recipes make you want to open your pantry right then-and-there to whip up one of their quick and easy dishes.
Besides for 60 easy-to-make recipes, you'll also find a comprehensive cheese guide, a Make It Light section, a Make it Pareve Guide, and bonus serving ideas. Leah and Victoria fill each page with great tips, like how to measure frozen fruit, how to soften butter quickly or how to bake pizza without a pizza stone. They also share their thought processes and family anecdotes in a fun and friendly way.
What do I not want to make from this cookbook? It's filled with mouthwatering recipes for breakfast, great starters & sides, soups, salads & sandwiches, and of course pizza, pasta and dessert (hello 180 calorie cheesecake!).
Some of the recipes I look forward to trying are the granola thins, arancini, sweet chili home fries, stuffed sole, French mushroom soup, hasselback baguette, honey pomodoro pizza, cajun creamy penne, cheese buns, peanut butter creme brulee and strawberry cheesecake ice cream.
In honor of the upcoming holiday of Shavuot, I'm giving away a free copy of the Dairy Made Easy cookbook! To enter, simply leave a comment below with your favorite Shavuot dish. You can also follow Busy In Brooklyn via any of the channels below for an extra entry. Just be sure to leave a note in the comment letting me know where you follow.
Facebook
Twitter
Instagram
Pinterest 
Giveaway is open to U.S. residents only. Winner will be chosen at random at 10:00 AM EST on Monday, May 26th, 2014.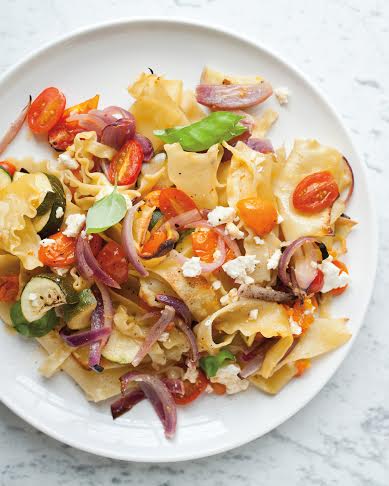 Baked Roasted Veggie Pasta
from Dairy Made Easy by Leah Schapira and Victoria Dwek
Reprinted with permission from the copyright holders: ArtScroll/Mesorah Publications
http://www.artscroll.com/Products/DMEP.html
8 servings
INGREDIENTS
1 lb fusilli or penne pasta
2 pints cherry tomatoes, halved
2 red onions, cut into wedges
1 zucchini, cut into half moons
¼ cup olive oil
½ tsp garlic powder
kosher salt, to taste
coarse black pepper, to taste
6 oz feta cheese, crumbled
1 Tbsp chopped fresh or frozen basil
INSTRUCTIONS
1. Prepare pasta according to package directions.
2. Preheat oven to 400°F. In a 9 x 13-inch pan, combine cherry tomatoes, red onions, and zucchini. Toss with olive oil and garlic powder. Bake for 30 minutes, stirring occasionally.
3. Add pasta to vegetables and mix well. Season with salt and pepper.
4. Preheat oven to broil and broil for 10 minutes, stirring after 5 minutes.
5. Add feta cheese and basil; stir to combine (the heat will melt the cheese). Serve hot or at room temperature.
Tips:
-You can add more veggies to the mix. We also love this pasta with red peppers instead of tomatoes.
-We made the pasta in this photo using broken lasagna sheets.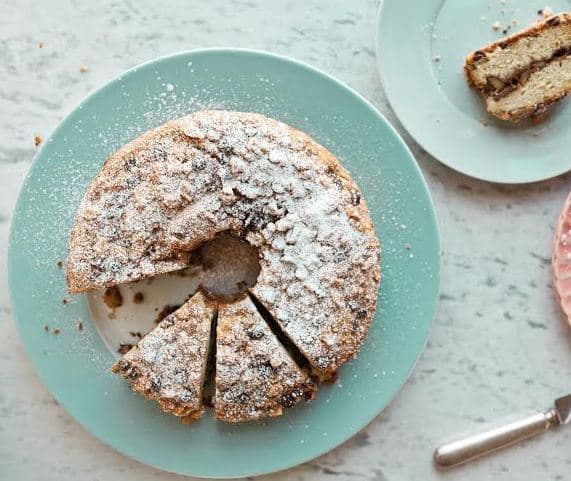 Sour Cream Chocolate Chip Cake
from Dairy Made Easy by Leah Schapira and Victoria Dwek
Reprinted with permission from the copyright holders: ArtScroll/Mesorah Publications
http://www.artscroll.com/Products/DMEP.html
12 servings
Batter:
1 cup sour cream
1 tsp baking soda
½ cup (1 stick) butter
1 cup sugar
2 eggs
1 tsp vanilla extract
1 tsp almond extract
2 cups flour
1 tsp baking powder
Chocolate Nut Mixture:
1 (10­oz) bag chocolate chips
2 cups coarsely chopped walnuts
1 tsp cinnamon
¼ cup sugar
1. Preheat oven to 350°F. Grease a 10­inch tube pan.
2. In a medium bowl, combine sour cream and baking soda.
Sour cream should bubble and expand. Set aside.
3. In the bowl of an electric mixer, combine butter and sugar.
Beat until light and creamy. Add eggs and extracts.
4. Add half the flour and baking powder. Add sour cream mixture,
then remaining flour. Beat until just combined. Do not overmix.
5. In a medium bowl, combine chocolate chips, walnuts,
cinnamon, and sugar. Sprinkle some of the chocolate nut mixture into the  pan. Add half the batter over it, then half of the remaining chocolate ­nut mixture. Add remaining batter and top cake with remaining chocolate­ nut mixture. Bake for 50­-60 minutes, until top is firm and crispy. Let cool for 10 minutes before removing from pan.