I have to admit that I like to stay out of politics. Especially this year, with Covid, the BLM movement, and the Biden/Trump campaigns, it's a LOT. Most days I'm just struggling to get dinner on the table and my kids into bed!
But I definitely recognize that as a proud American, I have the privilege to VOTE. It's my patriotic right, no, duty, to have my voice heard!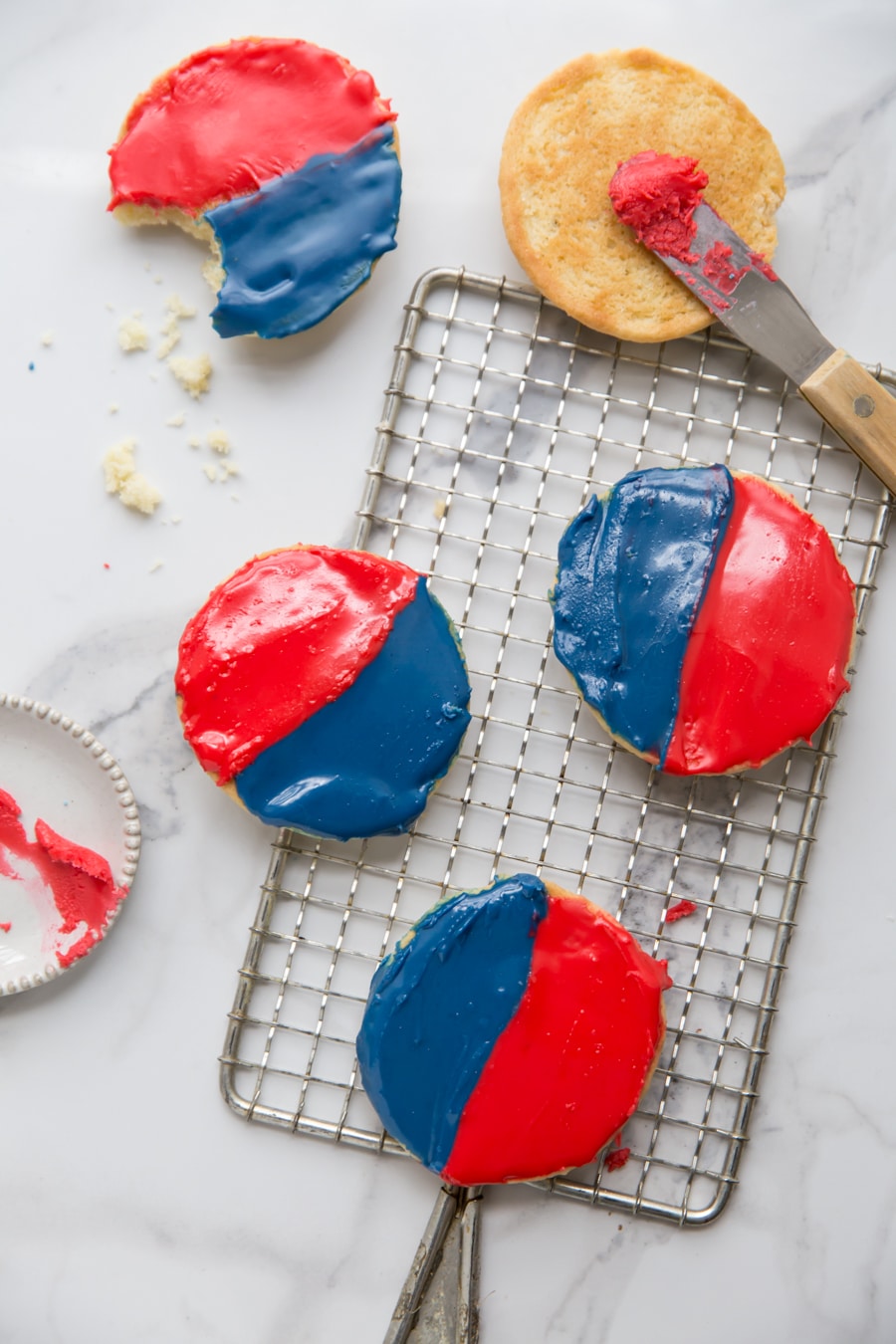 I'm thankful to live in this country, with all it's craziness these days, and even though I steer clear of politics, and I definitely don't believe in pushing a political agenda on a food-related platform, I still encourage you to go out and V-O-T-E.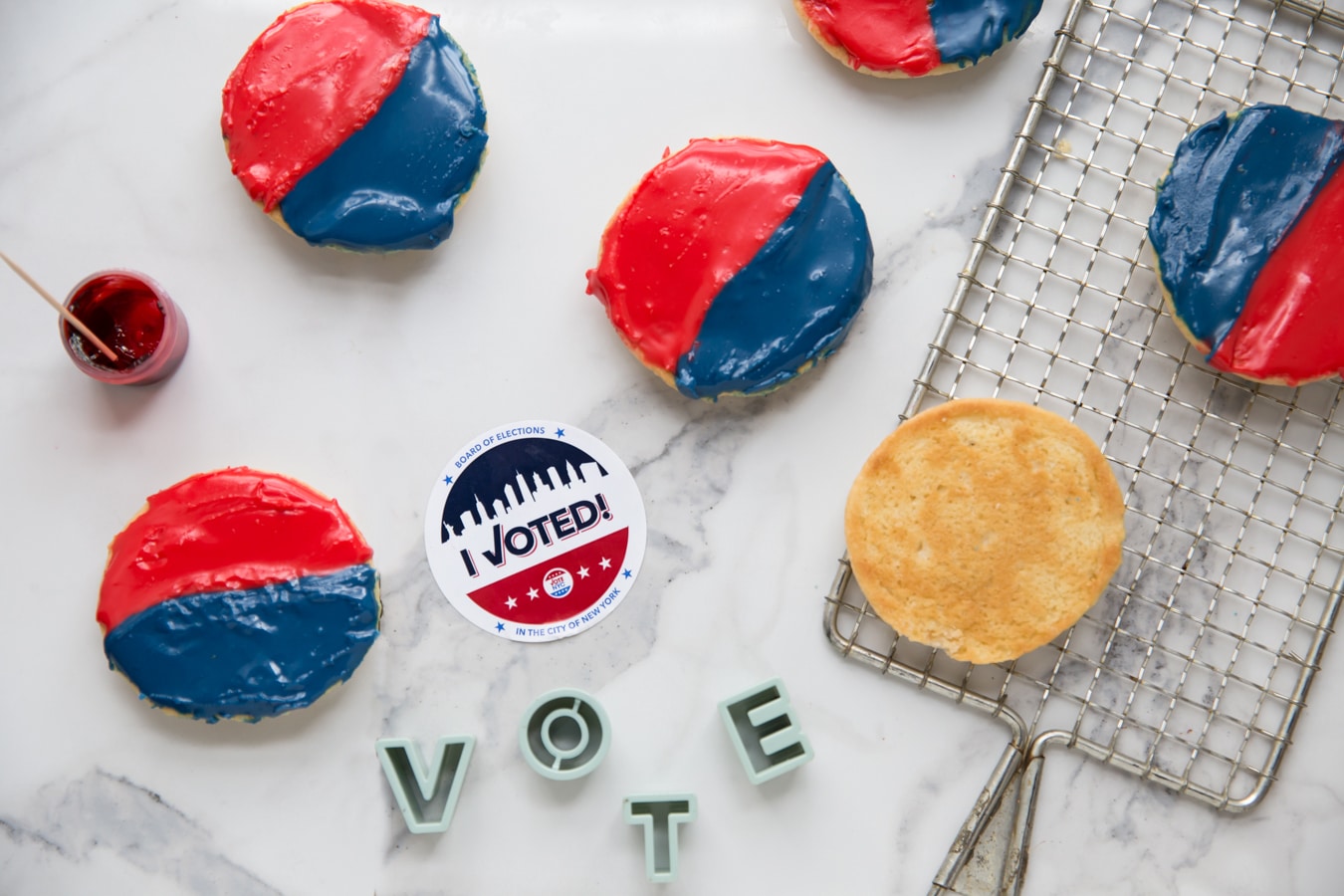 So in honor of election day, which only comes around every four years, I thought it would be fun to bake up some black and white cookies, but patriotic. How fun?!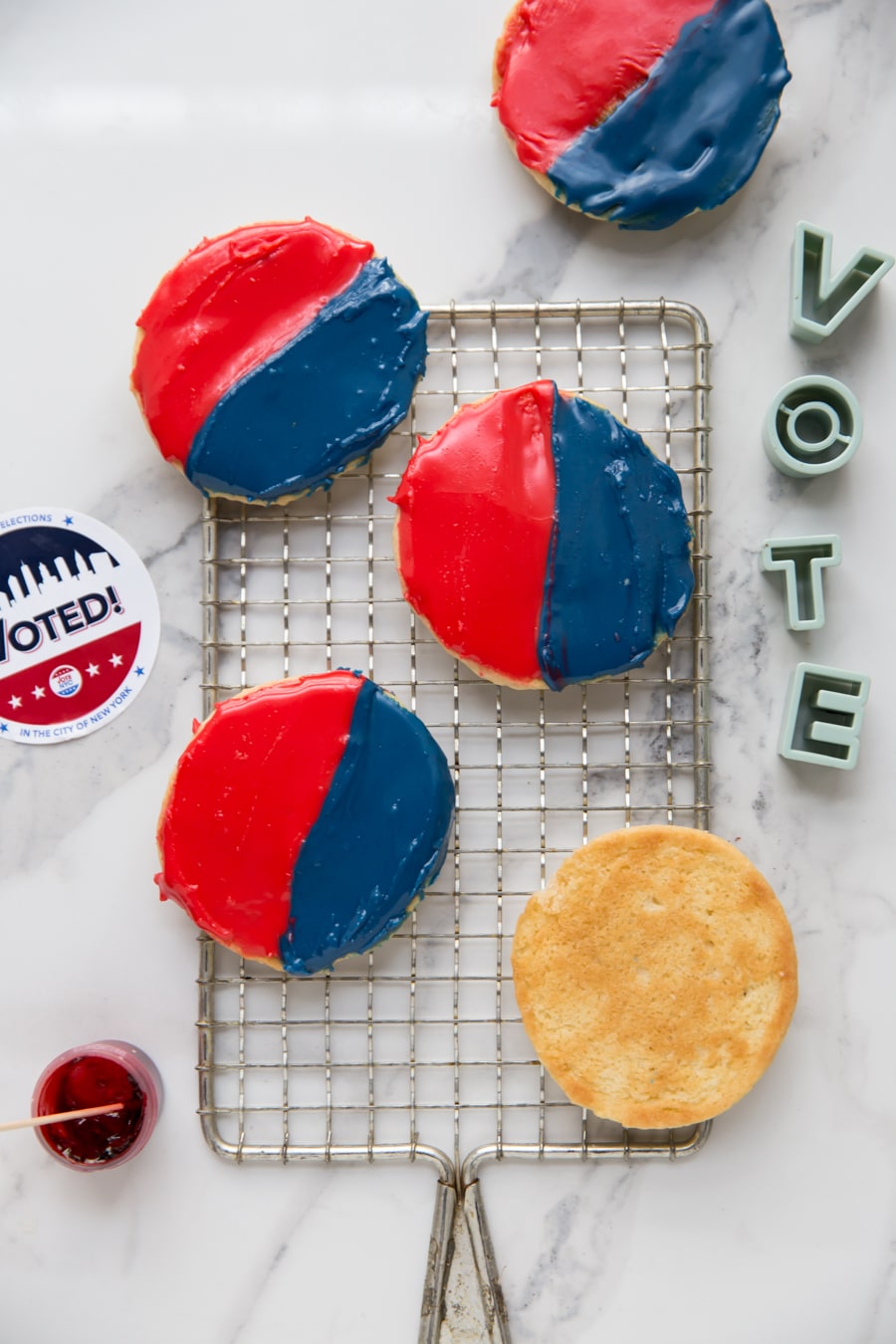 I had a blast making these and after researching a whole lot of recipes, I really kept it simple without any cake flour or lemon extract – just simple ingredients that you have at home so you can whip these up easily. Sour cream is necessary though, for that tender crumb, but you can easily go pareve with vegan sour cream.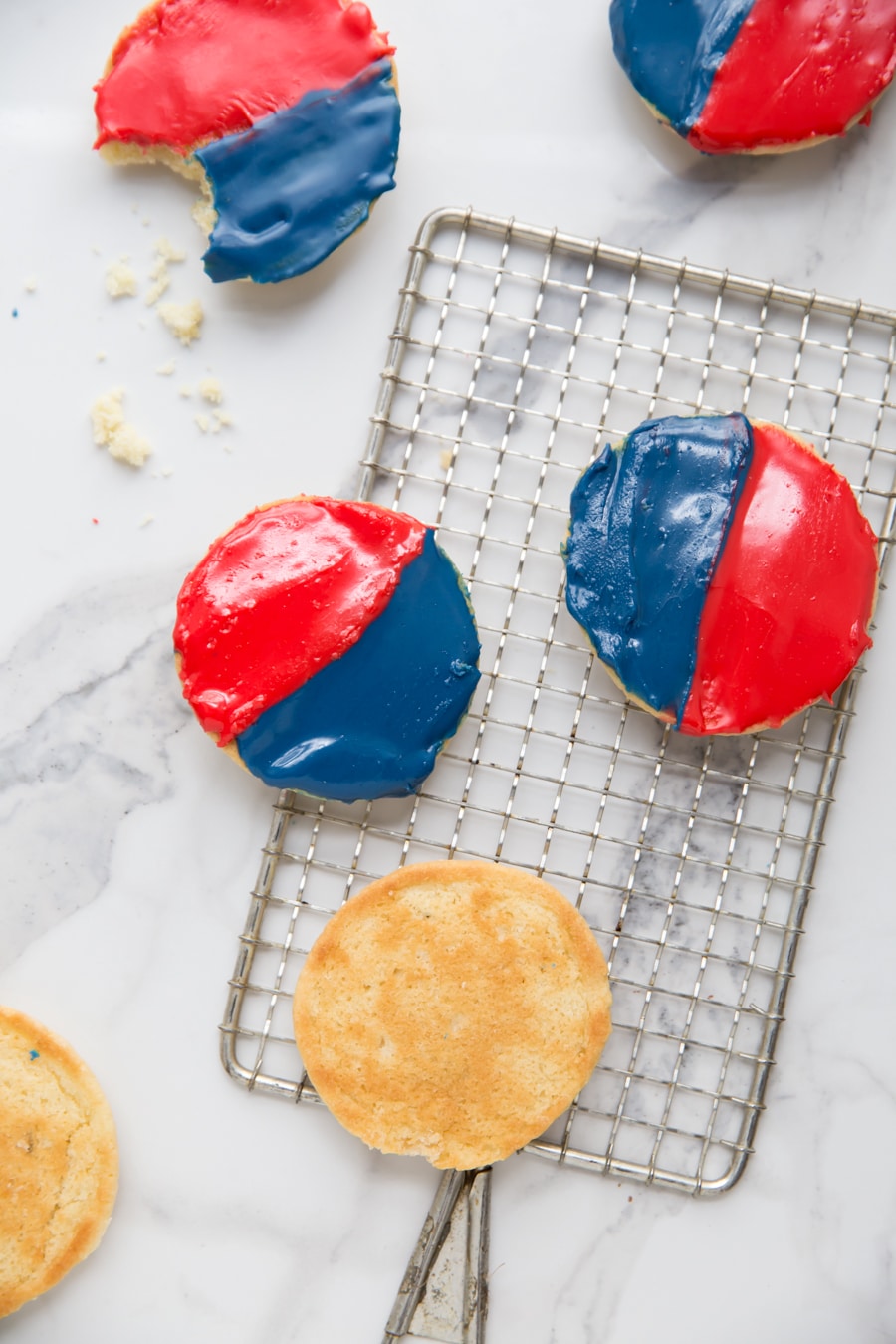 Feel free to use this recipe for class black and whites, just stir some melted chocolate into half the glaze and omit the food coloring!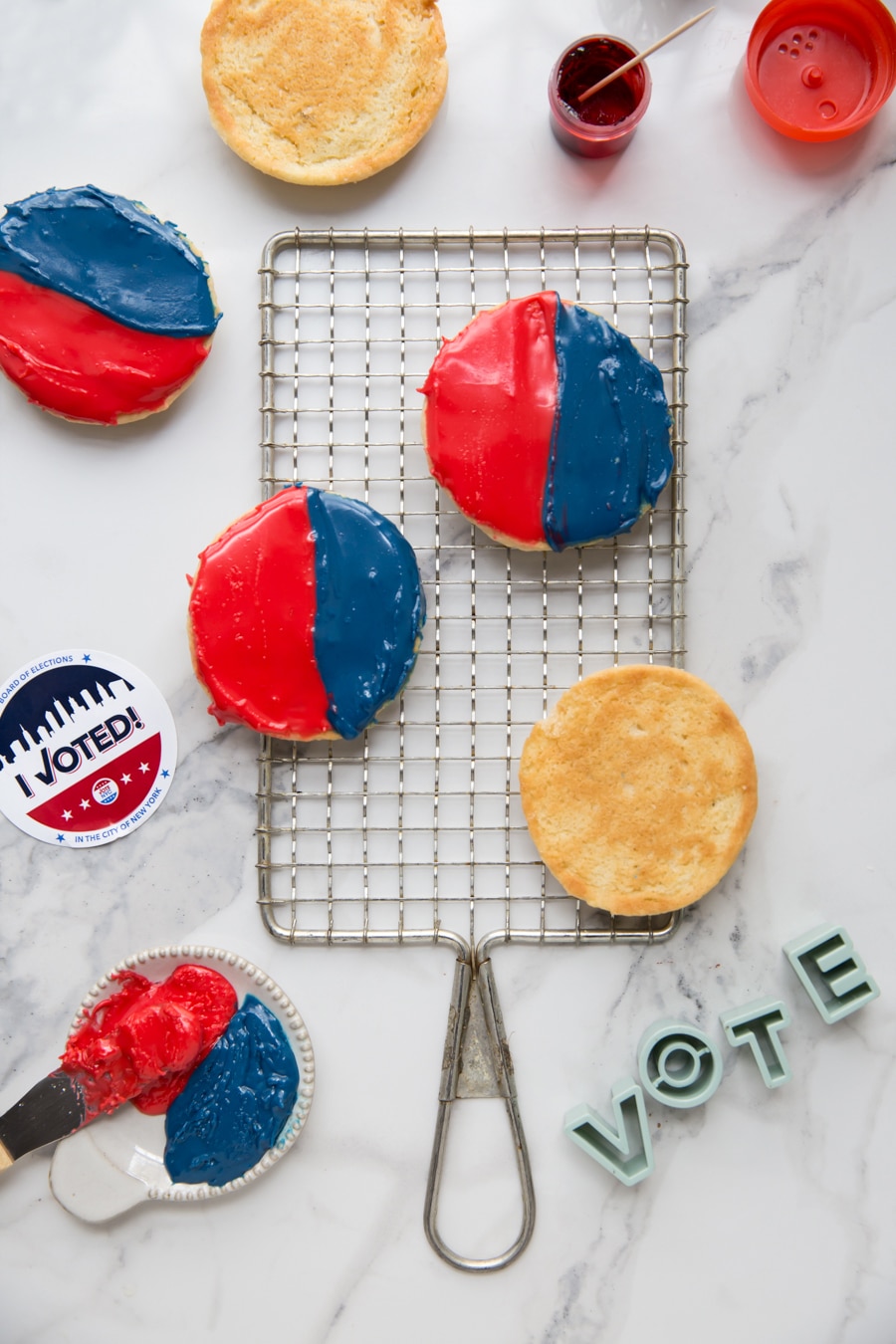 Election Day Cookies!
10 tbsp unsalted butter or trans-fat-free margarine, softened
1 cup sugar
1 egg
1/2 tsp vanilla extract
1/4 tsp almond extract
1/2 tsp lemon zest
1/3 cup sour cream (may use vegan for pareve)
1 3/4 c all purpose flour
1/2 teaspoon baking powder
1/4 teaspoon baking soda
1/4 teaspoon salt
Glaze:
2 ½ cups confectioners' sugar
milk, as needed
1 ½ tablespoons light corn syrup
1 teaspoon vanilla extract
blue and red food coloring
Method:
Preheat oven to 350 degrees. Line two baking sheets with parchment paper. Bring the butter, egg and sour cream to room temperature.
In a medium bowl, whisk together flour, baking powder, baking soda and salt.
In the bowl of an electric mixer fitted with the beater attachment, beat together butter and sugar until light and fluffy, about 3 minutes. Add egg, scraping the sides of the bowl as necessary. Add in vanilla extract, almond extract, lemon zest and sour cream until just incorporated.
Reduce speed to low and beat in the flour mixture.
Dollop 3 tablespoons of batter (a small ice cream scoop) onto prepared baking sheets, spacing them 2 inches apart. Bake for 12-15 minutes until browned only on the bottom.
Transfer baking sheets to wire racks and cool completely.
To make the glaze, place the confectioners' sugar in a medium bowl and mix in about 1-2 tablespoons of milk,  corn syrup, vanilla and salt. Stir with a spoon until you have a very thick yet spreadable frosting (it will thin out further when you add the food coloring). Divide the frosting in half and add in the food coloring. Flip each cookie over and spread the glaze over the flat side of the cookie so that half is covered in red glaze and the over half is covered in blue glaze. Place on wire rack to set.
YIELD: 18 small cookies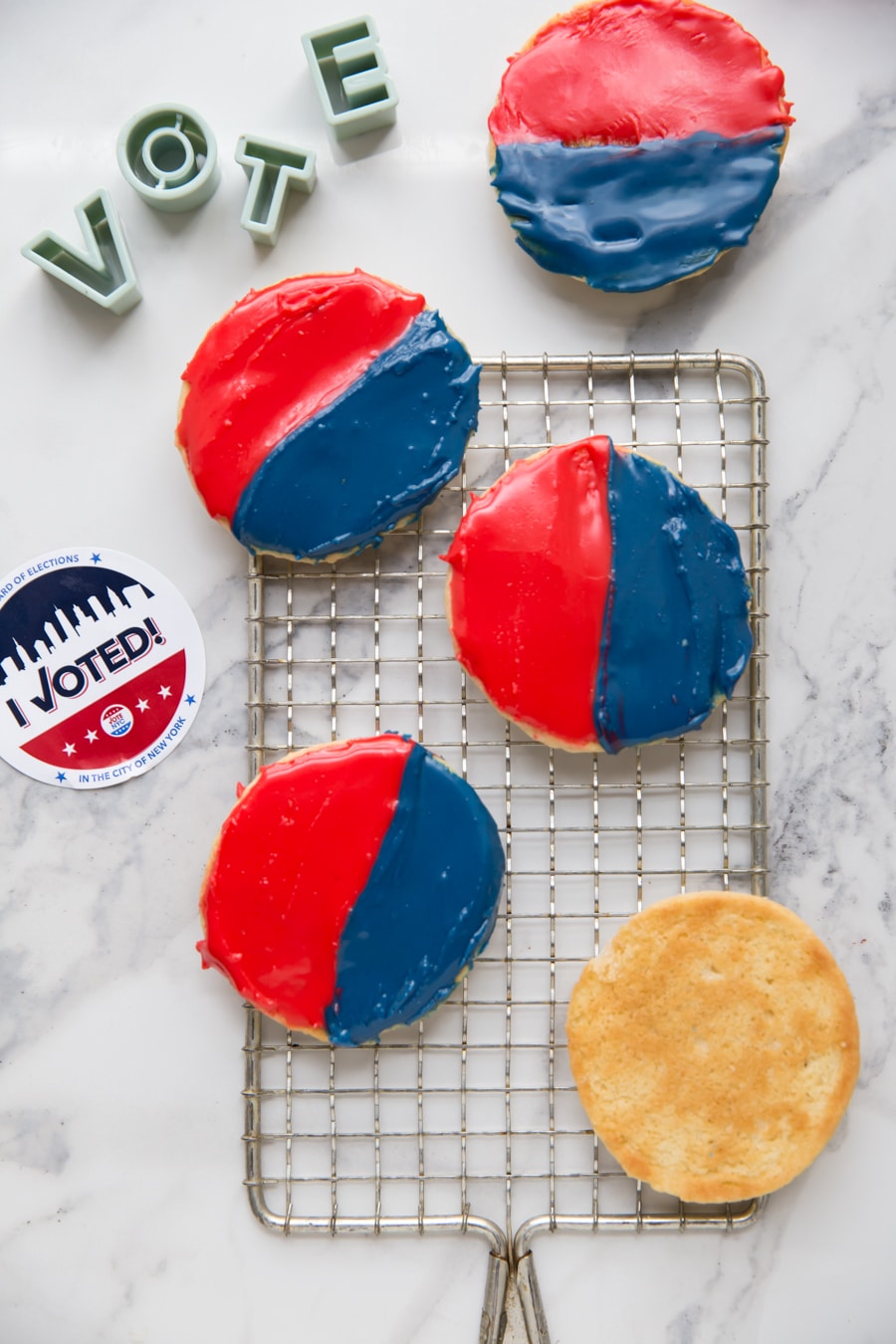 Related Recipes:
Fourth of July tartufo
patriotic kettle chips
mixed berry frozen yogurt bark