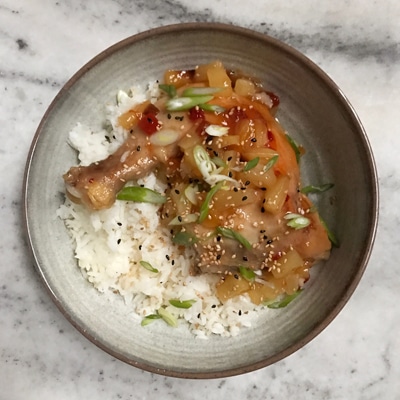 Pineapple Chicken
4-6 pieces chicken, skin-on
1 can pineapple tidbits or chunks
2-3 cups sweet and sour duck sauce
Method:
Place chicken in a 9×13 pan and pour the pineapple, with the juice, over the chicken. Cover tightly with foil and bake at 350 for one hour. Pour out most of the juice from the pan (discard) and spread the duck sauce evenly on the chicken. Heat the oven to 400 degrees, and return the chicken to the oven, uncovered, for 30-45 minutes, until chicken is nicely browned.
Serve chicken over rice with the pineapple sauce.
VARIATON:  You may combine sweet chili sauce with the duck sauce for a bit of heat. Top with scallions and sesame seeds, if desired.