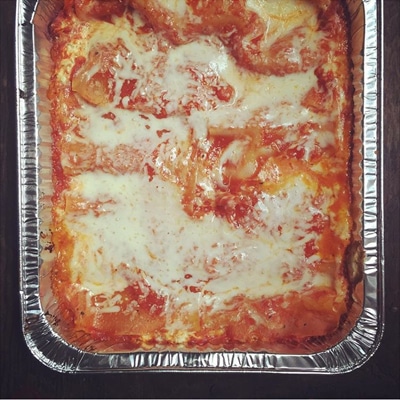 1 box no-boil lasagna noodles (you'll have a few extra sheets leftover)
15oz. ricotta or cottage cheese
1/2 tsp oregano
1/2 tsp basil
1/4 tsp garlic powder
1 egg
1 pkg muenster cheese
1 package shredded mozzarella
1 jar marinara sauce
Method:
In a small bowl, combine the ricotta cheese with oregano, basil, garlic and egg.
In a 9×13 pan, layer: marinara sauce, lasagna noodles, ricotta mixture, muenster, shredded mozzarella and repeat, finishing with marinara sauce and shredded mozzarella on the top layer. Add a bit of water to the marinara sauce jar (it will be mostly empty), shake it up and pour the water around the pan (this helps soften the no-boil noodles). Cover tightly with parchment paper and foil and bake at 400 degrees until the cheese is melted and bubbly.