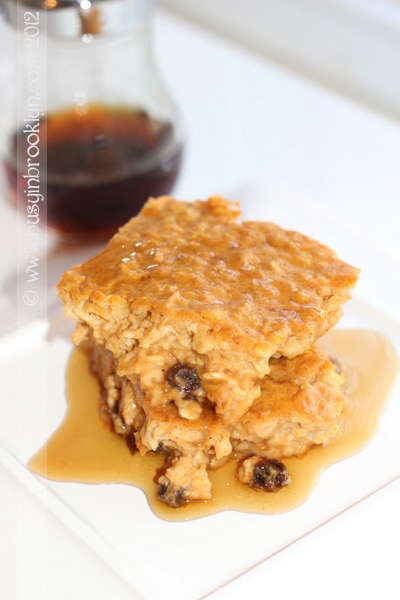 Fall has got to be my favorite season. That crisp, clean air and the colorful pallete of falling leaves just make me want to cozy up to a warm cup of apple cider. But even more than the weather, I love the fall bounty. With fruits like cranberries, apples and pears and vegetables like pumpkin, parsnips and kale – there's so much to choose from! I can't wait to get started on healthy comfort foods to keep my family warm all winter long. This delicious baked pumpkin oatmeal is the perfect way to get started!
Baked oatmeal is all the rage right now, with flavors like apple pie, mixed berry, banana bread, and peanut butter cup, to name just a few! But fragrant pumpkin oatmeal just takes the cake for me. It's rich and creamy with spices of autumn – the perfect treat for any time of day, even dessert! I've created a healthy version with no added fat and only a small about of sugar, so it fills you up without filling you out :) You can even prepare individual portions in cupcake pans for the perfect healthy snack on the go!
If you love pumpkin, here are some other great recipes to try:
pumpkin crisp
pumpkin banana bread
pumpkin whoopie pies
Rivka's pumpkin cake
pumpkin hamantaschen

Healthy Baked Pumpkin Oatmeal
3 cups old fashioned oats
2 tbsp organic brown sugar
1 tsp cinnamon
1/4 tsp nutmeg
1/2 tsp salt
1/3 cup craisins (optional)
3 cups milk
2 eggs
1 cup canned pumpkin puree
1/3 cup pure maple syrup
1 tsp vanilla
additional maple syrup, for serving
Method:
Preheat oven to 350 degrees. In a bowl, mix the dry ingredients including the oatmeal, brown sugar, spices and craisins. In a separate bowl, mix the wet ingredients including the milk, eggs, pumpkin, syrup and vanilla. Add the wet ingredients to the dry ingredients and stir to combine. Pour the mixture into a greased 9×13 pan and bake until set, about 25-30 minutes. Serve warm.
Variation: The oatmeal may also be baked in indivual ramekin or cupcake tins, just cut down the baking time.
NOTE: The "batter" can be prepared the night before. Just refrigerate and stir before baking.
This recipe was posted on Foodie Friends Friday LinkUp Party
1 year ago: pumpkin crisp