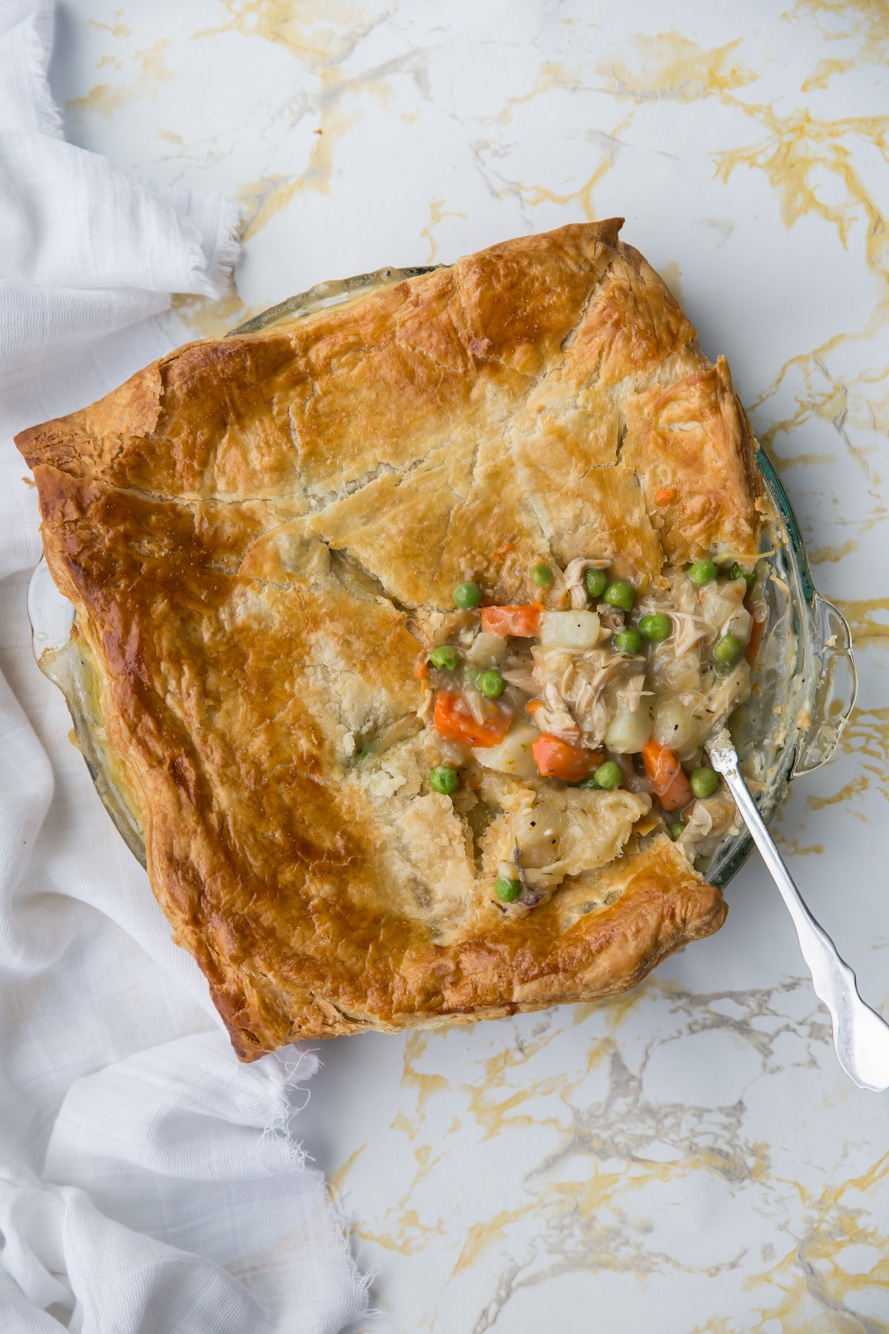 I've got to hand this one over to my favorite Facebook page, "Whats for Supper" (introduced to me by my sister-in-law CR), which was started by two sisters, Chava and Naomie (from what I gather anyway). As the name suggests, each day, they post what they are making for supper, and invite all their followers to do the same. Naomie sometimes suggests interested cooking tips, and the health benefits of various foods. They've created a family atmosphere, a place to shmooze about more than just food!
Now back to the food. In one post, a little while back, they offered suggestions of what to do with leftover chicken soup. I always have leftover soup, and it kills me to throw it away! Only one of the recipes appealed to me, and that was chicken pot pie. The delicious, creamy comfort food that we all love (and you thought it couldn't get any comfier than chicken soup) is surprisingly easy to make. Making chicken pot pie using leftover chicken soup seemed a bit "off" at first, but once I tried it, I couldn't help but make it again the next week. And it just keeps getting better. If you don't like the sound of it, you can go ahead and boil up some chicken and carrots from scratch.
If you have other vegetables in your soup, like celery, parsnips etc. feel free to add them. (Almost) anything goes!
Leftover Chicken Soup Pot Pie
1/4 cup olive oil
1 onion, diced small
2 cloves garlic, minced
1/4 cup flour
2 cups chicken stock (leftover from soup)
1/2 tsp dried thyme or rosemary
salt, to taste
pepper, to taste
leftover chicken from chicken soup, cut into 1 inch dice
(or 2-3 pieces of cooked chicken)
leftover carrots from chicken soup
(or 1 large cooked carrots, diced)
1 potato, boiled and cut into a small dice
1 cup frozen peas, thawed
1 sheet puff pastry or puff pastry squares for individual pies , thawed
1 egg, beaten
Method:
Preheat oven to 375 degrees.
Heat olive oil in a skillet and add onion, saute until translucent, add the garlic and saute until fragrant. Sprinkle the flour over the mixture and continue to saute until the flour starts to take on some color. Add chicken stock and bring to a simmer, whisking as it cooks to incorporate the flour. Season with herbs, salt and pepper. Add chicken, carrots,  potato and peas and stir to incorporate. Pour into an pie dish (or individual dishes) and cover with puff pastry (stretch lightly if necessary). Seal well and place on a baking sheet. Brush the puff pastry with egg. Make a few slits in the pastry to allow steam to escape when baking. Bake until puffed and golden, about 30 minutes.