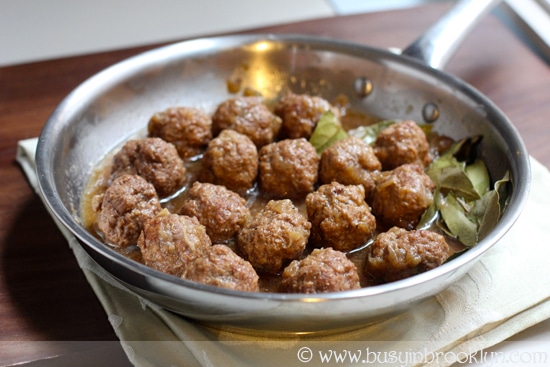 I'm a huge fan of veal. It's got a lovely flavor and that tender, melt in your mouth quality. It's also much lighter than beef, so you don't feel as heavy when you eat it. One of my favorite veal recipes is for these delicious meatballs. I don't call 'em melt-in-your-mouth for nothing. They really do melt. in. your. mouth. While this recipe uses few ingredients, it's chock full of flavor, mostly due to the bay leaves. They give the broth and meatballs a delicious flavor while imparting the most heavenly aroma. You'll wanna make them just for the smell!
Having little kids, meatballs are definitely a staple in my house, but the plain old beef meatballs in marinara sauce does get kind of boring. My kids gobble these down like you can't imagine. And yours will too!
Have you seen my veal shepherd's pie with celery root mashed potatoes? It's another great veal recipe that you must try!
Veal Meatballs
2 lbs. ground veal
2 eggs
1/3 cup plain breadcrumbs
salt and pepper, to taste
1 large onion, diced
1 tbsp olive oil
4 cups water
5 bay leaves
1/2 cup brown sugar
salt and pepper, to taste
Method:
In a bowl, combine the veal, eggs, breadcrumbs, salt and pepper. Form the mixture into balls. In the meantime, saute the onion in olive oil until deeply golden and caramelized. Add the water, sugar, bay leaves, salt and pepper and bring to a boil. Reduce the heat to a simmer and add meatballs. Simmer, covered, for 1-2 hours.
If you wish to thicken the cooking liquid, you may continue to cook it over high heat until reduced to desired consistency.
1 year ago: wild mushroom barley soup
Post a Comment