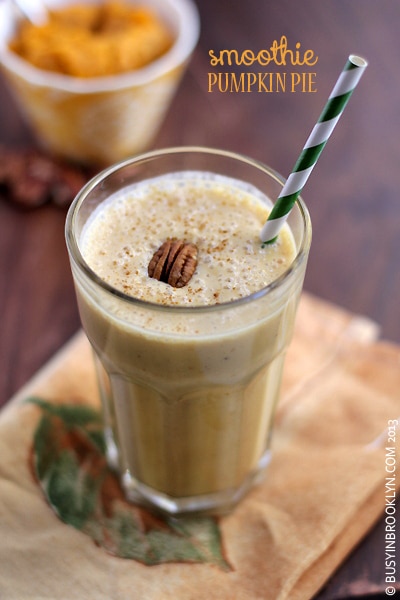 With pumpkin season in full swing, my foodie feeds are overflowing with sweet pumpkin recipes. And I can't get enough. I bookmark one recipe after another, promising myself to try every one. But truth be told, I've been too busy developing pumpkin recipes of my own. I've got pumpkin ricotta pancakes with cranberry maple syrup in the works. And then there's a mouthwatering pumpkin pot pie that's coming up.
All my pumpkin playing left me with some extra canned pumpkin that I refused to throw away, so I decided to whip it up into a delicious pumpkin pie smoothie. It came out even better than expected – with the taste of a milkshake, but the calories of a healthy smoothie. For all the pumpkin lovers out there – it doesn't get better, quicker, or easier than this!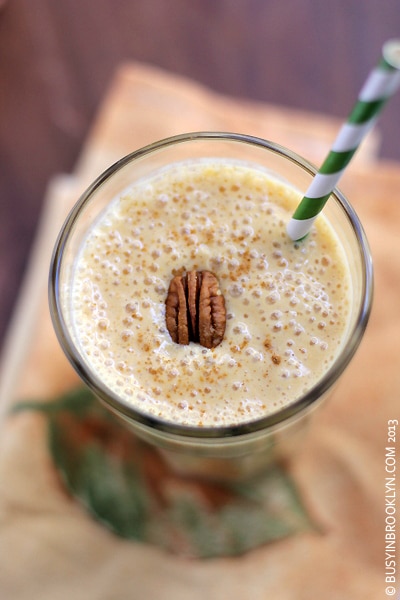 Pumpkin Pie Smoothie
1 medium frozen banana
6 oz vanilla Greek yogurt
1/2 c milk
1/2 c pumpkin purée
1/4 tsp pumpkin pie spice
1 tbsp maple syrup
pecans, for garnish
Method:
Add all ingredients to a blender and puree until smooth. Garnish with pecans.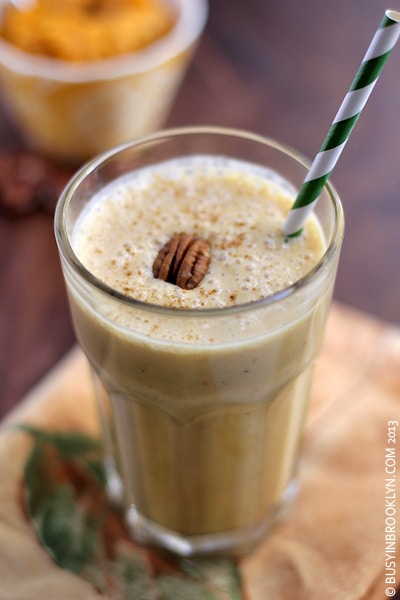 Other BIB pumpkin recipes:
pumpkin whoopie pies 
pumpkin cake
pumpkin crisp
pumpkin banana bread
baked pumpkin oatmeal