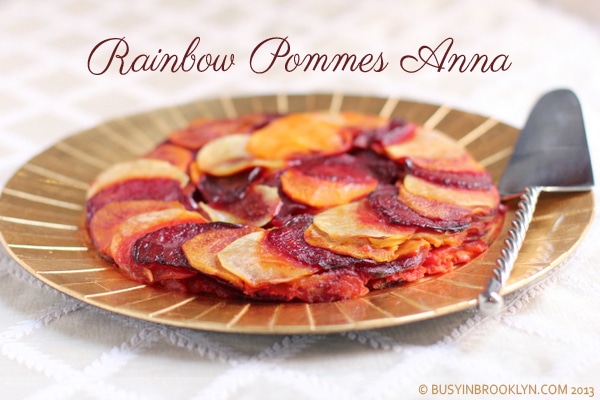 The more I've been reading through Passover recipe books and surfing through recipes online, I realize just how strict my family's customs are. On Pesach, we are truly down to the bare basics, using only vegetables that can be peeled and seasoning them simply with oil and salt. We don't use herbs, spices or any processed ingredients like Kosher for Passover ketchup, brown sugar or sauces. My mom even makes simple syrup to use in place of sugar to sweeten dishes. Matza meal, of course, is out of the question, as we do no eat Gebroks (matza that has absorbed liquid).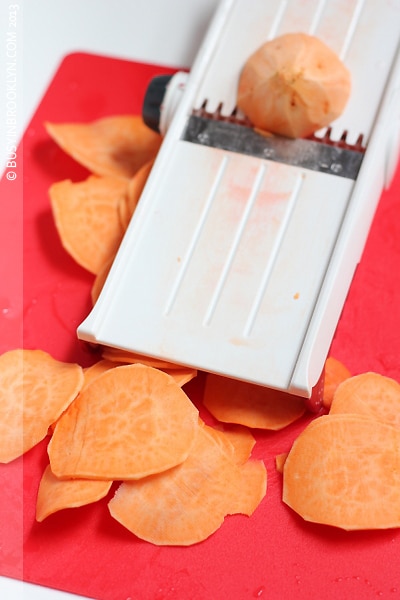 Due to our stringent dietary restrictions on Pesach, we tend to make simpler, wholesome dishes that don't require a lot of ingredients. Basics like mock chopped liver, chremslach, beet salad and orange chicken are staples in our home. When I thought about classic dishes I could reinvent for Passover, I took inspiration from Pommes Anna (also called Anna potatoes), a French dish of sliced, layered potatoes that are minimally seasoned with salt and pepper and brushed liberally with butter. Using traditional Passover ingredients of beets, sweet potatoes and russet potatoes creates a stunning rainbow effect and lends a touch of sweetness to the potato cake.
Rainbow Pommes Anna
2 russet potatoes, peeled and thinly sliced
2 sweet potatoes, peeled and thinly sliced
2 red beets, peeled and thinly sliced
oil, shmaltz, or duck fat
kosher salt, to taste
black pepper, to taste (optional)
Method:
Preheat oven to 425 degrees. Brush a 9″ round baking dish generously with oil and arrange potatoes and beets in layers, overlapping them slightly. When you complete each layer, brush it with oil and season with salt and pepper. Cover the vegetables with a sheet of greased parchment paper and place a heavy dish or skillet on top of it. Bake for approximately 30 minutes until vegetables are fork-tender. Uncover the vegetables and bake for an additional 15-20 minutes until the edges are browned and crispy.
To serve, you may cut slices directly from the baking dish, or, run a knife around the potato cake to release around the edges and flip over onto a platter.
VARIATION: Add additional seasonings according to your Passover customs, such as fresh rosemary, thyme, caraway seeds, smoked paprika, minced garlic and/or sauteed onions.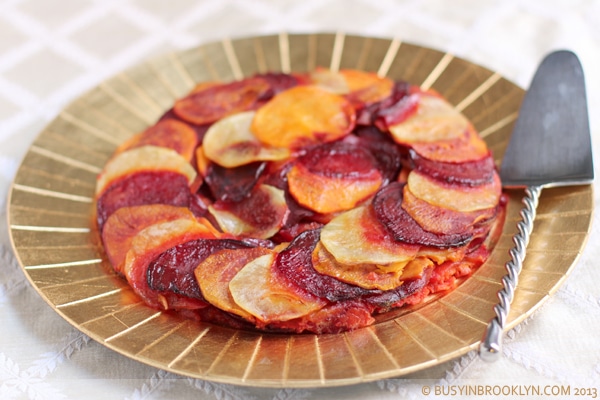 1 year ago: sweet pepper burgers
2 years ago: quick & easy shakshuka