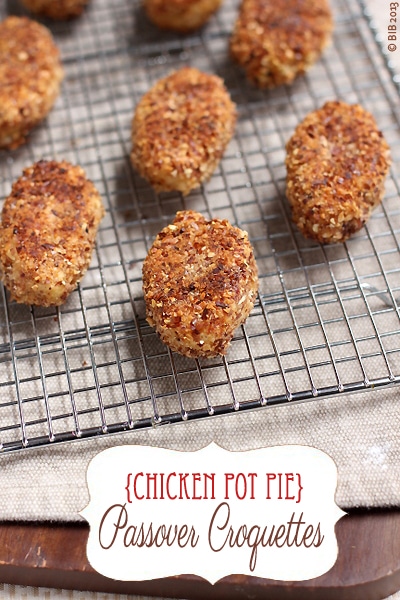 Growing up, my mom would often prepare chremslach on Passover whenever there were leftover mashed potatoes. Some people refer to chremslach as matza fritters, but in our house, mashed potatoes were the ingredient of choice. They were held together with some egg, dipped in potato starch and fried. Nothing fancy, just another use for potatoes and a simple side for yet another meal.
I decided to spruce up my mom's basic recipe with some leftover chicken, carrots and onions, for a take on chicken pot pie. If you eat kitniyot, peas would be the perfect addition! The patties are dredged in ground nuts for a crunchy Passover coating. Serve with a side of homemade ketchup, marinara or garlic aioli.
Chicken Pot Pie Passover Croquettes
2 cups leftover mashed potatoes
1 cup shredded leftover chicken
1/2 cup onions, diced
2 cloves garlic, minced (optional)
1/2 cup carrots, diced and blanched
1 tbsp oil
1 egg
salt and pepper, to taste
For coating:
1/4 cup potato starch
1 egg
1/2 cup ground nuts, such as almonds
salt and pepper, to taste
oil or shmaltz, for frying
Method:
In a pan, saute the onion in oil until translucent. Add carrots and garlic (optional) and continue to saute until golden. In a bowl, combine the potatoes, chicken, sauteed veggies, and egg. Season with salt and pepper (see note for additional seasoning).
Set up a dredging station with separate containers for potato starch, egg and ground nuts. Season with a little salt and pepper. Shape croquettes and dredge into potato starch, then egg, and finish with ground nuts. Fry the croquettes in shmaltz or oil until golden brown on both sides.
Yields: approximately 14 croquettes.
NOTE: You may add additional herbs and/or spices according to your Passover customs, such as chopped thyme, rosemary or parsley.
KITNIYOT OPTION: Add peas or corn. Dredge in matza meal instead of ground nuts.
VARIATION: Prepare patties (as pictured below) by lightly dredging in potato starch and frying.

1 year ago: homemade raspberry sorbet
2 years ago: roasted beet & orange salad