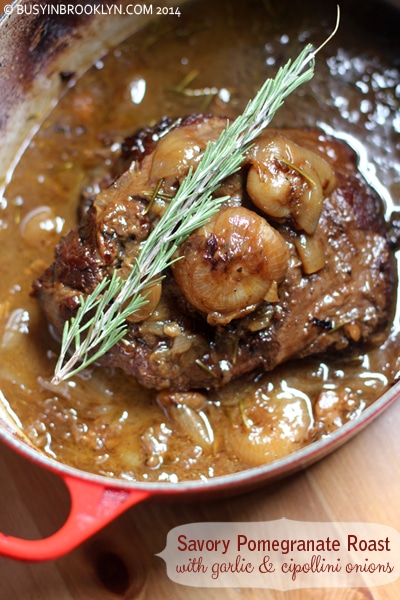 I'm not really one of those people that goes into the butcher knowing what type of roast I want to make for the holidays. I just look for what's on sale, or which roast is going to give me the most bang for my buck and I take it home. Once you understand the basics to purchasing and preparing kosher meat, you don't have to feel stuck on a certain cut and you can feel free to choose.
It was a few days before Rosh Hashanah when I unwrapped my square roast, wondering how I would prepare it. I had so many sweet side dishes that I wanted to go for something savory – but I also wanted to play on the Jewish New Year concept. I decided to work with pomegranate molasses – a tangy condiment that's made by reducing pomegranate juice, and pair it with savory ingredients like garlic, onions and rosemary.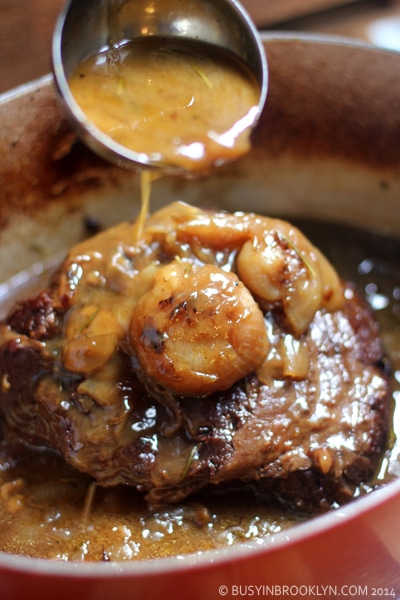 When you're preparing a new recipe and testing it on a roast, it's always a guessing game on just how tender it's going to turn out. I usually like to use wine or tomatoes to help tenderize my meats, but I was shocked to see how soft and buttery this roast came out without it. It was so tender, you could eat it with a spoon! And the gravy – oh my! It was thick and delicious, with a hint of tang, filled with creamy pieces of garlic and cipollini onions that practically melted into the sauce. I'd definitely call this a winner, and that's why I'm posting it! Chag Sameach!
Savory Pomegranate Roast with Garlic & Cipollini Onions
3-4 lb. Square Roast (a cut from the Chuck – you may substitute with French, Brick or Chuck Roast)
salt and pepper, to taste
2 tbsp olive oil
8 large cipollini onions, peeled (use more if they are small)
10 cloves of garlic, peeled
3 sprigs rosemary
1 1/4 cups beef or chicken stock
1/2 cup pomegranate molasses (I use Sadaf Pomegranate Concentrate)
Method:
Season the meat generously with salt and pepper. Heat the olive oil in a dutch oven or oven-safe pot and sear the roast on all sides. Remove from the pot. Add additional oil, if needed, and saute the cipollini onions, until browned and caramelized in spots. Return the roast to the pot and deglaze with stock. Add garlic, rosemary and pomegranate molasses and season with salt and pepper. Bring the mixture to a boil, cover the pot, and bake at 300 degrees for 2 hours. Turn the roast over and bake for an additional hour.
NOTE: You'll have plenty of gravy, so feel free to serve this alongside mashed potatoes.
FREEZING: This roast freezes beautifully. To freeze, wait until the roast is completely cool and cut into slices. Double wrap the sliced roast in foil, label and freeze. Pour the gravy into a large container, label and freeze. The night before you're ready to serve, place the roast and gravy in the refrigerator. Before serving, place the sliced roast in a pot or pan and pour gravy over it. Cook on the stovetop, or in the oven, until heated through.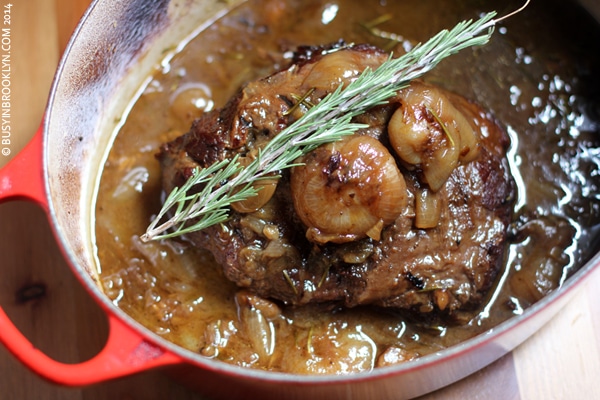 Other Roast Recipes:
tzimmes roast
Rosh Hashanah roast
beer braised brisket with onion gravy
crockpot pulled BBQ brisket