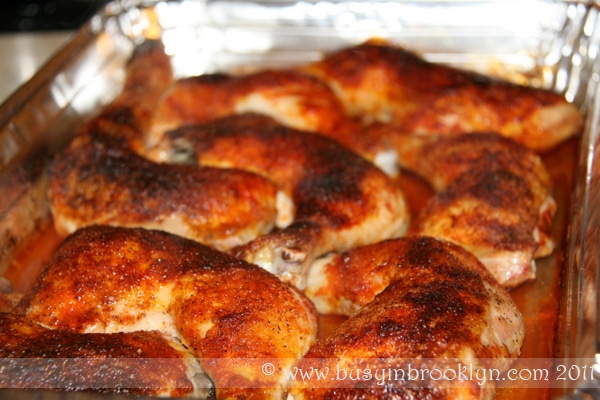 There is no one on this earth that cannot make this recipe. It's that easy. Well maybe not no one – you've got to have an oven, chicken, and a few basic spices. If you've got that, and you've never cooked anything other than eggs in your life, you can do this.
This has to be my #1 go-to recipe for a quick weekday dinner. It's got tons of flavor with minimal effort, and it pleases even the most discriminating palette. I like to make this recipe when I'm cooking dinner for our local Bikur Cholim because I'm pretty sure anyone who will eat chicken will eat it.
What makes this chicken so good? Well for one, it's baked in it's skin, keeping the chicken nice and moist. Baking it on a high temperature (400 degrees), with the help of some olive oil, makes the skin super crispy, and all those spices get toasted to perfection.
Here's the best part. If you're on one of those low-carb or no-sugar diets like atkins or south beach, you can make yourself a super flavorful dinner without store-bought BBQ sauce that is so full of carbs. If you are watching your fat intake as well, don't eat the skin, but feel free to scrape off the yummy spices and spread it on your chicken. If dieting is not on your agenda, go ahead and sop up all the drippings from the bottom of the pan, they are seriously delicious!
Quick & Easy Chicken
1 package chicken, quartered
garlic powder
onion powder
paprika
salt
black pepper
extra virgin olive oil
Method:
Preheat oven to 400 degrees. Clean chickens (do not remove the skin) and pat dry. Sprinkle generously with spices (but go light on the pepper). Drizzle with olive oil. Bake, uncovered, for one hour.