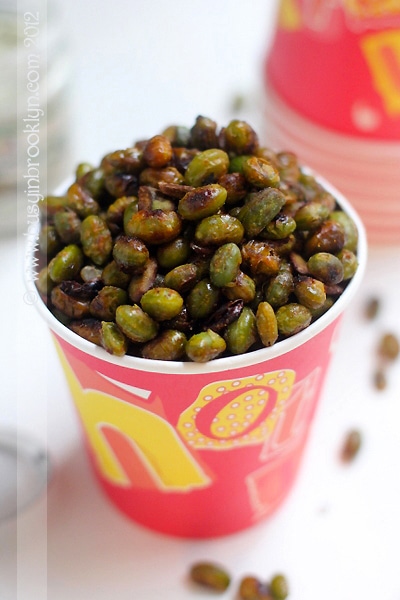 I am so excited about this post. And not because of the recipe (even though it is incredibly delicious!). It's because I finally cracked the code to the mystery of food photography. OK it's not exactly a mystery, but it was to me. If you've been following my blog for a while, you  may have noticed how my photography has been slowly evolving. First, I ordered this book
. And then this ebook. Then I took a photography class. And then I listened intently to the talented food photographer Noah Fecks at the Kosher Food Blogger Conference. And finally, finally, I pulled out my tripod from the basement. As if 2 books and a class in photography didn't stress it enough! I was just too lazy to set up a whole mini "studio" to photograph my dishes. But slowly I've been pulling out little things here and there (like my son's old portacrib mattress that serves as my lightboard!) to form my little space in the corner of my kids playroom. Here's a peak at my "studio"!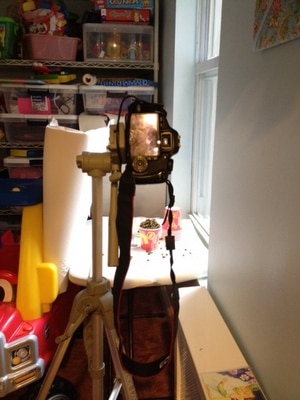 So, now for the food! I absolutely love those spicy wasabi roasted peas that they sell with the nuts in all the drug stores. You know what I'm talking about right? Well I wanted to recreate them at home, so I started playing around with some recipes. And here's what I learned: wasabi loses it's potency when heated. That's right. Once you put wasabi-anything in the oven, it loses it's flavor and it's like you added nothing! So, to get that spicy kick, I added Asian hot sauce (sriracha) and sprinkled on wasabi powder once the edamame were browned and toasty. The resulting healthy snack is incredibly addicting. I like the medium spice level but you can adjust the sriracha to make it more or less hot. Roasted edamame beans are best eaten fresh, straight out of the oven!
For more Chinese recipes, check out the kosher connection link-up below!
Spicy Roasted Edamame
1 bag frozen shelled edamame, thawed
1 tbsp canola oil
1 tbsp soy sauce
1 tbsp sriracha sauce
1 tbsp wasabi powder, for sprinkling
Method:
Preheat oven to 450 degrees. In a bowl, combine the edamame, oil, soy sauce and sriracha. Spread out on a parchment-lined baking sheet and bake for 25-30 minutes, tossing occasionally.
Remove roasted wasabi beans from the oven and sprinkle with wasabi powder. Eat immediately.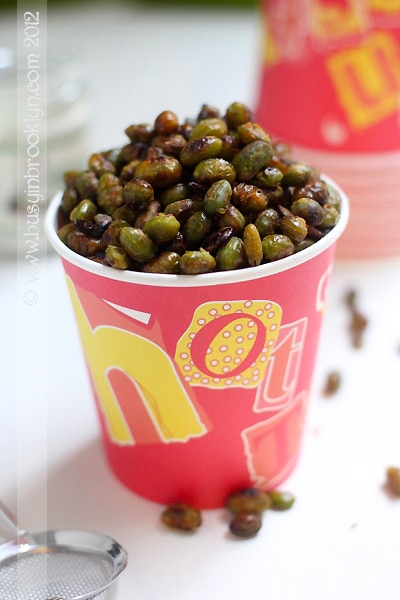 1 year ago: crunchy shriveled green beans
Post a Comment