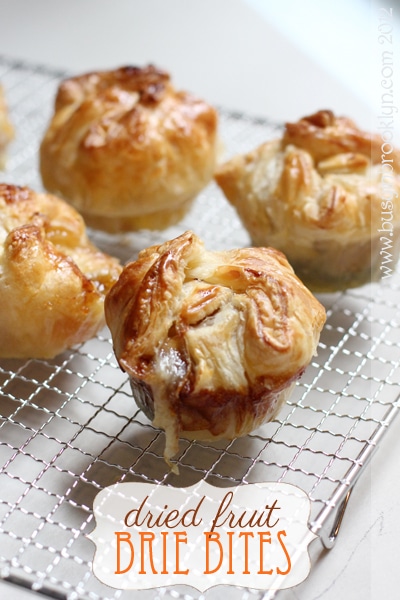 I was so excited when the Kosher Connection team challenged us to come up with mini foods for the month of January. With the holiday of Tu B'shvat* coming up, I had the perfect thing in mind – these rich and decadent melt-in-your-mouth little brie bites.
Brie en-croute, or puff-pastry wrapped brie is a classic appetizer which includes a wheel of brie topped with jam (onion and fig jam are popular) and wrapped in puff pastry. It's usually served on a large platter with crackers, fruit and occasionally nuts. I decided to reinvent the classic appetizer in mini, using an assortment of dried fruits in the spirit of Tu B'shvat.
*Tu B'Shevat, the 15th of Shevat on the Jewish calendar, is the day that marks the beginning of a "New Year" for trees. We mark the day by eating fruit, particularly from the kinds that are singled out by the Torah in its praise of the bounty of the Holy Land: grapes, figs, pomegranates, olives and dates.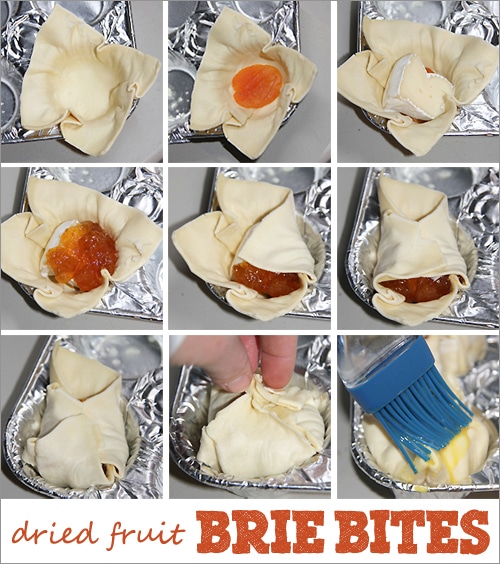 What's so great about these puff pastry brie bites is that you can customize them to your liking. Use your favorite combination of dried fruit and jam's or choose from one of these ideas:
Dried apricots + apricot jam
Medjool dates + silan
Dried figs + fig jam
Dried apples + apple butter
Craisins + cranberry sauce
Dried mango + mango chutney
Sundried tomatoes + tomato jam
You can also try some of my other Tu B'shvat dried fruit recipes:
Tu B'shvat truffles (sugarplums)
Mustard Roasted dried fruits
For more exciting mini food recipes, check out the Kosher Connection link-up below!
Dried Fruit Brie Bites
1 wheel brie, cut into 8 wedges
8 puff pastry squares*
dried fruit of choice
complementary jam of choice
1 egg + 1 tbsp water, beaten
Method:
Preheat oven to 400 degrees. Grease a muffin tray with nonstick spray. Working one at a time, place puff pastry squares into the tin letting the corners hang over the sides. Place a piece of dried fruit at the bottom, add a wedge of brie and top with a spoonful of jam. Fold the corners of the puff pastry over and twist them at the top. Brush the puff pastry with egg wash and bake until golden, approximately 20-25 minutes.
*If you cannot find puff pastry squares, simply roll our a sheet of puff pastry and cut into 4″ x 4″ squares.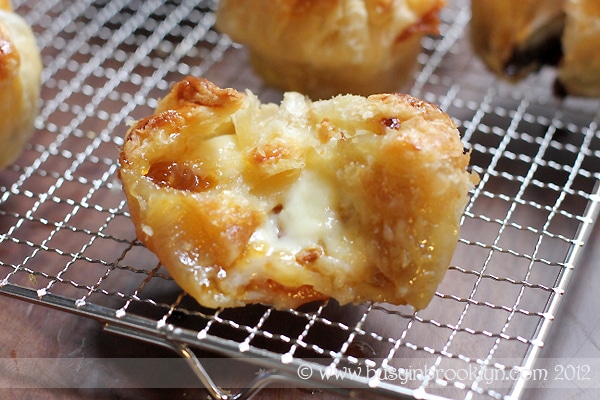 Other brie recipes: brie marsala pizza