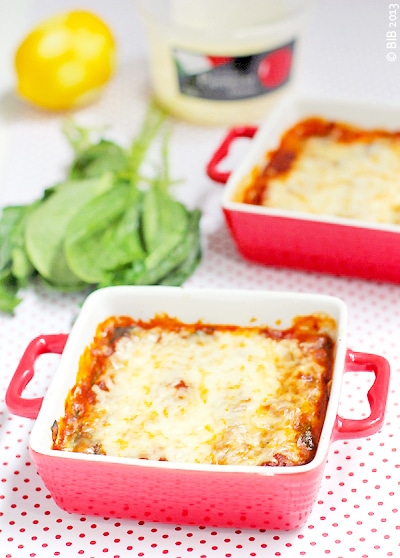 This one is for all the low-carbers out there. The people with diabetes and those on restricted diets who drool over the cheese-filled pasta delicacies plastered all over their newsfeeds. You don't have to feel deprived anymore. I've taken the cheesy manicotti experience and revamped it into a lighter, healthier version that is so good, you won't even realize there's no pasta in it!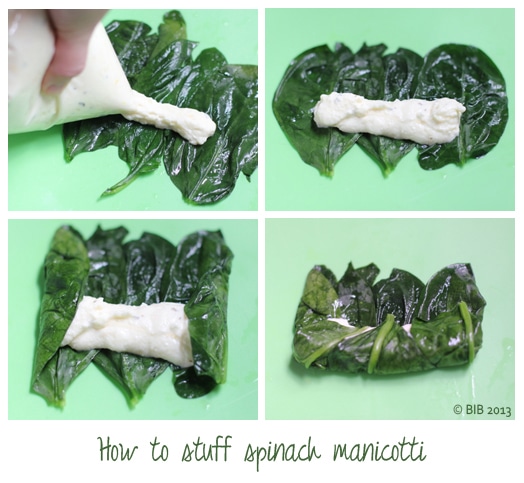 To tell you the honest truth, I'm not the biggest pasta person. I mean, I enjoy a good plate of pasta, I do. But I'm just not one of those people who dreams about a giant bowl of penne ala vodka (duck confit ravioli, maybe). So when I'm watching my carbs, I care more about my bread-less sandwiches than my pasta-free baked ziti. And you know why? Because I always find a way around it. I'll make spaghetti squash baked ziti, cauliflower mac 'n cheese, cheesy stuffed mini peppers, or roasted eggplant parmesan with feta. And now, this. Oh. Em. Gee. Best reinvention to date. Seriously.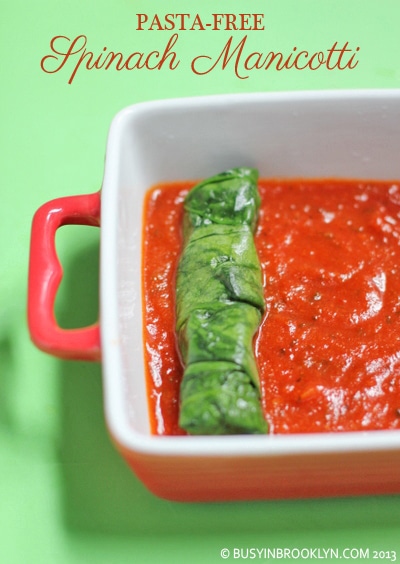 With Shavuot just a week away, think about reinventing your standard indulgent menu of french onion soup, lasagna and cheese blintzes for lighter, healthier versions of your favorite dairy dishes. You won't be left feeling bloated and heavy, but you'll still enjoy all the delicacies that the holiday of Shavuot offers. Lighten things up with my refreshing, palate-cleansing strawberry rhubarb soup and save your calories for a decadent dessert, coming up later this week!
No-Pasta Spinach Manicotti
large spinach leaves
manicotti filling (recipe below)
marinara sauce
shredded mozzarella
For the filling:
1 15oz. container ricotta cheese
1 large egg, lightly beaten
1/2 teaspoon dried oregano
1/2 tsp garlic powder
1/2 cup shredded mozzarella
1/2 cup shredded Parmesan
1 tsp lemon zest
salt, to taste
Method:
Mix the filling ingredients and add to a ziploc bag. Snip off the tip so that you can use as a piping bag. Set aside.
Quickly blanch the spinach leaves by dipping them in boiling hot salted water, just enough for them to wilt and then shocking them in an ice bath. Layer 3 spinach leaves on a cutting board, overlapping them slightly (you may need more or less, depending on the size of your leaves). Pipe some of the cheese filling near the ends of the spinach bed, leaving room at the sides. Fold the sides over the filling, and roll it closed, starting from the stems, to create a cigar.
Spoon some marinara sauce on the bottom of square ramekin dishes and place stuffed spinach rolls over it (however many will fit). Spoon some additional sauce over the spinach manicotti and sprinkle with mozzarella cheese. Repeat with remaining spinach, until you have used up all your filling.
Bake at 400 degrees until cheese is bubbly and it begins to brown and crisp up around the edges.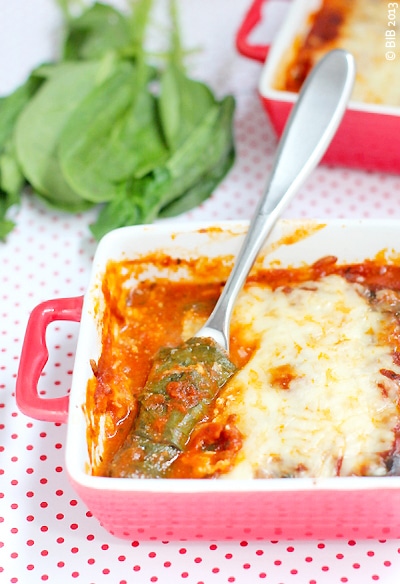 1 year ago: carrot muffins
2 years ago: meat lasagna