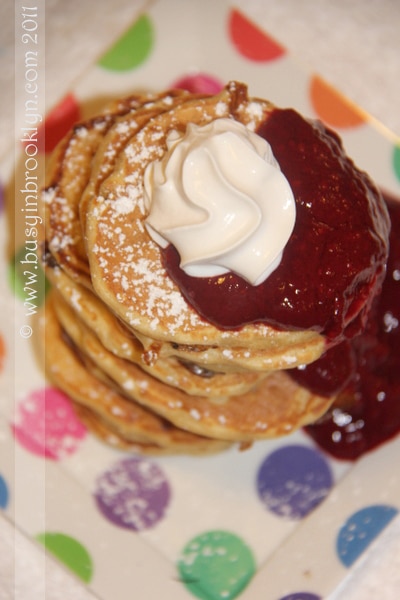 If you follow my blog, you know that I'm not much of a baker. You also know that I'm working hard to stick to my diet plan. Which might explain why I'm not about to post a recipe for delicious, chewy, deep-fried jelly donuts or crunchy golden potato latkes. Instead, I decided to whip up a sort of deconstructed jelly donut in the form of cheese latkes with raspberry sauce. These fun mini cottage cheese pancakes are reminiscent of the classic chanukah treat with just a few less calories. Fry them up nice and golden, dust with powdered sugar, and don't forget the whip cream!
Cheese Latkes
adapted from the Spice & Spirit Cookbook
3 eggs
1 cup milk
1 8 oz. container ricotta or cottage cheese (drain, if needed)
1 1/2 cups white whole wheat flour
1 tsp baking powder
1/2 tsp salt
1/3 cup sugar
1 tsp vanilla
1/4 tsp cinnamon
canola oil, butter, for frying
Method:
Mix all ingredients besides for oil until smooth. Heat up a skillet and grease with butter or oil. Add batter 1 tbsp at a time and fry until golden on both sides. Continue with remaining batter, adding additional oil or butter, as needed.
Serve with raspberry sauce, whip cream and a side of maple syrup.
Raspberry Sauce
1 bag frozen raspberries
1/3 cup sugar
2 tbsp lemon juice
1 tbsp water or raspberry liquor
1 tsp lemon zest
Method:
Add all ingredients to a pot and simmer over medium heat until raspberries are soft and fall apart when mashed with a spoon, about 10 minutes. Add to a blender and puree. Pour the raspberry mixture through a cheesecloth and squeeze out juice. Chill. Serve over pancakes or ice cream.
Alternatively, pipe some raspberry jam in the center of the latkes and dust with powdered sugar to resemble jelly donuts!