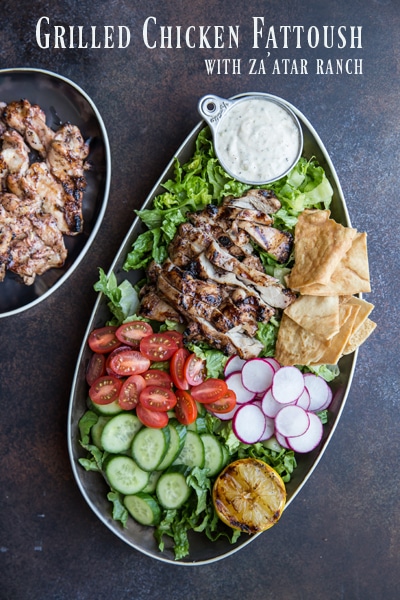 Reunited (with my camera) and it feels SO good! I haven't picked up my equipment to photograph food since I shot my cookbook months ago and I thought I might be a little rusty but by George I think I've still got it!


Shooting food today reminded me just how much I love what I do and I've missed it! Recipe development, food photography and food styling give me SO much joy, and I am legit the luckiest girl in the world to get to do it for a living. As a food blogger, it's easy to get caught up in the world of social media – keeping up with the ever changing algorithms, apps and platforms – you almost forget why you got into it in the first place and coming back after a long break is just so good for the blogger soul.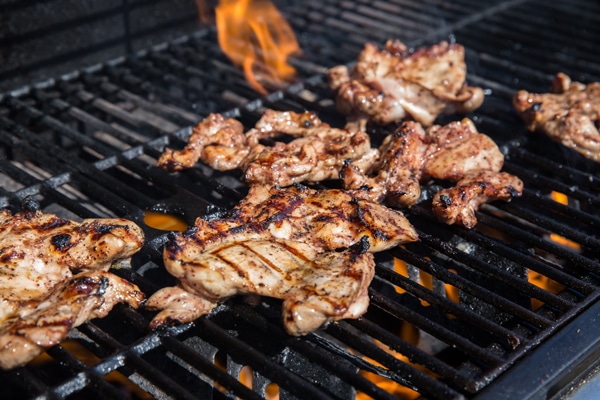 It's funny because when my book went to print in March, I took a sigh of relief that my schedule would finally ease up and I'd be able to take a breather, but the exact opposite happened. I had a book launch to plan, interviews, book signings and demos that followed in quick succession. It's all been a roller coaster ride and I've been wanting so badly to come up for some air – until I finally did this week, and you know what I realized? I don't even know how to relax. So I went back to what I know and that's food. And my camera. And even though you could look at it as work – it was exactly what I needed. I had no deadline. It wasn't for a book, or a magazine, or even the blog. It was for me.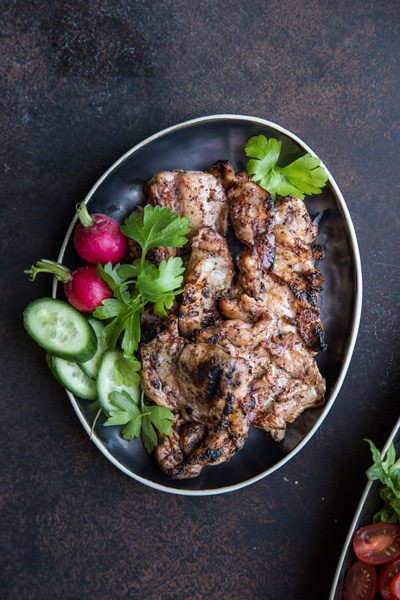 The food: cuz lets face it, it's always about the food! Lemon Sumac Grilled Pargiot to be precise. I'm a total pargiot convert. I can't go back to dry grilled chicken breasts, they're just so, blah! But pargiot? – so. darn. tasty. And they never dry out! This lemon sumac version is so light and fresh for summer, with a hint of sweetness from the silan. The perfect marriage.
The chicken is a great topping for the summery fattoush – a fresh salad of tomatoes, cucumbers and fried bread (in this case pita chips). I paired it with a lip-smacking za'atar ranch because that's just how I roll. This is your new summer salad, and you can thank me later.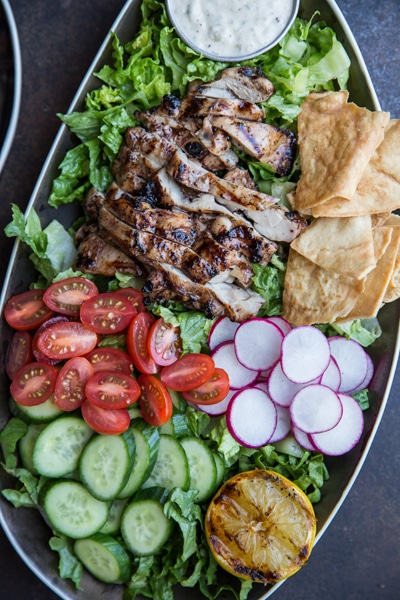 Grilled Chicken Fattoush
1 head romaine lettuce, sliced
1 Persian cucumber, sliced
4 radishes, sliced
1 cup grape tomatoes, halved
lemon sumac grilled pargiot (recipe follows), sliced
pita chips
Za'atar Ranch Dressing
1 cup mayonnaise
2 cloves garlic, minced
1 scallion, finely chopped
2 tbsp chopped fresh parsley (loosely packed)
2 tbsp red wine vinegar
2 tsp dijon mustard
1 tbsp za'atar
kosher salt, to taste
freshly ground black pepper, to taste
Method:
Prepare the za'atar ranch: add all the ingredients to a bowl and whisk until smooth.
Spread the lettuce out on a platter. Top with cucumbers, radishes, tomatoes, grilled chicken and pita chips. Mix with dressing before serving.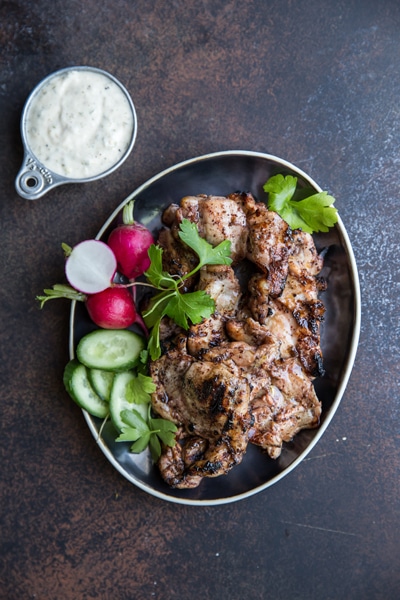 Lemon Sumac Grilled Pargiot
4 pargiot (skinless dark meat chicken cutlets)
2 tbsp grapeseed or canola oil
1 tbsp silan
1 tsp sumac
zest of 1 lemon
juice of 1 lemon
kosher salt, to taste
freshly ground black pepper, to taste
Method:
Preheat grill to high. In a bowl, combine the chicken with remaining ingredients and toss to coat. Grill for 5-8 minutes per side.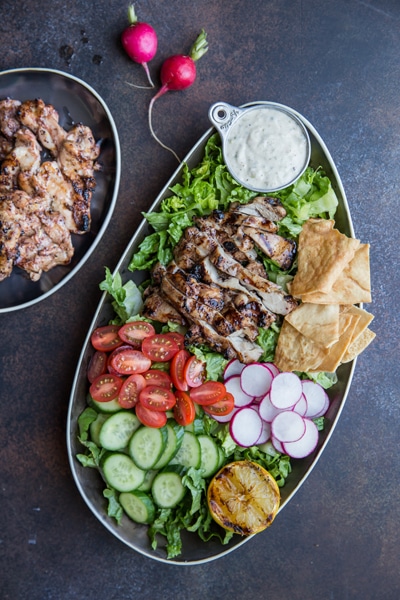 Related Recipes:
farro grain bowl
grilled chicken shawarma salad
grilled marinated chicken