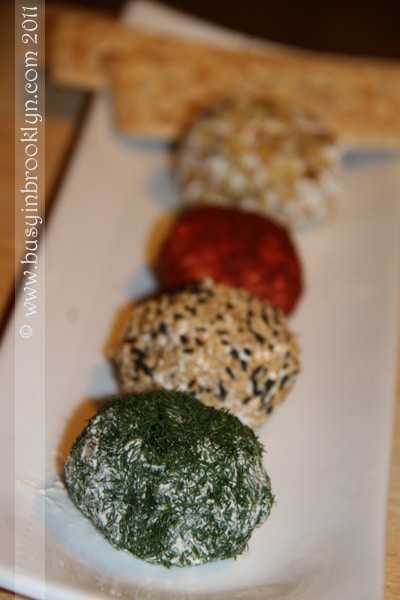 I was first introduced to the idea of cheese balls from Nechama Cohen's cookbook, Enlitened Kosher Cooking. She makes a version using farmer cheese and 5% cheese for a lighter variation than the classic cream cheese. I made this for shavuous in the past, and as delicious as it is, it is even prettier to look at. If you are looking for that wow factor at your yontif table, you should definitely consider making these.
There are hundreds of cheese ball recipes out there, and the truth is, you don't really need a recipe at all. All you have to do is start with the main ingredient: creamy cheese. Then, mix in whatever filling you'd like. I had some leftover sundried tomato olive tapenade, so I mixed a few tablespoons of that in. Think of the kind of cream cheese they have at bagel shops or get creative with original concoctions.
Here are some suggestions:
SAVORY CHEESE BALLS:
Cheese:
cream cheese
goat cheese
farmer cheese
blue cheese
Roquefort cheese
Fillings:
cheddar cheese
scallions/chives
olives
sundried tomatoes
jalapeno
pimientos
chillies
craisins
Condiment/Spices:
soy sauce
worcestershire sauce
horseradish
wasabi
ginger
basil
mustard
lemon
rosemary
thyme
hot sauce
packets of mixed herb seasonings
To incorporate the filling, bring your cream cheese to room temperature. Mix in the fillings and spices and stir to combine. Refrigerate your mixture for a few hours so the flavors have a chance to meld and the cheese can firm up again. In the meantime, prepare your toppings.
Toppings:
sesame seeds
poppy seeds
caraway seeds
zaatar
minced dried garlic flakes
minced dried onion flakes
parsley
dill
granola
chopped walnuts
chopped pecans
chopped pistachios
slivered almonds
crushed wasabi peas
scallions or chives
smoked paprika
Remove the cream cheese from the fridge after you've allowed it to set. Form balls and roll in desired toppings. You can refrigerate again until ready to serve. If you serving these at your yontif meal, I recommend preparing the filling in advance and rolling it in the topping before serving.
Serve with assorted crackers and sliced cucumbers.
SWEET CHEESE BALLS:
While savory cheese balls make a great appetizer, sweet ones serve as a great dessert and also work well when served with cheese latkes and pancakes.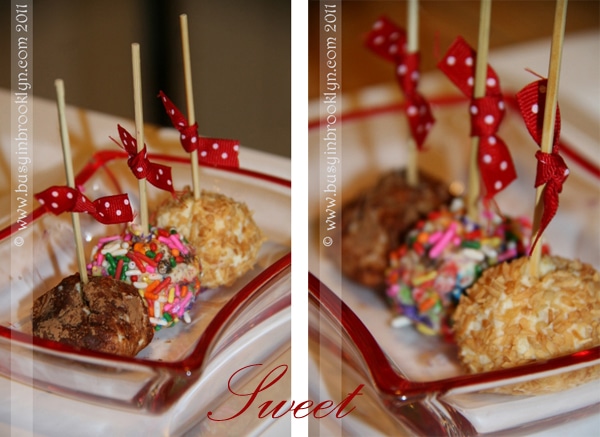 Fillings:
coconut
raisins
crushed pineapple
dried fruit
canned pumpkin
strawberries
maraschino cherries
pomegranate seeds
chocolate chips
Condiment/Spices:
nutmeg
cinnamon
vanilla
coffee
melted chocolate
confectioners sugar
dulce de leche
flavored jams
Toppings:
pretzels
sprinkles
powdered sugar
cinnamon-sugar
shredded coconut
Oreo cookie crumbs
graham crackers crumbs
chopped peanuts
chopped pecans
chopped chocolate
cookies
cocoa
granola
cereal
Prepare as above. Serve with sliced fruit, pancakes, waffles, cheese latkes or blintzes!
As you can see, the ideas are endless! Use your creativity to come up with sweet or savory flavor combinations that you love.
Check out my friend Chanie's post for decadent cream cheese truffles(essentially sweet cheese balls dipped in chocolate). They look delicious!