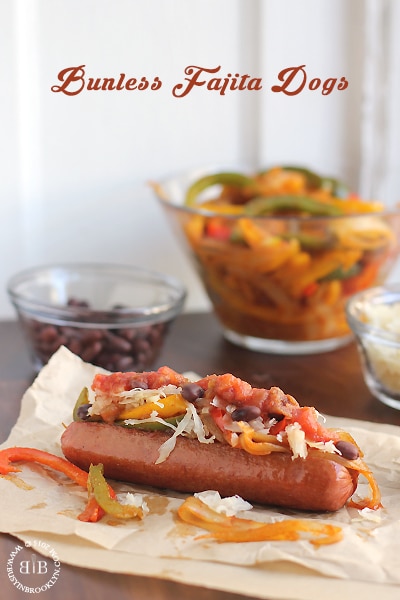 What a week it's been! I was lucky enough to attend a fabulous food photography class by Andrew Scrivani, food photographer extraordinaire and regular contributor to The New York Times. The class was hosted at the B&H Photo Event Space, which offers lots of free seminars and inspirational lectures. It was my first time going, and I'm definitely going to keep my eye out for more great workshops!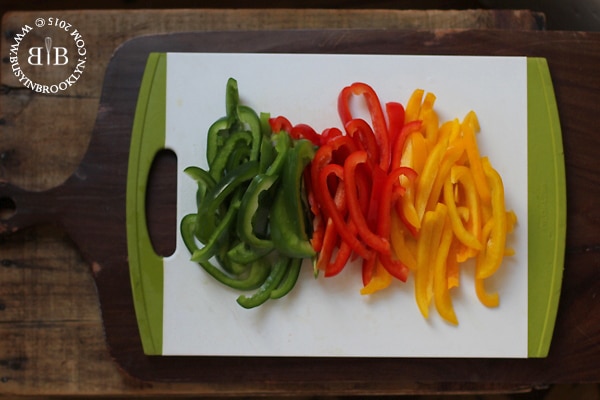 I took a lot out of the class, and I'm sharing it with you here, mostly in my pictures. Andrew spoke about many different aspects of food photography, but what really got me was how he said that our food photos should tell a story. They should evoke emotion in the reader, drawing them into the photo and the scene. I'm only fairly new to "decent" food photography, I'm slowly learning and growing with each blog post, but I really tried to incorporate that into these photos. Let me know what you think!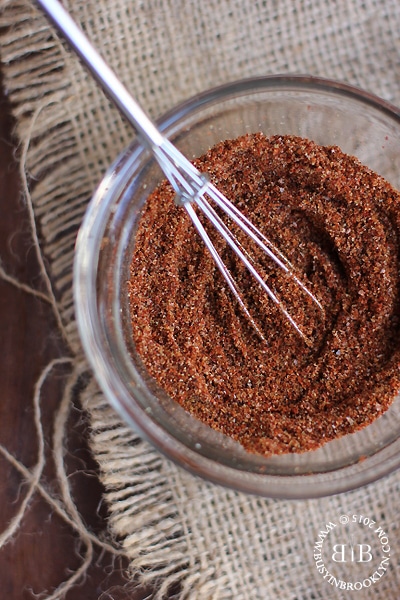 Now aside from the amazing food photography class, I also took part in a really fun fundraising event for the Ha'or Beacon school. I had never heard of Ha'or Beacon before, but just working with the thoughtful and caring staff on the Culinary for a Cause fundraiser, gave me a small glimpse into the type of people running the special needs school. Aside for a Chinese Auction, the entertainment for the evening was a roundup of cooking demonstrations by yours truly and a few other famous kosher foodies, including OvertimeCook, The Aussie Gourmet, Dini Delivers, Joy of Kosher Magazine Editor, Shifra Klein, and Victoria Dweck, cookbook author and editor of Ami Magazine.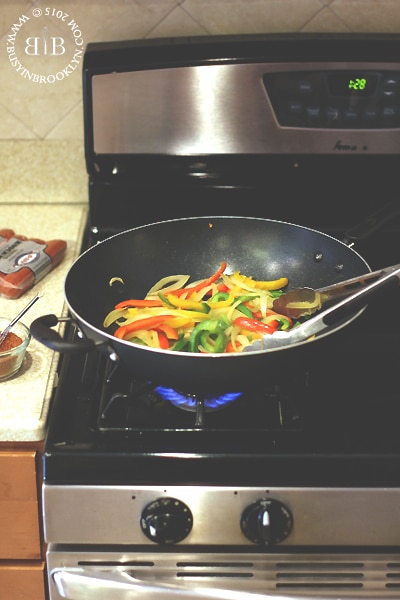 Each of us was assigned a different course to demonstrate including Hors D'oeuvres, Appetizer, Entree, Side Dishes and Dessert. I made the hors d'oeuvres of mini Asian turkey sliders on a cauliflower bun with quick pickled cucumbers and spicy mayo. I really wanted to show people how easy it to make cauliflower-everything (rice, couscous, pizza crust and buns) so I decided on that dish. Needless to say, it was super fun and great to meet so many of my fans!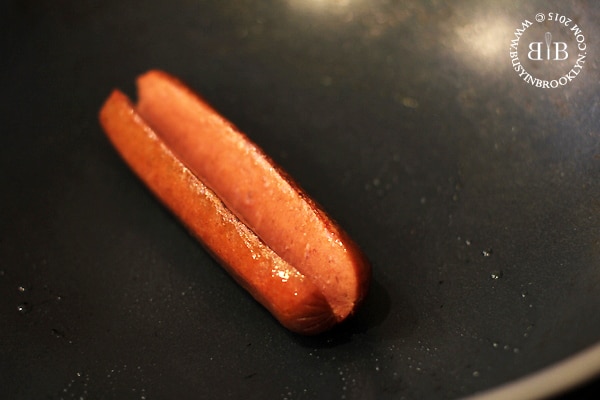 Now the one thing I didn't do at the event, was eat. Yes, I tried my turkey sliders but Victoria's braised short ribs were off limits, not to mention Dini's quinoa-corn cakes and Miriam's chocolate crepes. I'm going strong on The South Beach Diet, and I won't cheat for 'nothin!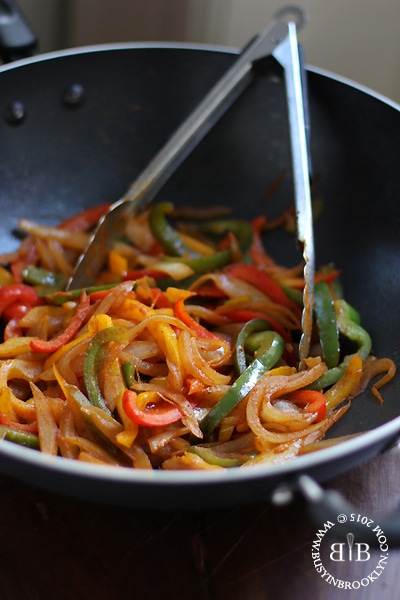 In fact, I've really upped my ante by joining a fitness regimen at The Space Brooklyn. They are hosting a 60 day challenge, where they are encouraging participants to get healthy via the mind and body by doing 30 workouts in 60 days. Their amazing lineup of classes helps me mix it up, so that I'm not bored or dreading my workouts. So far I've done a yoga class, a circus arts class, a barre burn class, and pilates is on the schedule for tomorrow.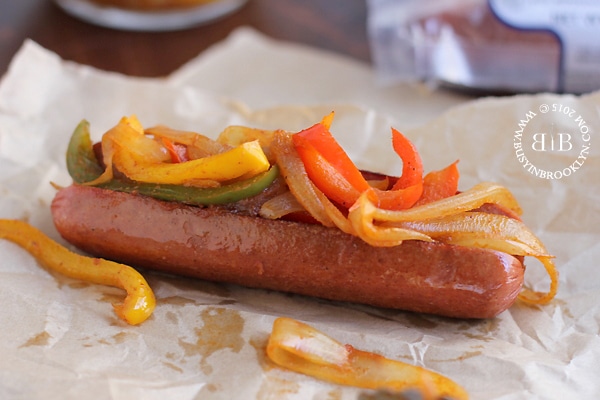 I'm charlie horse in muscles that I didn't know existed, but I feel so strong and healthy! I'm looking forward to attending some of the other nutrition-based classes that they are featuring during the #30in60 campaign (one of which will include me and my spiralizer!)
So, back to the food, 'cuz that's what it always boils down to, right?! Today I'm sharing a favorite dish and a favorite trick. First, how on earth will I get through BBQ season on South Beach?! Well, I"ll tell you…BUNLESS HOT DOGS are the thing! Turning your hot,dog into its own bun is a diet lifesaver! You'll be amazed at how a simple slit in your hot dog will open up when it's heated and the filling possibilities are endless!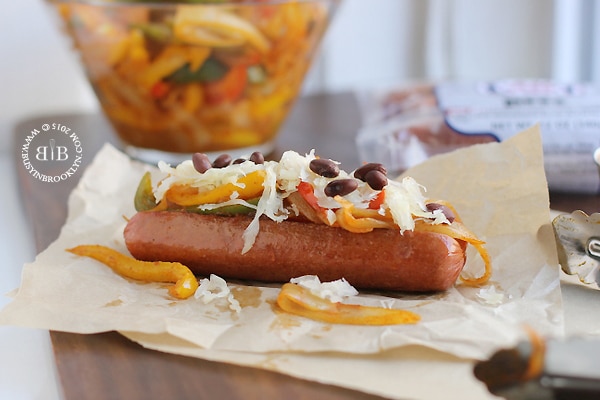 Fajita spiced peppers and onions are my absolute fave, and I'm sharing my own homemade spice mix below! With no carbs or MSG, it's great on chicken or beef, perfect in tacos, and definitely over hot dogs. Finish with some sauerkraut (fermented foods are top of the food chain these days) and salsa, and you've got yourself a carbless meal that's filling AND delicious!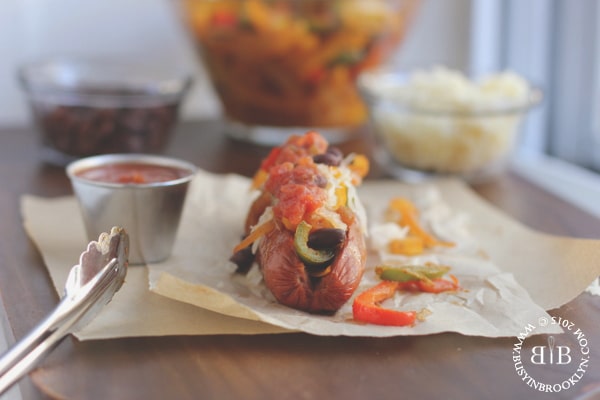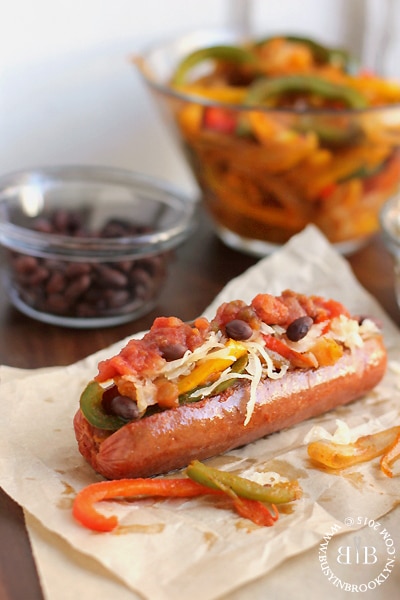 Bunless hot dogs are best made with a nice hefty dog, so Abeles & Heymann's knockwurst are my go-to. I love that they use natural nitrates found in celery and cherry, so there's nothing artificial about them. In fact, ever since I went down to the factory for a tour, I don't feel guilty about eating hot dogs at all. They start with real pieces of meat, not the fatty trimmings that I always imagined, to produce an extremely flavorful dog that is unmatched in the kosher industry. Quality and flavor? I"ll take two, please.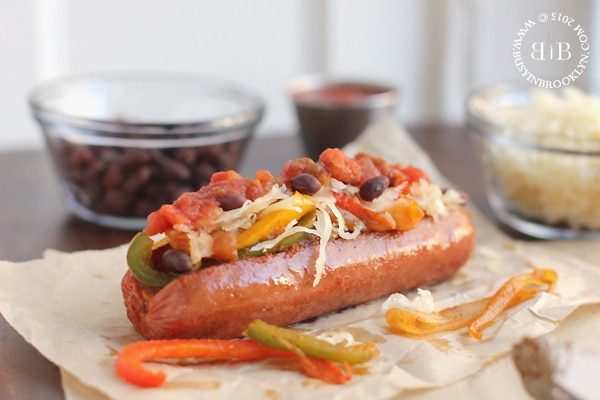 What's your favorite way to top off your hot dog? Share it with me in the comments below!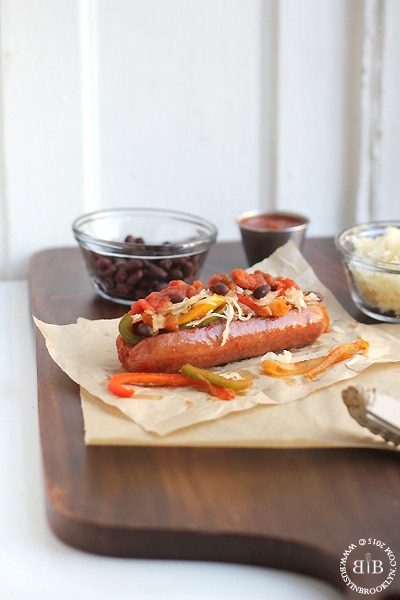 Bunless Fajita Dogs
1 package Abeles & Heymann no-nitrate-added beef knockwurst
1 red pepper, sliced into strips
1 green pepper, sliced into strips
1 yellow pepper, sliced into strips
1 large Spanish onion, sliced into strips (root to tip)
1 1/2 tbsp olive oil
1 heaping tbsp fajita spice (recipe follows)
1/2 cup sauerkraut
1/2 cup black beans
1/2 cup salsa
Method:
Add olive oil to a heated wok and saute the onions and peppers over high heat until the onions are translucent and the peppers start to soften. Add fajita spice and continue to saute until tender. Remove the fajita peppers to a bowl and reserve.
Cut the knockwurst lengthwise, being careful not to cut all the way through. Add a bit more oil to the wok and sear the hot dog over medium heat (or on the grill). As the hot dog heats up, it will split open. Turn the hot dog over to sear the other side and repeat with remaining hot dogs. Stuff the hot dogs with fajita pepper mix, top with sauerkraut, black beans and salsa. Serve warm.
Homemade Fajita Spice
2 tbsp chili powder
1 tbsp cumin powder
1 tbsp smoked paprika
2 tsp garlic powder
1/8 tsp cayenne
1 tsp kosher salt
Mix to combine and store in an airtight container. Makes 5 tablespoons.
FOR A LIMITED TIME, GET 15% OFF YOUR ABELES & HEYMANN ONLINE ORDER USING COUPON CODE "BUSY"!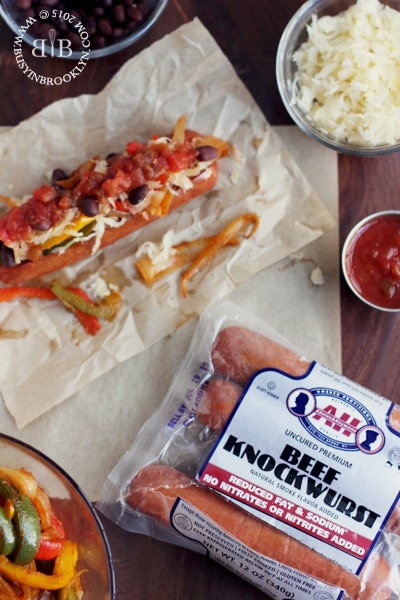 This post is sponsored by Abeles & Heymann. Follow them on Facebook, Instagram or Twitter! 
Other Hot Dog Recipes:
hot dog eggrolls
spiralized spud dogs
kid friendly dirty rice
fire roasted tomato rice stoup