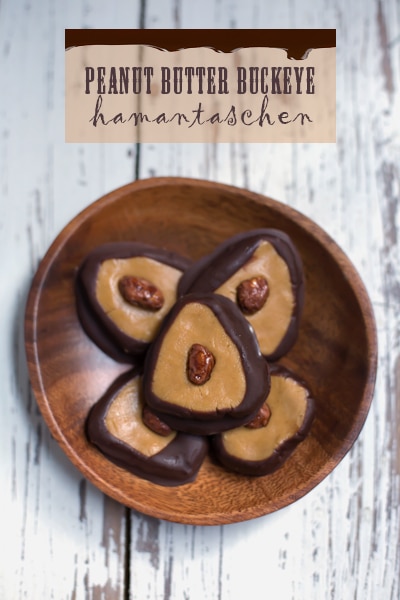 If you've been following me for a while, you probably know that I'm not big on baking. I love to cook, but baking is just too scientific for me. You can't just be creative and throw in a little of this and a little of that (trust me, I've tried!). Every year, I come up with such fun hamantaschen ideas, but I dread testing them. I push it off until I can't anymore, and then I test batch after batch after batch until it's just right.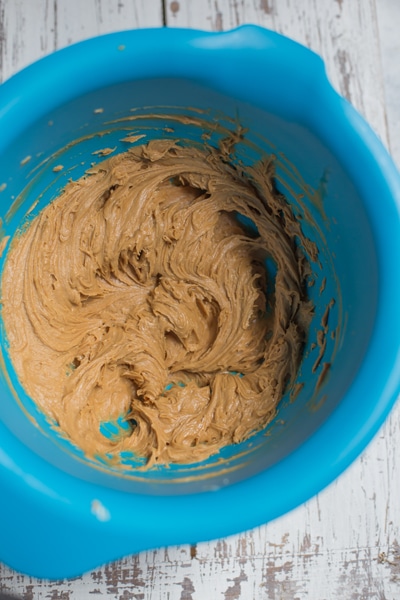 With hamantaschen dough and the filling, there's just too much margin for error. You've got to get the cookie to be soft, but crispy too. You can't fill them too much, and you have to make sure they don't open when you bake them. Just thinking about it makes me want to insert the eyeroll emoji.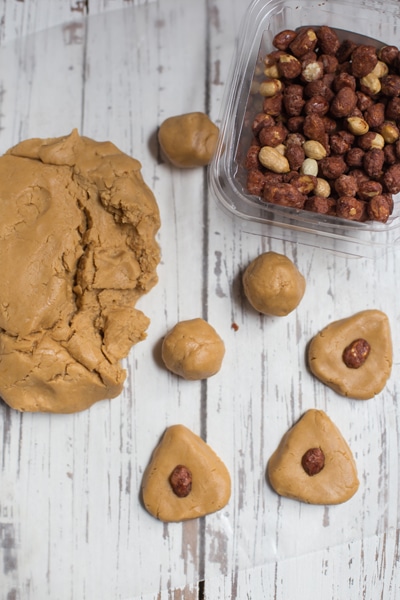 After testing six batches of mamoul hamantaschen dough this year, I decided I wanted to come up with a no-bake hamantasch that people are going to want to eat. It had to be some sort of candy, but also a riff on a particular style – so I went with BUCKEYES, 'cuz who doesn't love peanut butter?!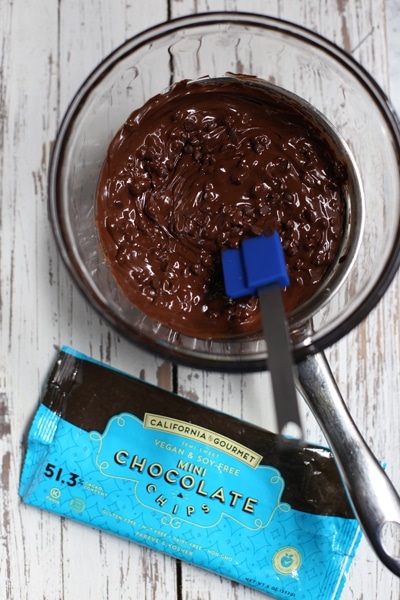 Buckeyes are basically a peanut butter cup – except the peanut butter filling is rolled into a ball and only partially covered in chocolate. Basically it's got peanut butter and chocolate and it's addicting. Case in point: when my daughter came home to a platter of these on the table, she gave me a hug and told me I had invented the best recipe on the planet. "How did you turn the peanut butter into a dough?", she wanted to know. Turns out, it's pretty simple. And I can do simple.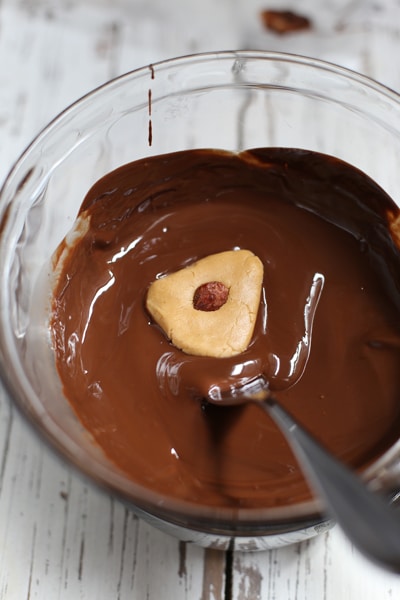 Hello NO-BAKE hamantaschen and goodbye to the tricky scientic process of baked hamantaschen. Who's with me on that?!
Of course you want to make sure you use good quality chocolate in this recipe, so I rely on my fave – California Gourmet. Their new mini's melt SO quickly, plus the 51.3% cocoa content make them rich and easy to work with.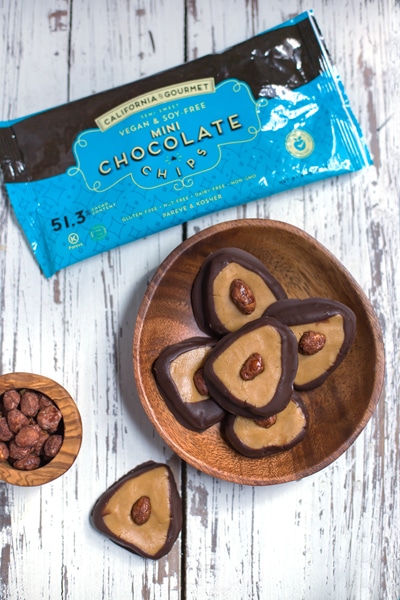 Enjoy this last taste of Purim here on BIB. I'm sure you'll be making these in traditional buckeye shapes after the holiday too. Chag Sameach!
Peanut Butter Buckeye Hamantaschen
3/4 cups natural peanut butter*
1/4 cup butter or margarine (1/2 stick)
1 tbsp honey
1 1/4 cups powdered sugar
1/2 teaspoon vanilla
1/4 tsp kosher salt
honey roasted peanuts
8oz. California Gourmet chocolate chips
2 tbsp coconut oil
Method:
In a large bowl, beat the peanut butter, margarine, honey, vanilla and salt. Add in the powdered sugar and mix until a soft dough forms. If the mixture is too sticky to handle, add a bit more powdered sugar.  Roll the dough into balls and form each ball into a triangle. Fill each triangle with honey roasted peanuts.
Melt the chocolate over a double boiler and stir in the coconut oil. Using a fork, dip the peanut butter triangles into the chocolate so that the edges are covered all around. Shake off excess chocolate and place on parchment paper. Refrigerate until ready to serve.
*I use peanut butter that is labeled as natural but it still has sugar added.
YIELD: approximately 20 hamantaschen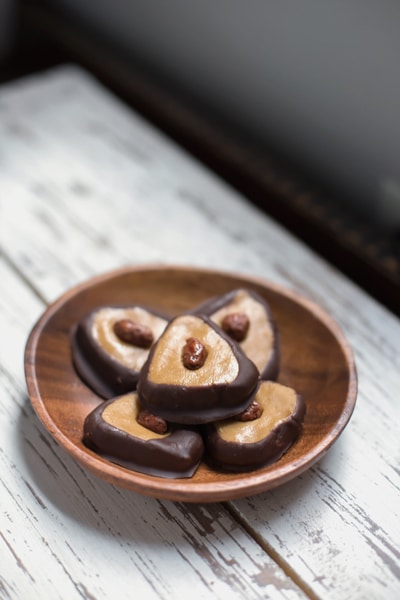 This post is sponsored by California Gourmet Chocolate Chips. Follow on Facebook, Twitter, and Instagram.  
Related Recipes:
no-bake date and almond hamantaschen
peanut butter bars
peanut butter mousse
peanut butter fudge ice cream pie