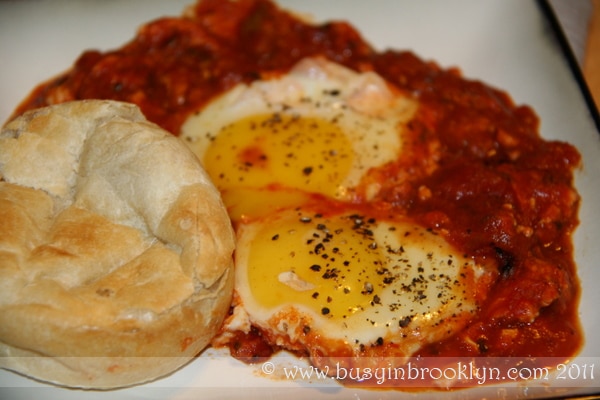 I absolutely love shakshuka! I couldn't think of a better breakfast on a Sunday morning, or any morning for that matter. The rich and spicy tomato sauce paired with a runny egg and some fresh hot bread or pita – could it get any better? Now Shakshuka can be a patchke to make, what with the chopping, sauteeing, and fresh tomatoes…I don't know about you but after a long Shabbos, and an even longer Motzei Shabbos, the last thing I want to do is start cooking, AGAIN (hence the Sunday night meal of leftovers!). But I have simplified this recipe to the easiest 2-ingredient fix (for the most basic) you could think of! Even the tired and weary can whip up a plate of these in no time!
Note: If you are watching your carbs, this is actually a great recipe because it is a whole meal-in-one and it's very filling! Skip the bread, of course!

Quick & Easy Shakshuka
1/2-1 jar of your favorite marinara sauce
eggs, amount of your choice
optional additions:
chopped vegetables
chillies
salt
freshly ground pepper
red pepper flakes
zaatar spice
cumin
turmeric
feta or other cheese
fresh parsley, for garnish
warm pita or crusty rolls, for serving
How to:
Prepare your marinara sauce (or you can even use salsa!). You can use one that already has chunky vegetables, as I did, otherwise, you can add some chopped vegetables to it. Taste the marinara sauce and add spices, as needed. If you'd like it spicy, add chillies and/or red pepper flakes and other spices of choice. Simmer sauce until it begins to bubble. Check eggs in a cup, taking care not to break the yolk. Gently slide into sauce and simmer until the yolks have set (if you cover the pot, this will take about 5 minutes). Sprinkle eggs with some freshly cracked pepper, and garnish with parsley, if you'd like. Serve with pita or crusty rolls.