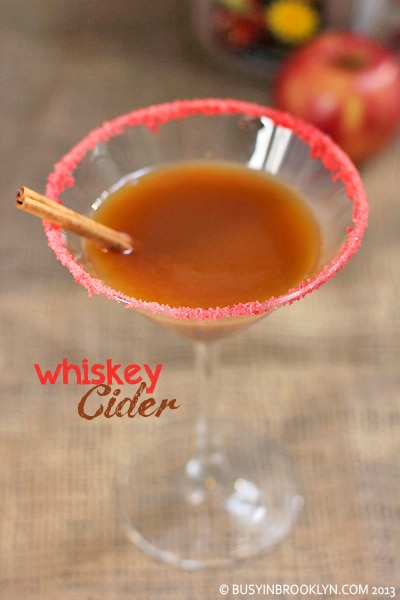 I'm really not much of a drinker. At all. I can appreciate a nice glass of red wine, but cocktails? I haven't the faintest clue where to start. The first real cocktail I ever drank was a whiskey sour when I was dating my husband. It was sour all right. And strong. I didn't hate it all that much and the buzz I got was kinda fun, but drinking is not really my thing.
When the Kosher Connection team decided on the theme "Spread the Joy" for the September link-up, the first thing that came to mind was inviting someone into my Sukkah to make a l'chaim (more on that later). Since whiskey sours are about the only drink I know how to make, I thought about how I could turn it into a sweeter version that celebrates the coming of fall. I decided to sub the sour element with a spiced apple cider syrup – reducing the cider with lots of  autumnesque spices. To get the real holiday buzz, I used equal amounts of whiskey and cider syrup, but if you want to go easy, you can serve the cider nice and warm (you don't have to reduce it) and add just a splash of whiskey. Either way, you've got a delicious buzz-worthy cocktail to share!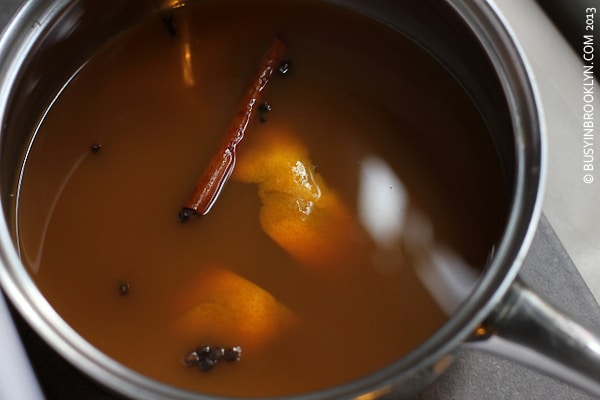 First things first – what is a sukkah? A sukkah is a temporary hut constructed for use during the week-long Jewish festival of Sukkot. If you've passed by a Jewish neighborhood, you may have seen them topped with branches and decorated with Judaic themes.
I grew up in Brooklyn, in a modest apartment on Eastern Parkway, just a stone's throw away from the famous 770 synagogue, the central hub of the Chabad movement. Back in the day, The Grand Rebbe of Lubavitch would draw hundreds of thousands of visitors from across the globe, all hoping to be granted a meeting or blessing from him. Living so close to where the Rebbe & his congregants gathered, our Sukkah was a regular stop for family, friends, neighbors and even strangers on their way to the synagogue. As more and more people poured in to our small little hut, it seemed to stretch itself out to accomodate more than it's physical space. L'chaim's were poured in abundance as beautiful melodies poured fourth from it's plastic walls.
My mom would pass her Yom Tov delicacies through the kitchen window, homemade meals of chopped liver, stuffed cabbage, sweet and sour tongue, yerushalmi kugel and other traditional foods which she made from scratch. The smells and tastes of the Chag come back to me each year, as the weather begins to herald the coming of fall, and the leaves begin to show their first signs of browning.
Sukkot is truly a joyous time. And not just because the mess gets left outside, and our homes are filled with delicious food and loving family. But because the emotionally taxing Days of Awe are behind us, and we are certain that we've all been inscribed for a happy and healthy year. It's just the time to take out your shot glasses and spread the joy by inviting others into your humble hut to make a l'chaim.
As for me, I'll be raising my glass to wonderful memories of a time when people from all walks of life, gathered in our family Sukkah to toast the New Year and all the good things it had in store. May the blessings abound, and may we all merit to raise our glasses to happy occasions!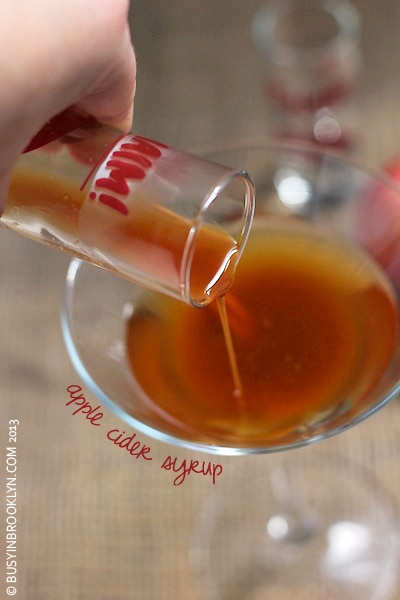 Whiskey Cider
1 oz. whiskey
1 oz. apple cider syrup (recipe follows)
juice of 1/2 orange
Method:
Add ingredients to a cocktail shaker and strain over ice. Pour into a cocktail glass rimmed with colored sugar (how do I do that?)
VARIATION: For a lighter buzz. make a hot apple toddy by simmering the apple cider with some spices until warm and fragrant. Add just a splash of whiskey and serve warm.
Apple Cider Syrup
1 cup apple cider
1 cinnamon stick
a few cloves
a few allspice berries
a strip of orange zest
Method:
Add all ingredients to a pot and simmer until reduced to 1/8th of a cup. Use for whiskey cider or pour over hot apple pie, ice cream, or any fall dessert!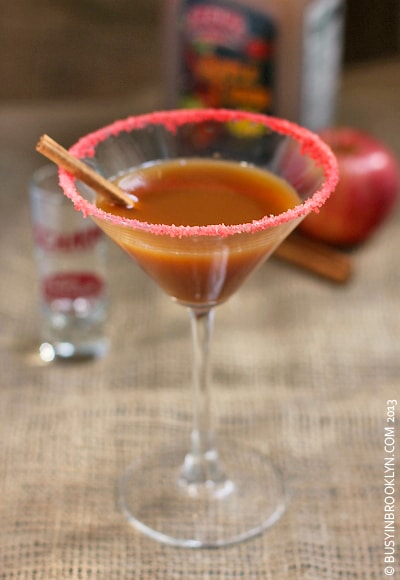 Related Posts:
3 layer chocolate cake martini
mulled wine
sangria
mustache straws
how to decorate cocktail glasses with colored sugar