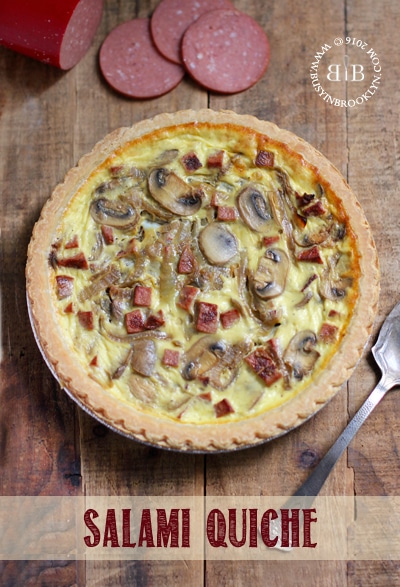 It's been a hectic couple of weeks here at BIB, with lots of Purim demos, cooking classes and recipe writing! I always say that calling myself BUSY IN BROOKLYN was like a self-fulfilling-prophecy, because when I started this blog I wasn't half as busy as I am nowadays. But busy is good and I am so thankful for it! Except when all that busying around turns into a sinus infection, and my recipe testing is put on hold because I can't taste anything! I had amazing plans for a new hamantasch this week, but my taste buds won't cooperate. And even though I can barely lift my head off my pillow, I've got my third demo this week in a couple of hours! So, I THANK GOD for this amazing recipe that I developed for a local magazine's Purim issue last year, so at least I have something to share!
You all know that I've taken on a BIB tradition to share a salami recipe every year. I once heard that people have a tradition to eat salami on Purim because it is hung, like Haman (!!!). Who knows if it's true, but it's definitely fun. And it was especially thrilling when my DRUNKEN HASSELBACK SALAMI went crazy viral two years ago (I can't believe it's so old!). I always meet readers at demos, or even on the street who tell me that it's become a weekly tradition for them. I just love that!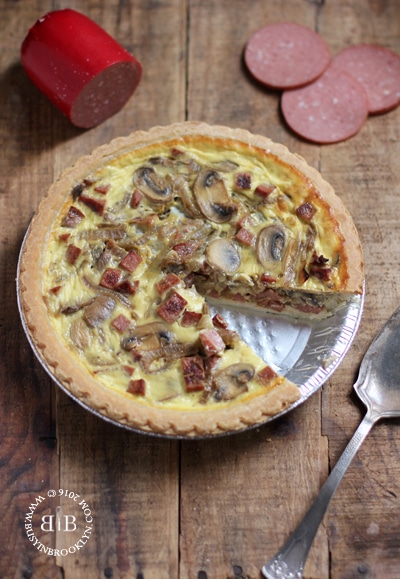 For this year, here's something a bit more homey and family-friendly for your Purim meal. I'm sure this will become a staple in your family for the holidays too. Happy Purim!
Salami Quiche
1 9″ deep dish pie crust, frozen
1 1/2 cups chopped salami (approximately 8 oz.)
1 large onion, thinly sliced into half rings
2 cloves garlic, minced
8 oz. button mushrooms, thinly sliced
3 large eggs
1 cup coconut milk (see note)
salt and pepper, to taste
olive oil, as needed
Method:
Preheat your oven to 350 degrees. Bake the frozen pie crust for 10-15 minutes, until lightly browned.
Saute the salami until it begins to crisp and renders some of its fat. Remove the salami from the pan and set aside. Add the onions and saute until golden and caramelized, adding more oil as needed. If your pan starts to burn, add a splash of water. When onions are soft and caramelized, add garlic and continue to saute until fragrant. Stir in the mushrooms and saute until they release all of their moisture and there is no liquid left in the pan. Set aside to cool.
Stir the salami into the vegetables and place the mixture on the bottom of the pie crust. In a bowl, mix the eggs with the coconut milk and whisk until combined. Season with salt and pepper and pour over the filling. Place the quiche on a foil-lined baking sheet, in case of spillage, and bake at 350 degrees for 45-50 minutes, until the the filling is set. Cool for 15 minutes before serving.
NOTE: I use coconut milk from the carton, which has a very mild coconut flavor that does not come through in the quiche. If you prefer not to use coconut milk, you may use soy milk, almond milk, or any creamy pareve milk.
MAKE AHEAD: Quiche may be made up to 3 days in advance. Serve cold or reheat gently at 250 degrees.
VARIATION: You can also make individual quiches using mini pie crusts.
KITCHEN TIP: If your pie crust begins to brown, but your filling is not yet set, cover the edges loosely with foil to prevent overbrowning.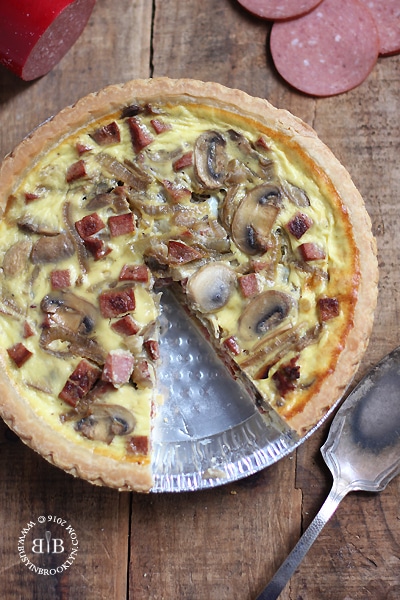 Related Recipes:
drunken hasselback salami
beer battered salami chips with beer mustard
salami chips with dijon dipping sauce