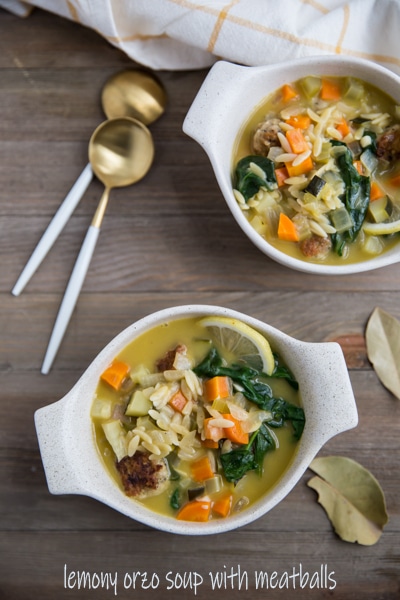 Hello, hello my fellow winter bunnies. It's officially cold out, even the snow has made an appearance this week. I find winter pretty depressing tbh, and if it was up to me, I'd stay indoors snuggling under my covers until Spring!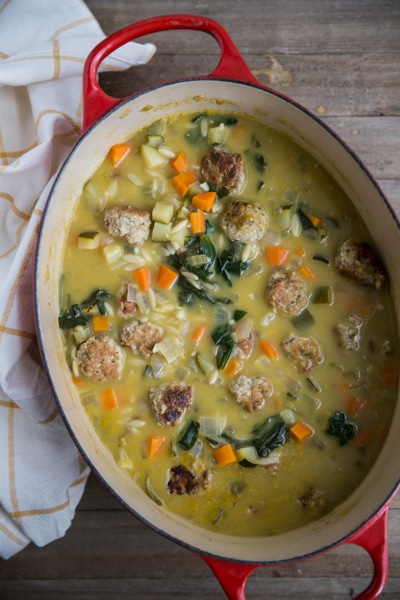 The only thing that really gets me through winter is my down coat, fingerless gloves (so I can answer my DM'S!), some uplifting music, and hearty soups. That last one is mandatory.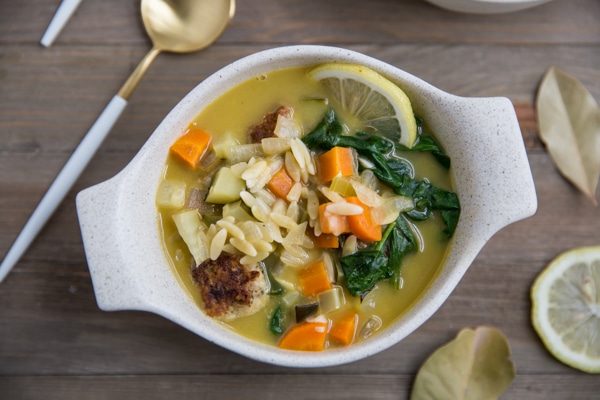 I've never been that much of a soup person because it's just ANOTHER thing to make for dinner, but I've found that my kids really love a hot bowl of soup on a cold winter night, and if you play your culinary cards right – it doesn't have to be that extra thing at dinner, it can actually BE dinner.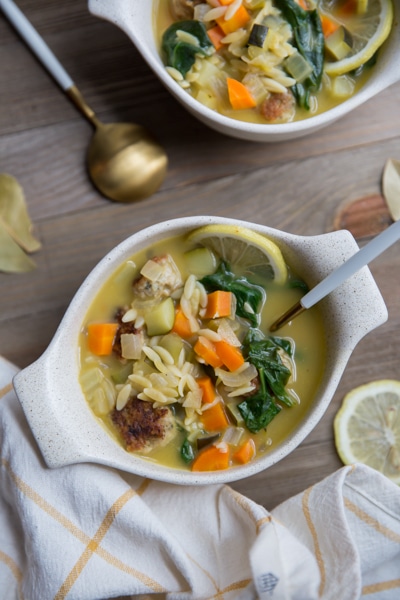 To turn your soup into a one pot meal, follow these basic guidelines:
1. include a protein: chicken, shredded beef, meatballs, smoked turkey, tofu
3. include grains: pasta (orzo, couscous, ramen), farro, barley, quinoa, rice
2. include vegetables: endless options!
If you're feeling  like you need a little somethin somethin on the side, make a salad or serve with fresh baguettes or pita for dipping!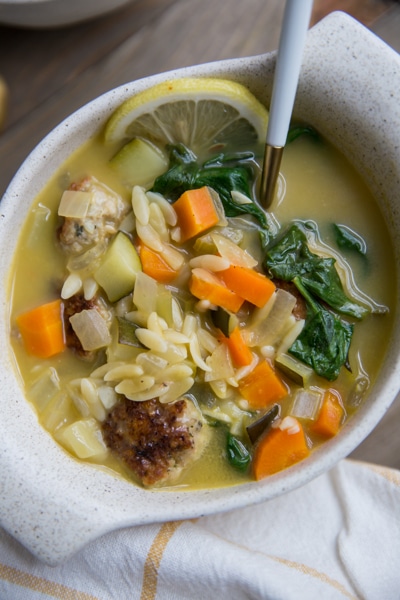 Hoping this hearty soup keeps you warm all winter long!
Lemony Orzo Soup with Meatballs
For the meatballs:
1.25 lbs. ground chicken
1/2 cup breadcrumbs
1 tsp basil
1 tsp oregano
2 cloves garlic, minced
1 egg
salt and pepper, to taste
2 tbsp olive oil
Method:
In a medium bowl, combine all the ingredients besides for the oil. Mix and form into mini meatballs. Heat a dutch oven over medium heat, add the oil and and brown the meatballs. Remove from the pot as you prepare them and set aside.
For the soup:
1 medium onion, diced small
3 cloves garlic, minced
2 carrots, diced small
2 stalks celery, diced small
1 large zucchini, diced small
8 cups vegetable stock
2 bay leaves
Juice of 2 lemons
salt and pepper, to taste
1 c orzo
2 handfuls of spinach
Method:
Add the onion and garlic to the same pot that you browned the meatballs in (add additional olive oil, if necessary). Saute until translucent. Add the carrots, celery and zucchini and continue to saute until softened.  Add the stock, bay leaves and lemon juice and bring to a simmer. Season, to taste, with salt and pepper.Add the meatballs and orzo and cook until the orzo is tender, about 15 minutes. Stir in the spinach leaves and serve.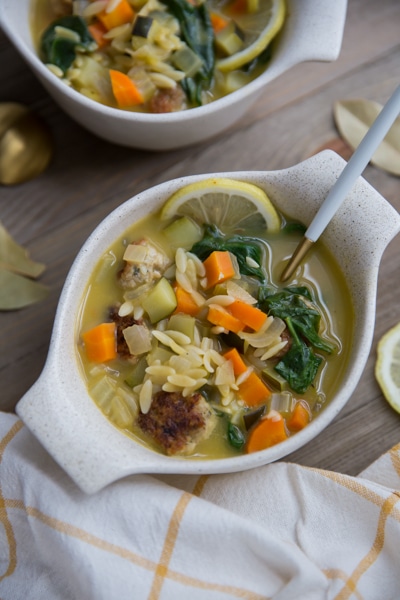 Other hearty winter soups:
crockpot mushroom barley stoup
spinach matzo ball minestrone soup
smoky split pea soup with thyme dumplings
cream of chicken soup in bread bowls