If you're familiar with Nish Nosh salad, you're probably doing the happy dance right now. Nish Noshim are these buttery sour cream and onion crackers that are made in Israel and the dish gets it's name because it's smothered in these addictive crackers. The salad is as popular for it's crackers as it is for it's dressing, which includes soy sauce, mustard and garlic for a rich savory flavor. The dressing is so delicious in it's own right that it's been packaged and sold in stories under the name Nish Nosh dressing.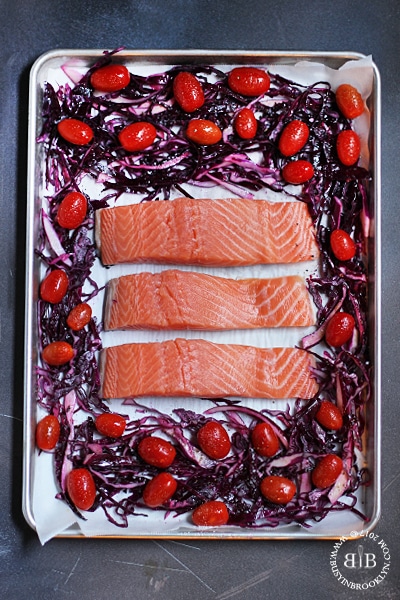 Of course Nish Nosh salad has made an appearance on my Shabbat table, and it always gets finished to the last drop. The salad itself includes romaine lettuce, red cabbage and grape tomatoes, along with the crackers and salad dressing. Being the blogger that I am, I decided to turn the dish into an entree using salmon! I even roasted the cabbage and tomatoes for a full baking sheet dinner that is light, simple and pretty healthy if you don't eat the whole bag of crackers while you're prepping ;)
Roasted cabbage has become a healthy staple for me thanks to my friend Mel who makes it regularly. I love that you can dress it up with different spices (most recently I used Montreal Steak Seasoning) and it's super quick and easy. The cabbage takes on a great texture, and if you cook it long enough, it starts to brown and caramelize. My only caveat: don't use the prepackaged shredded cabbage. You'll definitely want to use a fresh head and slice it yourself (no need to use a machine for this, just your trusty old kitchen knife).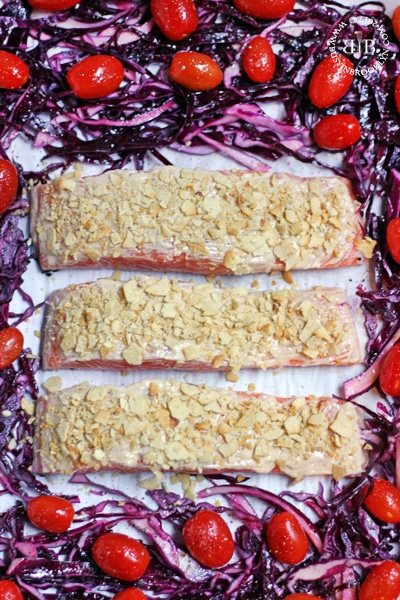 We're not that big into fish in my house since my kids don't like it, but I'm definitely trying to work it in to the weekly rotation. Baked salmon is really the easiest way to go, and throwing it on a sheet pan with all the other ingredients make it a super quick dinner. You can serve this with some quinoa if you want to bulk up the dish, or treat yourself to a healthy and delicious lunch. Of course it works great for Shabbat too!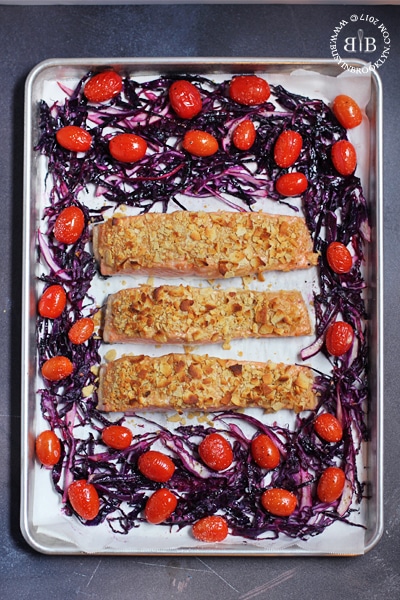 If you want to serve it up buffet style for a party, here's a great idea: Roast the cabbage and tomatoes on their own sheet tray. Cut the salmon into cubes and coat them fully in the mayo and crumbs. Bake the salmon until opaque (about 10 minutes, depending on the size of your cubes) and roast the cabbage and tomatoes until they start to caramelize. Spread the cabbage out onto a platter and top with the salmon cubes. Then stand back and enjoy the compliments!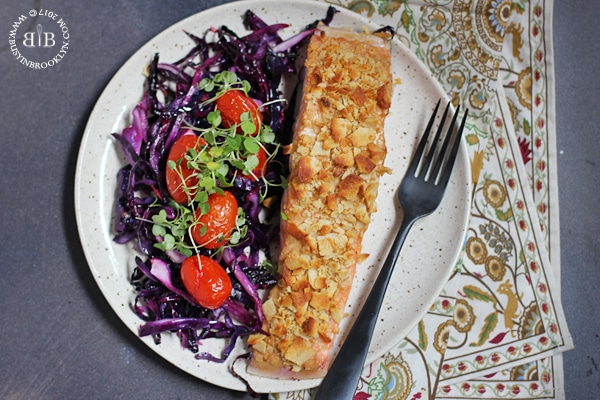 Nish Nosh Salmon
4 slices salmon fillet
1/4 cup mayonnaise
1 clove garlic
1 tsp soy sauce
1 tsp lemon juice
1 tsp dijon mustard
1 cup Nishnosh sour cream and onion crackers, crushed
1/4 cabbage, shredded
1 pkg grape tomatoes
olive oil
salt and pepper, to taste
Method:
Preheat oven to 400 degrees. In a small bowl, mix the mayonnaise, garlic, soy sauce, lemon juice, mustard and a pinch of black pepper.
Place the salmon slices on a parchment lined baking sheet. Spread the cabbage and tomatoes around the salmon. Brush the salmon with the mayonnaise mixture and top with crushed Nishnosh crackers. Drizzle the cabbage with olive oil and season with salt and pepper. Bake for 15-18 minutes, until fish is opaque and flakes easily with a fork.
NOTE: If you'd like to roast the cabbage and tomatoes for longer, remove the salmon and continue cooking until desired doneness is reached.
VARIATION: If you don't have Nish Nosh crackers, you may use flavored panko crumbs or French fried onions instead.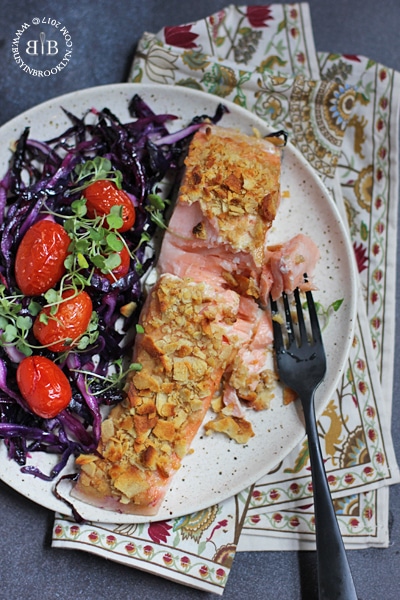 Related Recipes:
sweet chili salmon with wasabi crust
pesto baked salmon
teriyaki salmon
snacker-crusted salmon cakes