I have a love/hate relationship with bananas. I love me some banana cake with frosting, but I'm not a fan of strawberry + banana anything. Banana "nice cream" is a great invention, but sometimes I want some ice cream that's good for my body that doesn't taste like, well, bananas.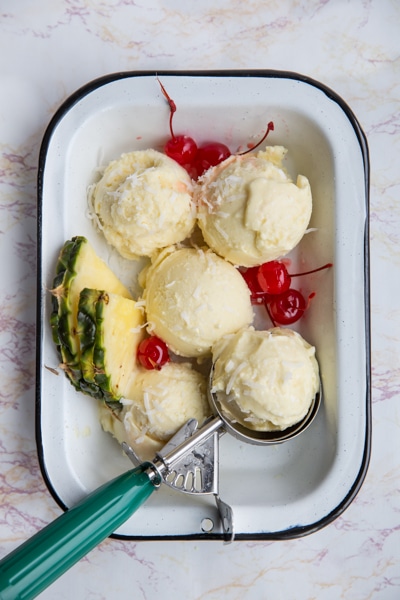 Enter the humble pineapple. I've turned it into a rotisserie stand in my cookbook, Millennial Kosher, and now it's solving my nice cream problems with it's unique ability to blend up into a creamy and dreamy dessert.
Like bananas, the pineapple must be frozen before making "nice cream", and the addition of coconut and rum makes you feel like you're on a tropical island somewhere. Which is kinda nice considering I haven't been to one in about 12 years.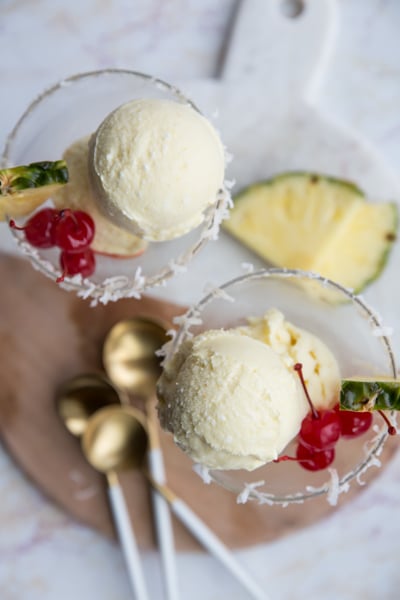 So while my Instagram is flooded with photos of Mykonos, I'll happily enjoy some of this guilt-free ice cream on my porch in Upstate New York, savoring the smell of grass and the breeze sweeping through the mountains. Enjoy the last licks of summer, it's almost over! (insert sad emoji face here).
Pina Colada Ice Cream
YIELD: 6 servings
1 ripe pineapple, peeled and cut into chunks
1 can full fat coconut milk
2 tbsp rum, optional
2 tbsp maple syrup, or, to taste
pinch of salt
Method:
Place the pineapple in a ziploc bag and freeze overnight. Refrigerate the coconut milk overnight.
Carefully remove the coconut milk from the fridge and scoop out the coconut cream from the top of the can, leaving the liquid on the bottom (drink or discard). Place the coconut cream into a food processor along with the frozen pineapple chunks, rum, maple syrup and salt, Blend until smooth and creamy, scraping down the sides of the bowl as needed.
Serve immediately or freeze until ready to serve.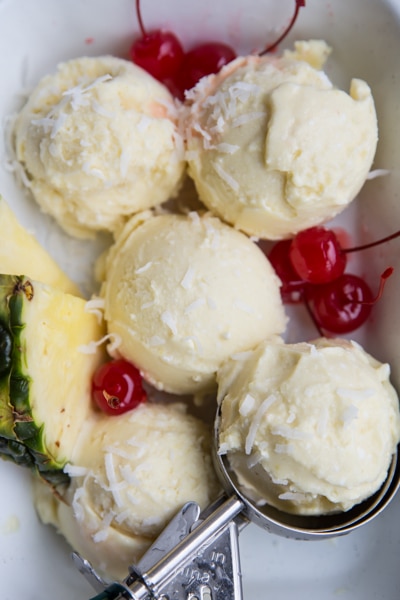 Related Recipes:
passion fruit coolada
persimmon coconut ice cream
nutella banana nice cream
orange creamsicle pops