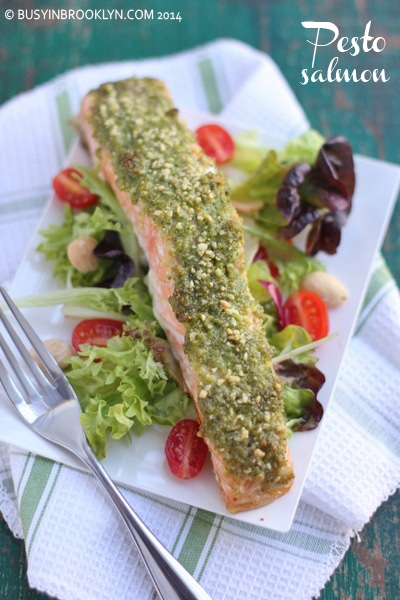 Of all the recipe requests I receive, it seems like salmon is that one dish that people get bored of rather quickly – me included. I've had my fill of honey mustard salmon, I'd rather not look at another piece of teriyaki salmon, and I'm all magic-salmoned-out. The good news is, I've got an endless variety of salmon ideas, so I can always pick something from under my chef's hat (figuratively speaking, of course).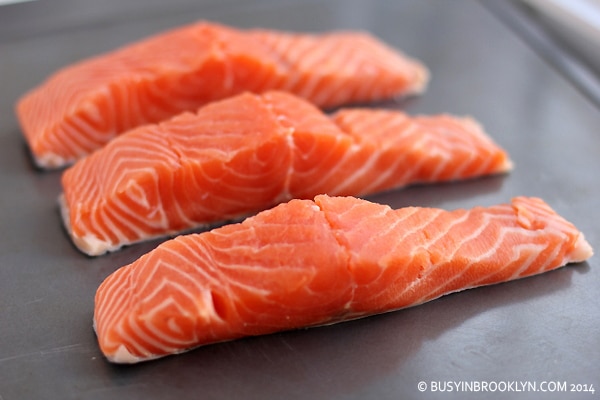 Truth be told, I'm really not the biggest fish person altogether. I won't touch tilapia (bottom feeders freak me out), I don't like sole, and I usually stay away from gefilte (is that even considered fish?). I tend to lean towards salmon, flounder, red snapper or seabass, when available. I've always wanted to try different types of fish, but they're not readily available where I live. I've had whole bronzino in restaurants and halibut at my mom's (she loves it!), but I've never tried grouper or mahimahi. Arctic Char is one of the best pieces of fish I've ever tried – I would love to find a place that carries it!
I've always wanted to bake my own whole fish stuffed with lemon and herbs – better yet, catch and fillet it myself. It's just another one of those things on my bucket list – and I hope to do it one day. I've heard that the taste of freshly caught fish doesn't compare to what we buy at the fishmonger. I can just imagine it smelling of the ocean istead of, well, fish. Don't you just hate it when you open up a package and a fishy stench just hits you like a fishing rod!?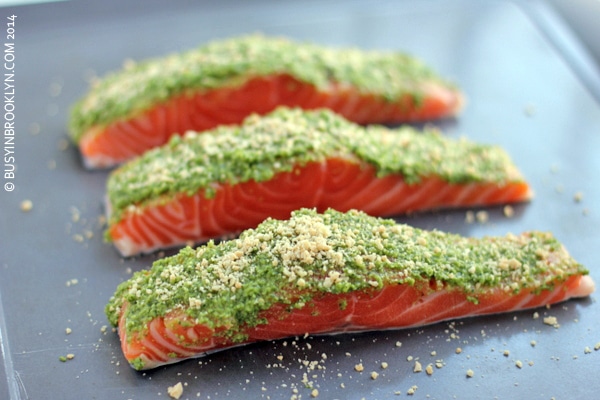 Back to the salmon – since it's one of the few types of fish that I eat, I'm always coming up with new ways to eat it. This pesto-smothered-recipe came to me when I was on the South Beach diet and I needed to stay away from sweet sauces and sugar. For added crunch (without the panko carbs), I grind up some nuts (whichever nuts are in the pesto) and sprinkle it over the top. It adds great texture to the salmon!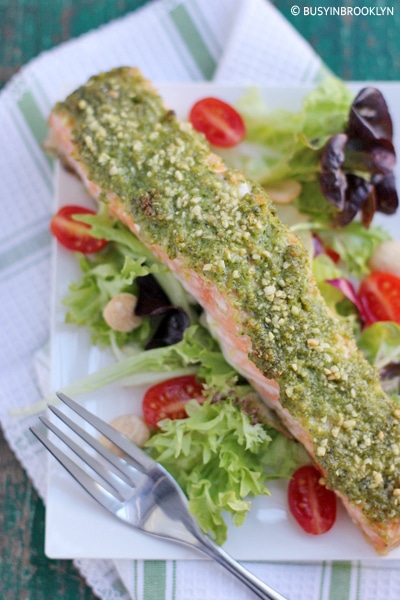 Pesto Baked Salmon
salmon fillets
your favorite homemade or store-bought pesto
roughly chopped nuts (I like to use the same nuts that are in the pesto, to complement it)
grated parmesan cheese, optional
olive oil
lemon slices, for serving
Method:
Preheat oven to 400 degrees. Rinse the salmon and pat dry. Spread pesto over the salmon slices and sprinkle with chopped nuts and parmesan (if using). Drizzle olive oil over the fish and bake for 15-20 minutes, until salmon is opaque and flakes easily with a fork.
PAREVE VARIATION: to make this dish nondairy – use a pareve pesto and omit parmesan cheese.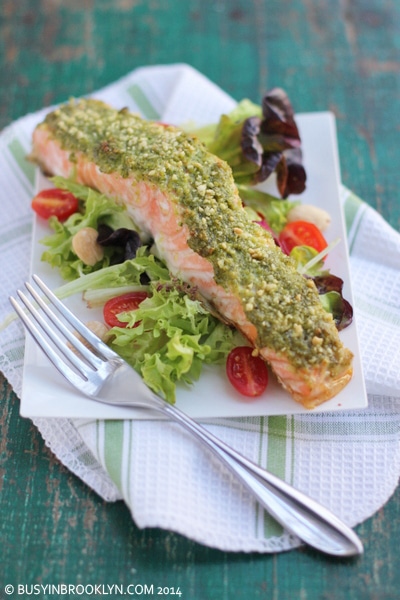 Related recipes:
spinach, walnut and cheddar pesto
marcona almond & basil pesto
salmon pasta salad
salmon cakes with yogurt sauce