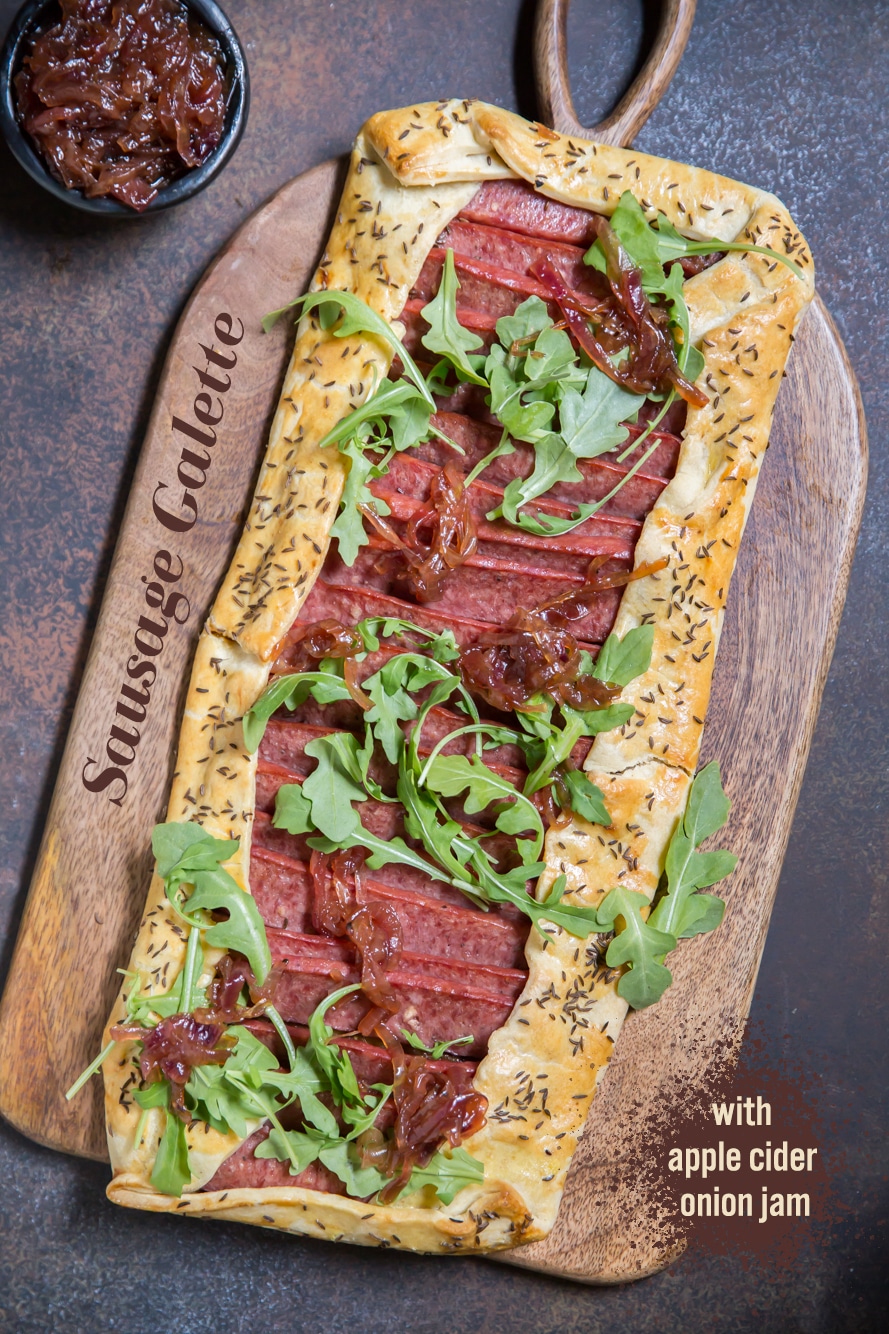 It's that time of year when my inbox gets flooded with Kosherfest invites and it really got me thinking about how far the kosher industry has come. I'm so thankful because having so many amazing kosher products on the market helps me do my job and get creative in the kitchen.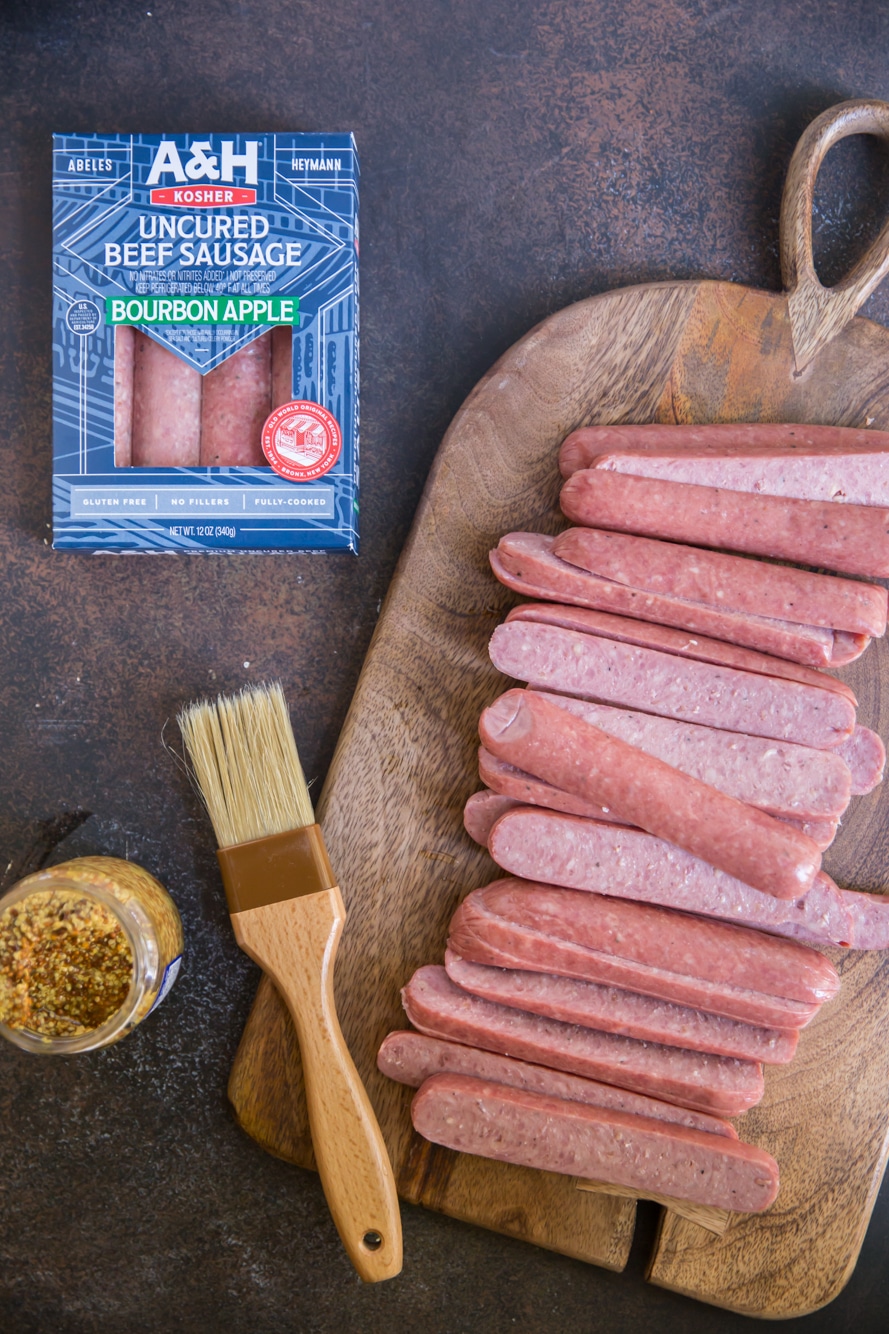 When my mom was growing up, there were the basics: kosher meat, kosher milk, pasta, tomato sauce, ketchup, mayo, canned fruits and veggies… the staples. There was candy and baked goods but nothing like what we have today! We are so fortunate to have so much at our disposal, and kosher cooking is easier and tastier than ever.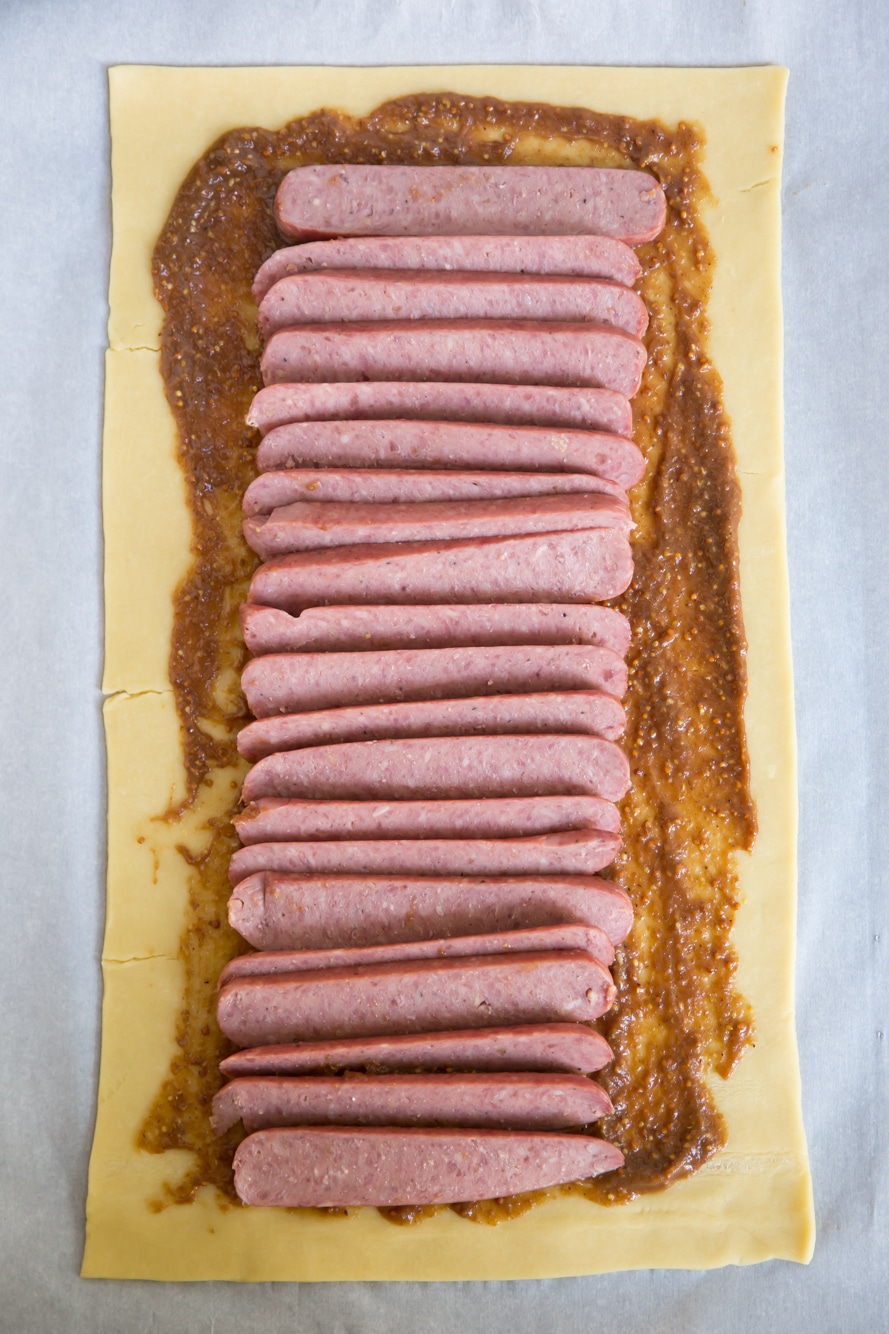 I'm especially thankful for kosher imports from around the world that make specialty products accessible. Do you remember when bloggers were making their own cookie butter, and finding a package of Lotus cookies was like striking gold? They're now readily available in most kosher supermarkets, with kosher certification from Israel.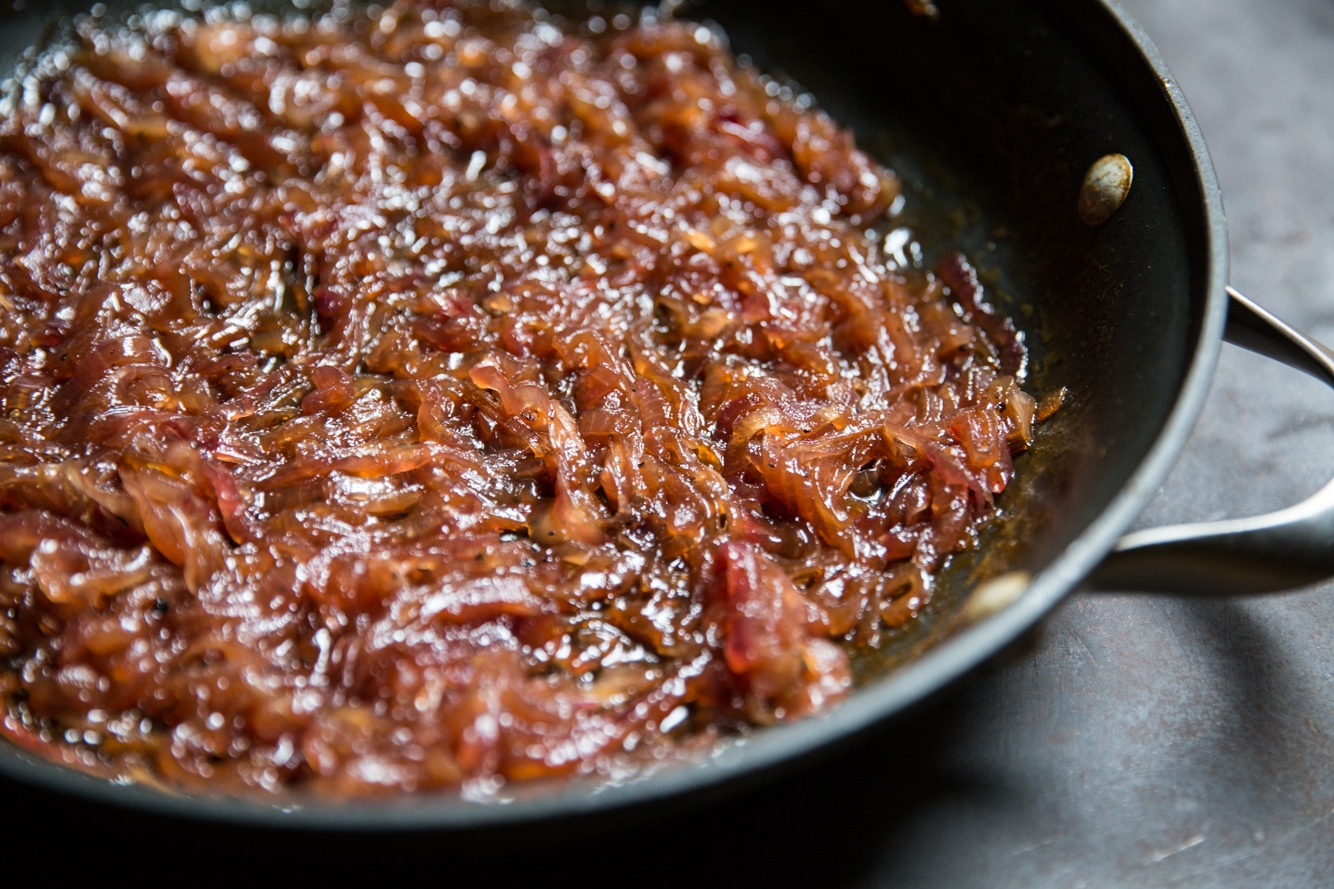 The newest Israeli import that I'm crushing over are the rolled pie doughs that come frozen, in both sweet and savory varieties. They make galettes and tarts a breeze, and I couldn't be happier. When Abeles & Heymann released their newest sausage flavors of Bourbon Apple, Teriyaki Ginger and Andouille, I knew just what I was going to make, and LOOK. HOW. PRETTY!!!!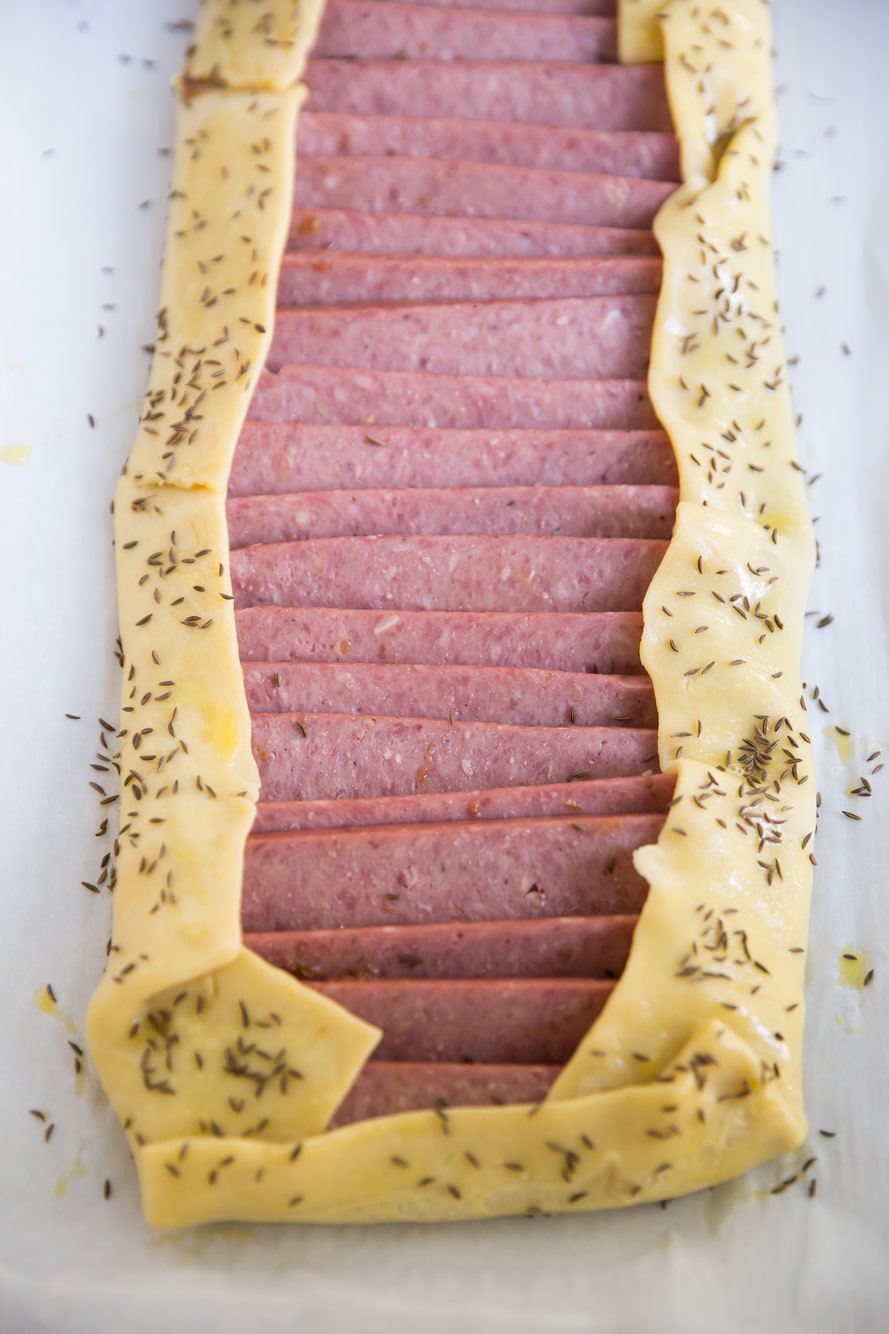 I love that Abeles & Heymann is constantly upping their game and their new sausage flavors are so exciting! I'm so honored to be a brand ambassador for them, because I truly love the quality and care that they put into their products. My family cannot tolerate any other hot dog and because they are so conscious of putting out healthier products, I don't have to feel bad about feeding them to my family, because many are free of nitrates and other additives.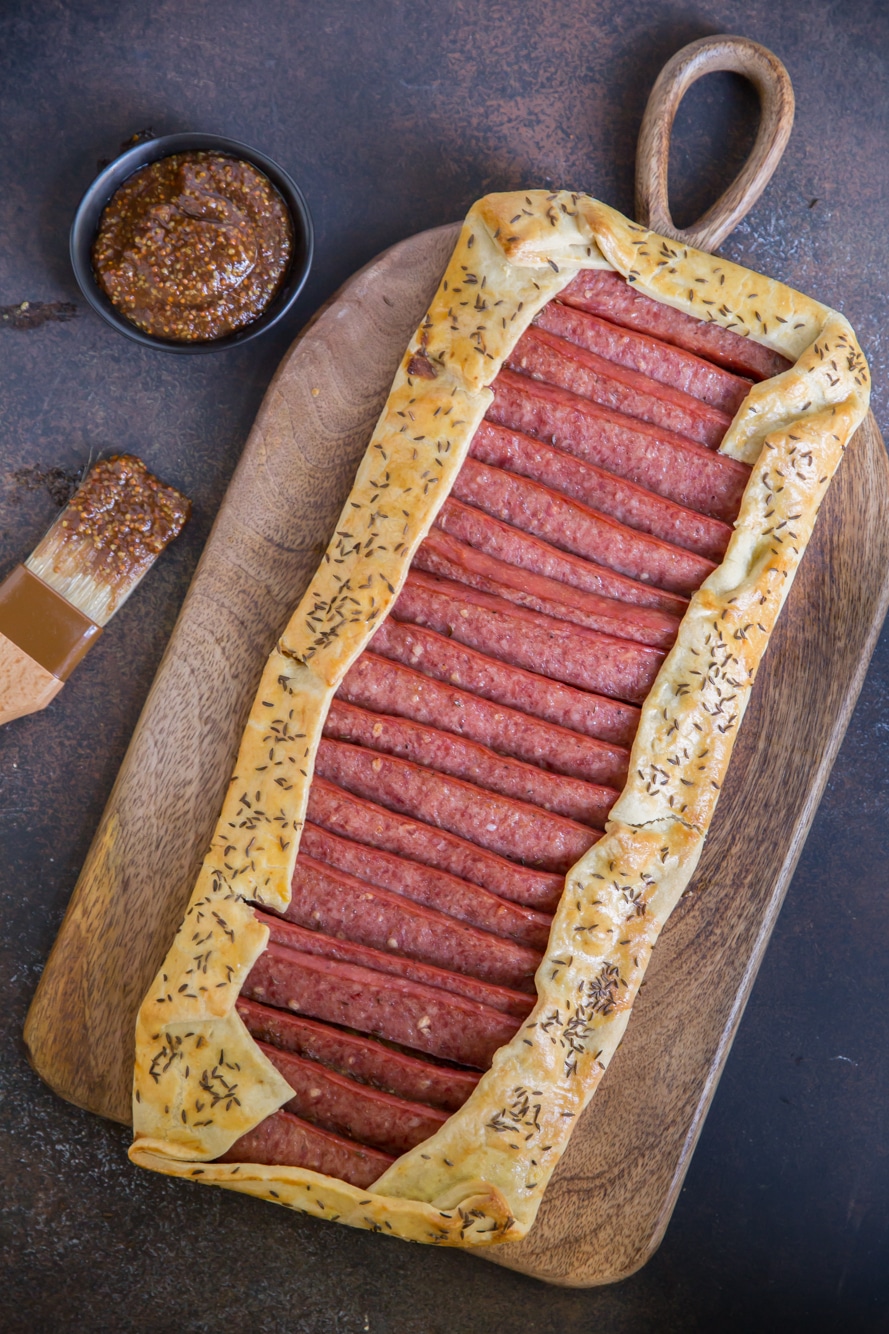 So lets talk tart — In honor of the upcoming holiday of Rosh Hashanah, I whipped up an easy apple mustard using prepared apple butter and cooked down the most lip-smacking apple cider onion jam that is about to be added to EVERYTHING! Make it and you'll see!
If you've got any apple cider onion jam left, feel free to add it to grilled cheese with some sliced apples (if you make it pareve), mixed some into your holiday roast, smother it over chicken, squash or mix into rice. Or, just eat it by the spoonful cuz it's THAT good.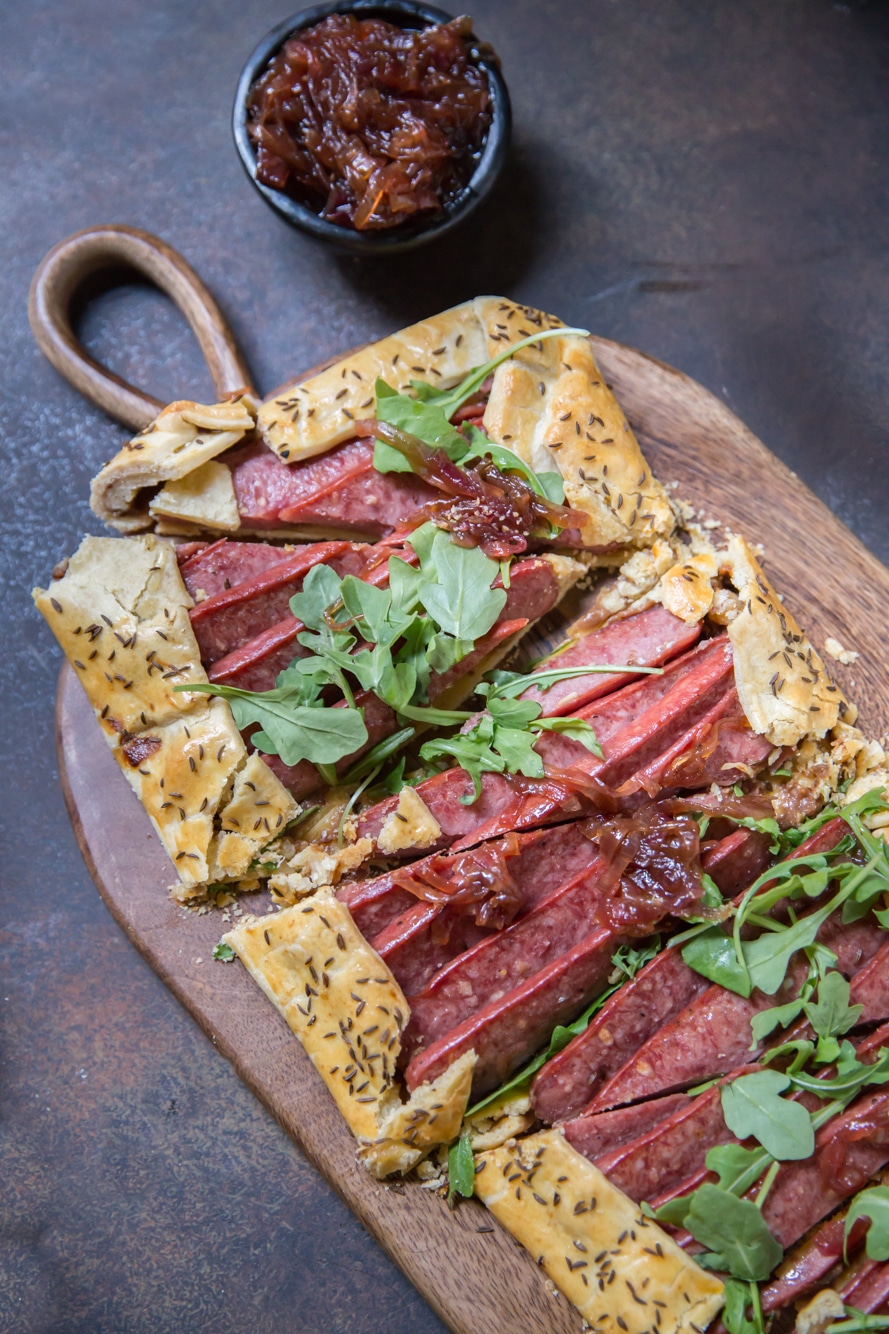 As for the sausages, if you're not up for a galette, you can slice them on the diagonal, sear them off and add to a charcuterie board. Wrap 'em in puff pastry for classic franks in blanks. Roast them with potatoes or peppers and onions for an easy sheet pan meal. Or just go classic in a hot dog bun, 'cuz you can never go wrong with that!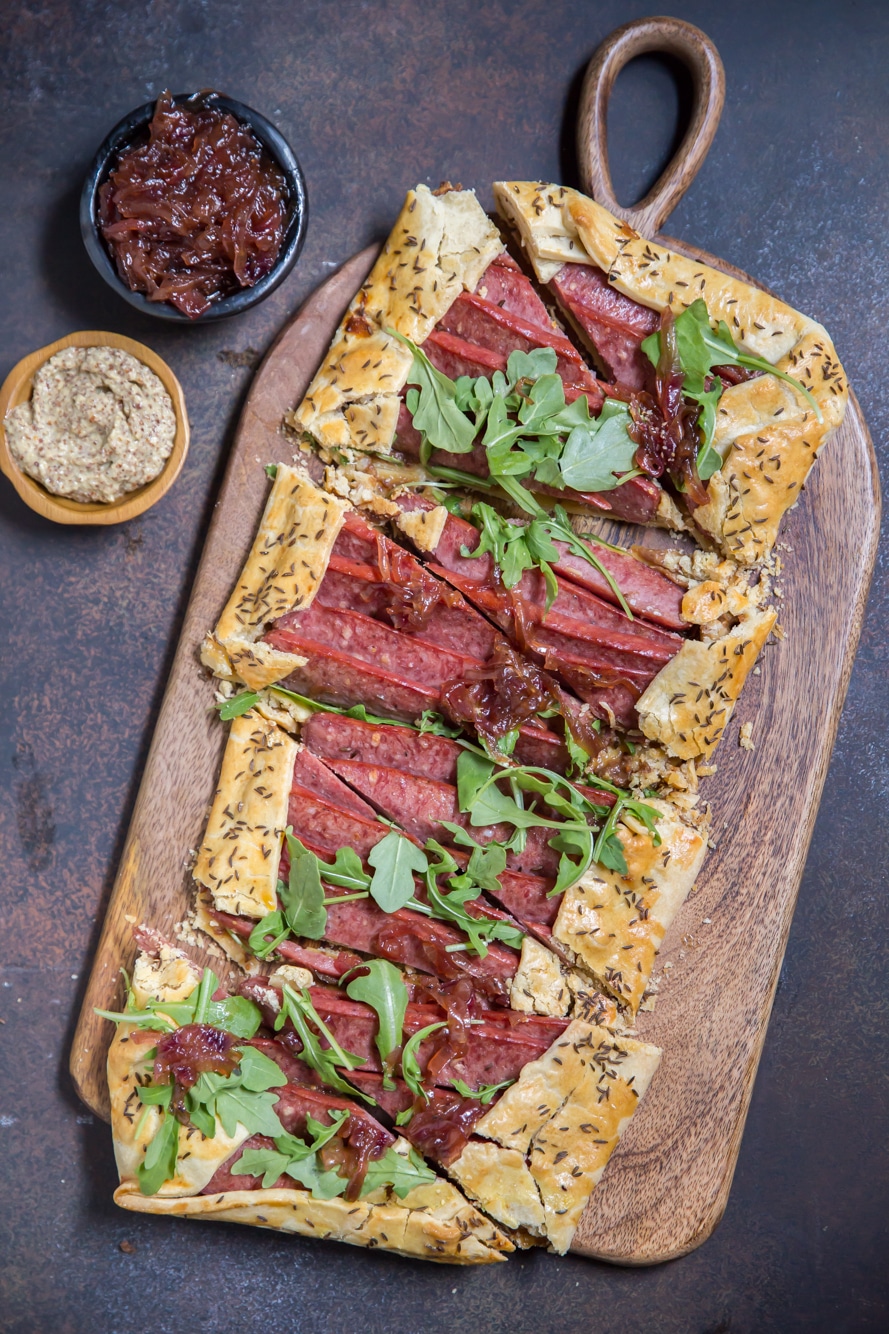 Wishing you an easily prep for the holidays ahead, and a super sweet and delicious year!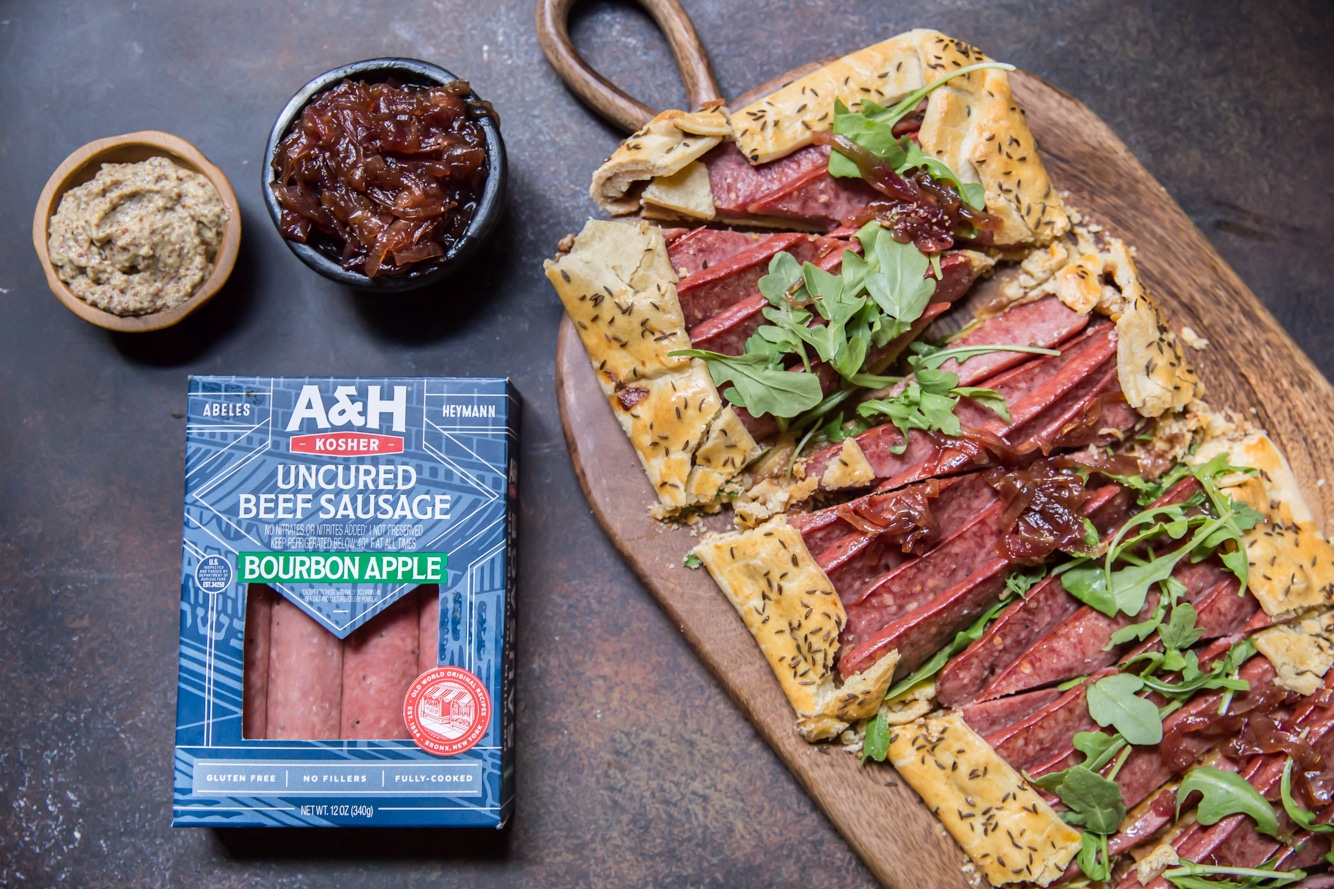 Sausage Galette 
1 package Abeles & Heymann Bourbon Apple Sausages
1 savory pie crust (see note), thawed
2/3 cup pure Apple butter
2 tbsp whole grain mustard
2 tbsp Dijon mustard
1 tbsp honey
1 egg, beaten
1 tsp caraway seeds, optional
1 cup arugula
1 tsp olive oil
1 tsp fresh squeezed lemon juice
salt and pepper, to taste
1/3 cup apple cider onion jam (recipe follows)
Method:
Preheat oven to 375 degrees. Slice the sausages lengthwise in 4.
In a small bowl, combine the apple butter, whole grain mustard, dijon mustard and honey. Brush the mixture generously over the pie dough (reserve any remaining mustard for serving). Layer the sausages along the length of the dough, overlapping slightly. Fold the dough over to form a rustic galette.
Brush the dough with egg and sprinkle with caraway seeds, if desired. Bake until the dough is browned and crispy, approximately 30 minutes.
When ready to serve, dress the arugula with olive oil, lemon juice, salt and pepper. Top the galette with the arugula and onion jam and serve with apple mustard.
NOTES: I used Madanot rolled savory pie dough. If you cannot find it, you may also use puff pastry, but you may need to divide it into two tarts since the puff pastry dough is smaller. Alternatively, you can use a frozen round pie crust, slice the sausages on the bias, overlap in a round pattern and form a round galette.
VARIATIONS: The flavors of Abeles & Heymann apple bourbon sausages pair well with the apple mustard and jam. If it is not available in your area, use any sausages of you choice, or substitute with beef fry or pulled beef.
You can substitute other jams such as a apricot or fig instead of the apple butter. Or use other seeds of your choice instead of caraway.
Apple Cider Onion Jam
2 tbsp olive oil
3 med-large red onions, thinly sliced
2 cups apple cider
2 tbsp apple cider vinegar
1/4 cup honey
salt and pepper, to taste
Method:
Heat the olive oil in a large skillet and add the onions. Cook until the onions have softened and add in the apple cider, apple cider vinegar, honey, salt and pepper. Cook, uncovered, over medium heat until the cider is reduced and the mixture has thickened, 20-30 minutes. Store in an airtight container in the fridge for up to 2 weeks.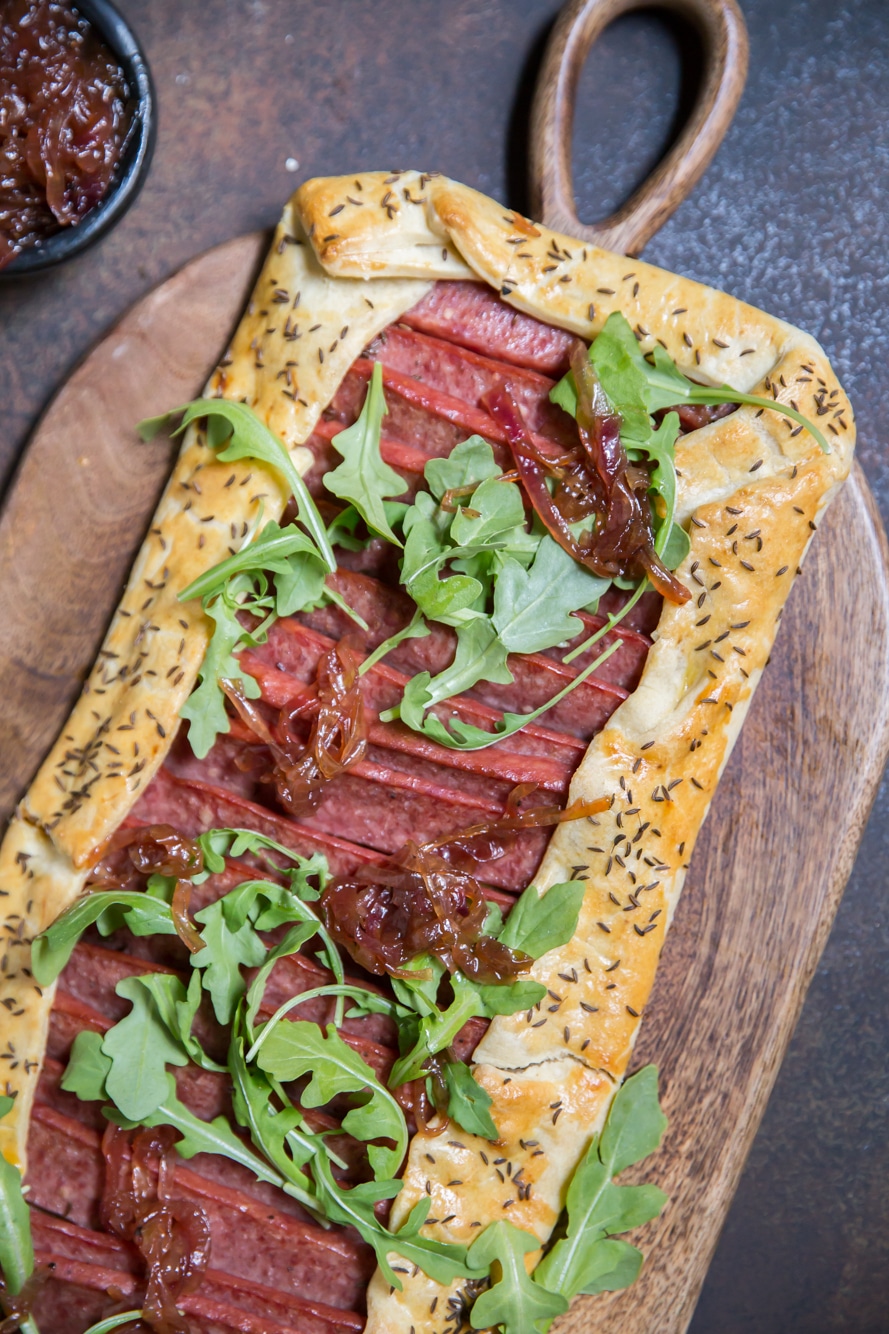 This post is sponsored by Abeles & Heymann.

Related Recipes:
sausage stuffed butternut squash with apples
salami tarte tatin
apple and honey galette