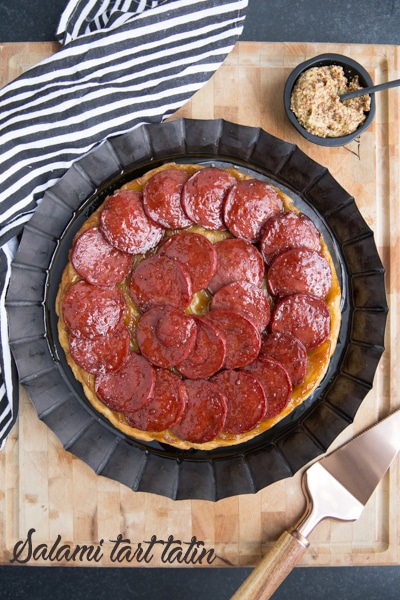 OMG OMG OMG OMG OMG OMG OMG OMG!!!!
S-A-L-A-M-I  T-A-R-T-E  T-A-T-I-N!!!!!!!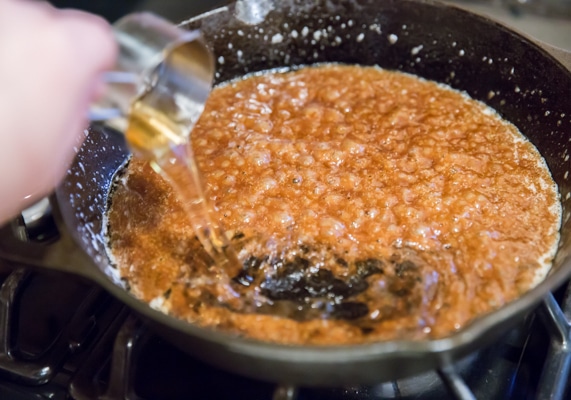 OK I can't remember the last time I've been so excited about a recipe!!! Salami time AKA Purim, AKA the Busy In Brooklyn yearly salami tradition is here and YAYYYYYY!!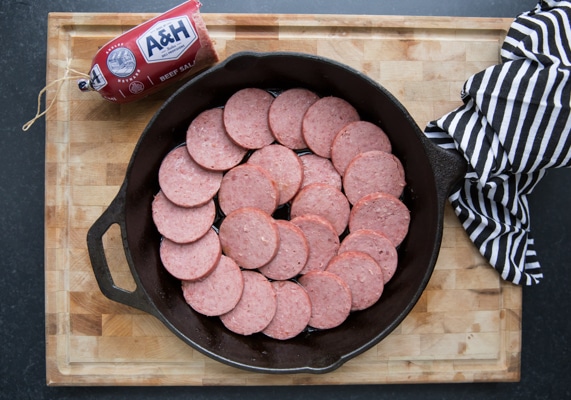 I love that the young girl who used to throw her weekly salami sandwiches down the incinerator chute is now known for her salami trash-ups! My friend recently said to me, "You know Chanie, no one is every going to look at salami without thinking of you", and I'm OK with it. In fact I'm all over it. Because becoming known for a particular ingredient means I'm doing a good job as a blogger and that my friends, is my jam (also job, but yes, jam!).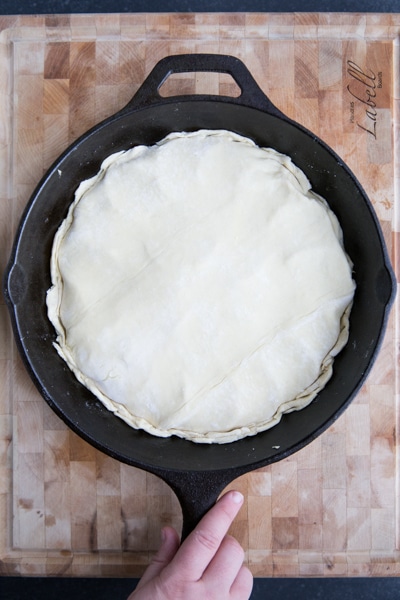 So… why in the world am I so excited? Well I'll tell you. If you're not well versed in French pastry, you might not be familiar with the classic dessert, TARTE TATIN, an upside-down pastry in which fruit is caramelized in butter and sugar as it bakes under a blanket of puff pastry. Fancy pastry chef's make their own, but most recipes call for the store-bought variety which means only one thing – QUICK & EASY.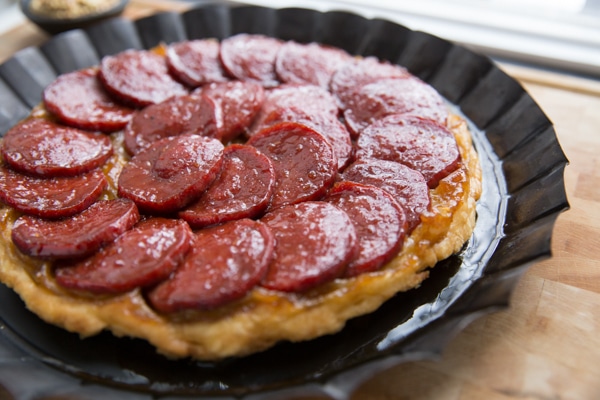 But still, WHY am I so excited??? Well traditional tarte tatin uses fruit as it's base, and you even might find some unique recipes for vegetable-based tarts, but you have never found a SALAMI tarte tatin and I, my friends, think it's pretty genius. And I'm a pretty hard sell.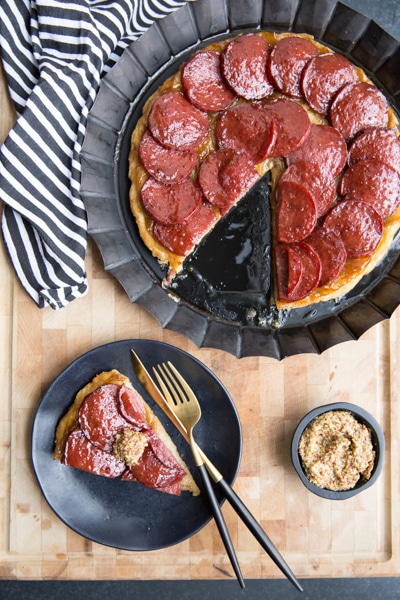 Whats more than the salami is the bourbon caramel that the salami bathes in as it cooks down. Yes, you got that right. Bourbon. Caramel. And although I abhor margarine, there was no winning here because coconut oil + salami is a no go, so I caved. And I'm ok with it. I mean the puff pastry is virtually all margarine anyway, so whats another few tablespoons, amiright?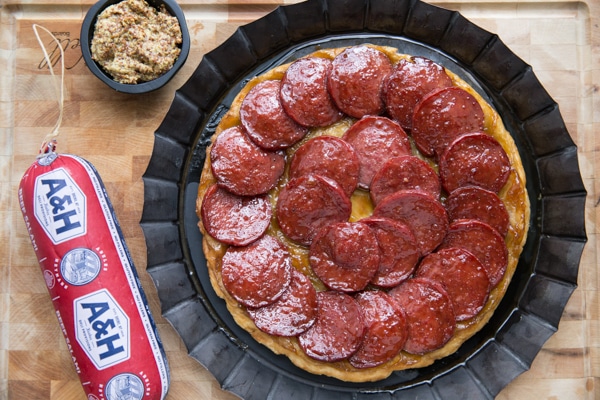 It's hard to keep up with myself with this salami thing and I was worried about how I'd one-up my previous recipes. The now infamous drunken hasselback salami is sold at virtually every kosher deli stand, and salami babka has made it around the world, so coming up with something new was quite daunting. But I'd said I hashtag #nailedit on this one.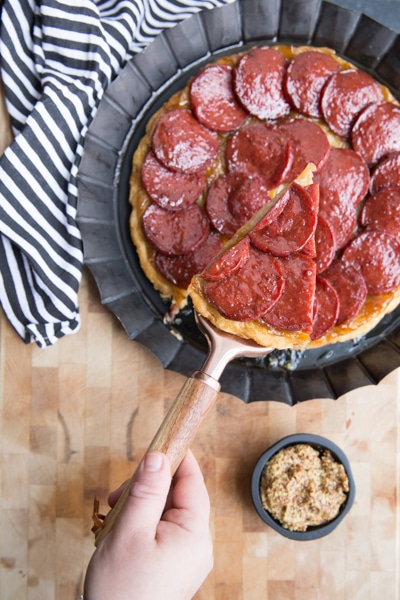 I'm also crushing on the photos of this recipe, which is why I'm doing a lot of salami rambling aka filler content :) But in case you're still scratching your head on this whole salami thing – it's a BUSY IN BROOKLYN Purim tradition that I started a couple of years ago on the blog, after reading about a custom to eat salami on Purim, since it's hung, like HAMAN. Cute, right??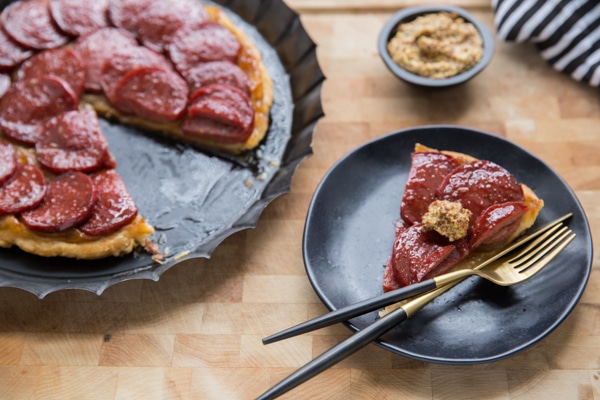 I hope you love this recipe as much as I do!  Happy almost-Purim!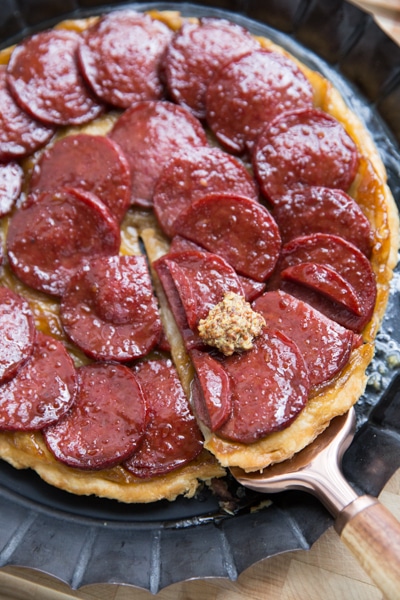 Salami Tarte Tatin
1-2 14oz. Abeles & Heymann salamis, sliced 1/4″ thick
1/2 stick margarine
1/2 cup brown sugar
1/4 cup bourbon
1/2 tsp salt
1 sheet puff pastry sheet, thawed in the refrigerator
whole grain mustard, for serving
Method:
Remove the puff pastry from the fridge and roll it out to the same width as you skillet. Using a knife, trim the puff pastry into a round shape to roughly fit the size of your skillet. Return to the fridge.
Preheat oven to 375 degrees.
In a cast iron (or oven-safe) skillet, melt the margarine and brown sugar, whisking as it cooks so the mixture combines into a caramel. Add the salt and bourbon and continue stirring until the mixture is thick and bubbly. Add the salami slices, overlapping them slightly to form a pattern (you may need more or less depending on the size of your pan and how you lay them out). Cover the salami with the puff pastry and tuck in the sides, if needed, with a spatula.
Transfer the tarte to the oven and bake for 35 minutes, until the puff pastry is puffed and golden.
Place a large plate over the skillet and flip it over.
Serve warm with mustard.
NOTE: this pastry is best served fresh as the dough can get soggy from the syrup as it it sits.
VARIATION: for a sweet and spicy caramel, add a spoonful of mustard to the caramel.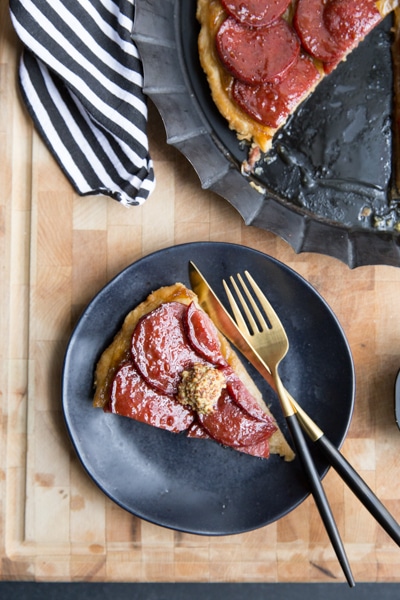 This post is sponsored by Abeles & Heymann.

Other Salami Recipes:
last year: salami potato latkes
two years ago: salami babka
three years ago: salami quiche
four years ago: beer battered salami chips with beer mustard
five years ago: drunken hasselback salami
six years ago: salami chips