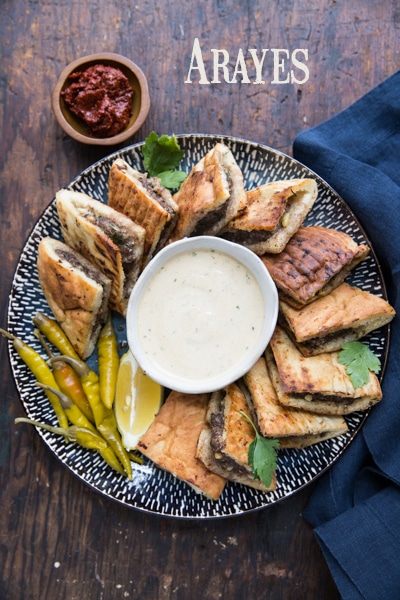 I love how today's food trends have made Middle Eastern food so popular. Otherwise, I probably never would have heard of sabich, or hawaij, or arayes.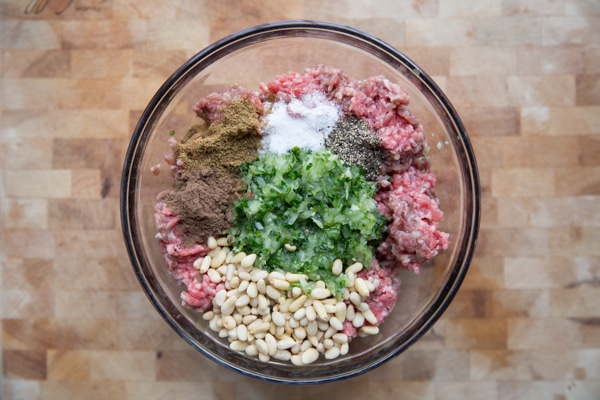 So what are they? Arayes are native to Lebanon, where they stuff kofta, a spiced beef or lamb mixture, into pita pockets and grill them. Yes, it's as good as it's sounds.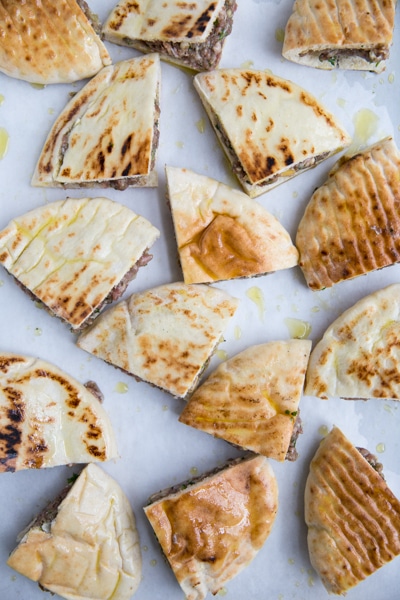 What I love even more than traditional arayes, is that chef's have been creating their own adaptation of the classic for a fun twist. A local restaurant had fish arayes on the menu last week, and I've been seeing lots of other variations of the traditional filling as well.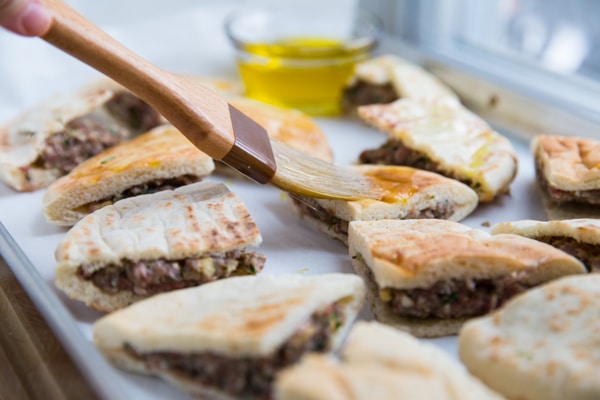 While I'm usually one for turning tradition on it's head, I loved my classic recipe so much that I went with it. But I did spare you the annoying blogger habit of calling anything with 3 corners hamantaschen, because frankly, they are not. Although in the festive Purim spirit, they are triangular, and they really do make the perfect Purim party appetizer.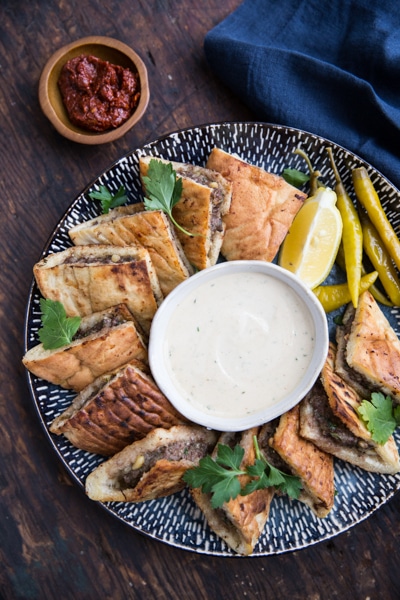 Speaking of Purim party appetizers, I love to put out of bunch of finger food for my Purim feast every year because everyone is so busy coming and going, there's hyper kids all over the place and probably a bunch of adult drunks too – so no one really wants a formal meal. Finger food makes the perfect spread and arayes are just the thing.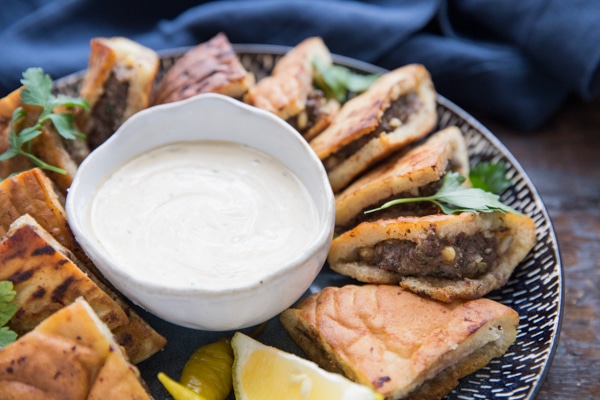 Some other great party appetizers that I've done in the past include:
drunken hasselback salami
pulled beef tacos
hummus bassar
breaded honey drumsticks
hot dog eggrolls
potato borekas
franks in blanks
chicken wings
charcuterie board
roasted sweet potatoes with gooey pecans (recipe in Millennial Kosher)
lachmagine pizza (recipe  in Millennial Kosher)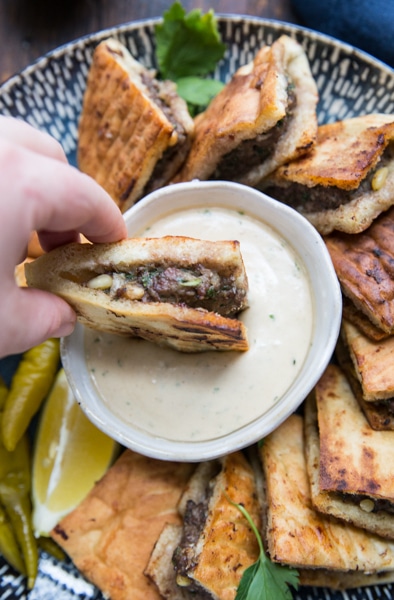 Enjoy!
Arayes Pita Pockets
YIELD: approximately 24 pita pockets
1 small onion, roughly chopped
2 cloves garlic
1/2 cup packed parsley
1 1/2 lbs. ground beef (not lean) or ground lamb
1 tsp cumin
1 tsp allspice
1 tsp salt
1/2 tsp pepper
1/4 cup pine nuts, optional
6 pitas
1/3 cup olive oil
prepared tahini, for serving
Method:
Preheat oven to 400 degrees.
Add the onion, garlic and parsley to the bowl of a food processor and pulse until chopped. Add the mixture to a mixing bowl with the beef, cumin, allspice, salt, pepper and pine nuts (if using). Gently stir the mixture to incorporate all the ingredients.
Cut the pitas in half and fill each pocket with about 1/4 cup of the meat mixture, flattening it out so it fills the pita evenly. Cut the pita halves into quarters and place on a parchment-lined baking sheet. Brush both sides of the pita with olive oil and bake for 20 minutes, flipping halfway through.
Serve warm with tahini, for dipping.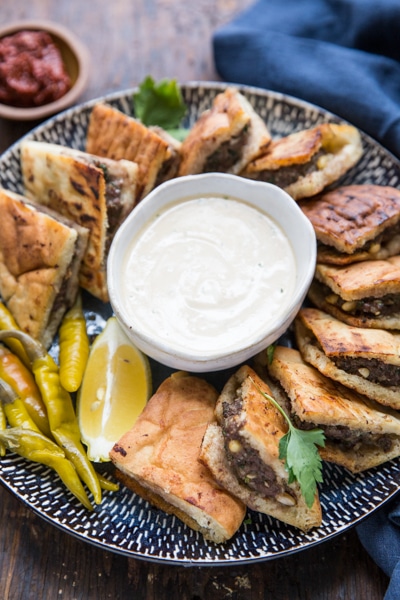 Related Recipes:
Jerusalem hummus in jars
mechshie
herbed pita chips
grilled chicken fattoush