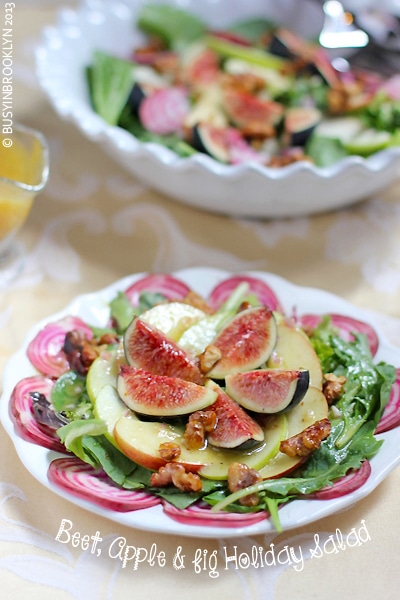 When I first developed this salad recipe, I did not have Rosh Hashanah in mind. In fact, it was just about getting creative with the ingredients in my refrigerator (which is pretty much how all my salads happen). When all the components came together, it just screamed holiday, and I knew I had to share it for the upcoming Chag.
Although figs are not one of the traditional fruits eaten on Rosh Hashanah (like pomegranates, apples and beets), it's a good idea to take advantage of the season's bounty. Fig season is short and sweet, and besides, they are one of the Seven Species of the Land of Israel. The figs add a chewy texture, sweet flavor, and beautiful color to the salad making it the perfect holiday appetizer.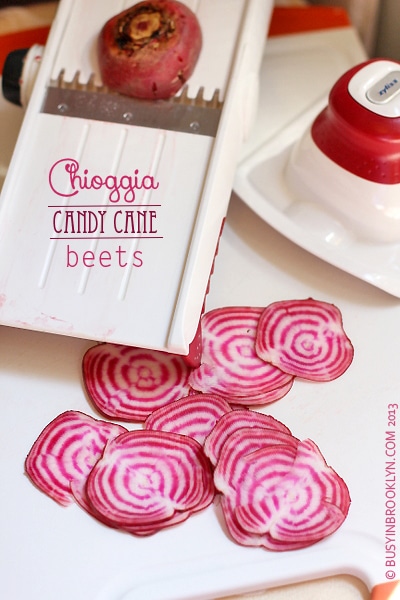 Fresh figs are not the only bright piece to this beautiful salad puzzle. Chioggia beets also add amazing color and design. On the outside, the humble root vegetable is unassuming (ie. ugly). But when you cut into it – you get the most beautiful candy cane spiral that is almost too magical to eat. The thing about chioggia beets is that when you cook them, that beauty all but disappears into a dull pinky beige mass. To appreciate the bright pink spirals, candy cane beets should be eaten raw – shaved thinly on a mandolin.
Holiday Salad:
1 pkg mixed greens
1-2 chioggia (candy cane) beets, thinly sliced on a mandolin
1 green apple, cored and sliced
1 red apple, cored and sliced
1 container fresh figs, quartered
honey roasted nuts such as walnuts, pecans or almonds
1/2 cup pomegranate seeds (optional)
Method:
On a serving platter, arrange the beets around the edge and fill the center with mixed greens. Top greens with apples and figs and sprinkle nuts and pomegranate seeds all around.
VARIATION: For a simanim salad (a salad that incorporates many of the symbolic foods traditionally eaten on Rosh Hashanah), use the following ingredients along with the apple and honey vinaigrette: mixed greens, 1 honeycrisp apple, 1/2 cup pomegranate seeds, 1 julienned carrot, 2 chopped medjool dates and shaved chioggia beet. (Watch me make it in the video posted below!)

To further the Holiday theme, I whipped up an "apple and honey" dressing, using apple cider vinegar and sweet honey. If you have a custom not to eat vinegar on Rosh Hashanah (due to it's sour taste), you may substitute with lemon juice.
Apple & Honey Vinaigrette:
1/2 cup grapeseed oil
1/4 c honey
1/4 c apple cider vinegar (or 3 tbsp lemon juice + 1 tbsp apple juice)
1 tbsp dijon mustard
1 tbsp finely minced shallot
s&p, to taste
Method:
In a bowl, whisk together the dressing until emulsified. Drizzle dressing over salad before serving.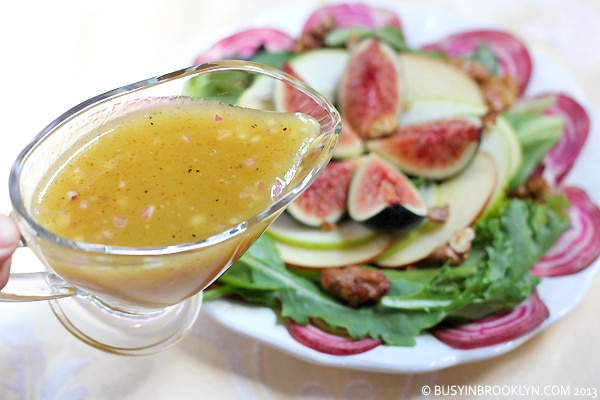 Watch me make a Rosh Hashanah Simanim salad with TorahCafe here:

Other Rosh Hashanah Salad Ideas:
rainbow slaw with poppy seed dressing
pomegranate coleslaw
apple celery veggie dip
roasted beet & orange salad
couscous with thyme & honey roasted carrots, parsnips and beets