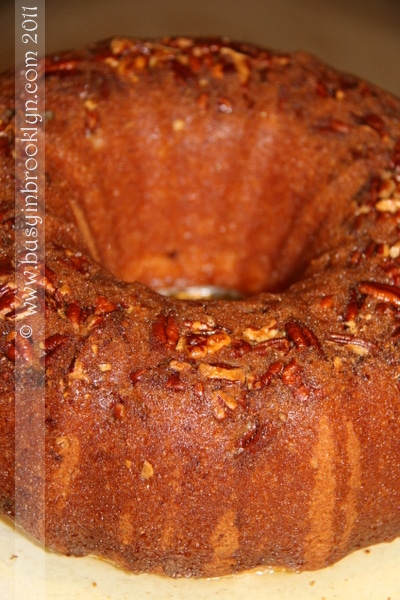 I don't remember where or when my mother got this recipe. All I know is, it's been in my family for years. Since it's soaked in rum, we aptly call it the L'chaim cake. Whenever there is cause for a simcha, we make this cake and send it over to our family or friends who are celebrating.
While I wouldn't normally bake with a cake mix, this recipe is the exception. It's so easy to prepare, you'll want to start making it for all your family get-together's too. Your Purim seudah is the perfect place to start.
Butter Rum Lchaim Cake
1 8 oz container of salted pecans, chopped
1 box yellow cake mix
1 box instant vanilla pudding
4 eggs
1/3 cup cold water
½ cup oil
½ cup rum
Glaze:
¼ cup water
1 cup sugar
1 stick butter or margarine
½ cup rum
Method:
Preheat oven to 350 degrees.
Coat a bundt pan with nonstick cooking spray. Pour pecans into the bottom of the pan.
In a bowl, whisk the cake mix and vanilla pudding. In a separate bowl, whisk the eggs, water, oil and rum. Mix the wet and dry ingredients together and pour into bunt pan on top of pecans. Bake for approximately 50-60 minutes, until a toothpick inserted comes out clean. Let cool.
For the glaze, bring the water and sugar to a boil, stir in margarine. Once the margarine has melted, add the rum and remove from heat. Pour 1/3 of the glaze over the bundt cake and let it rest for several minutes so that the glaze seeps in. Invert the cake onto a cake stand or serving dish. Poke holes around the top of the cake and pour remaining glaze over it.
Let the cake rest before serving so it can soak in all the glaze.
1 year ago: mocha bundt cake