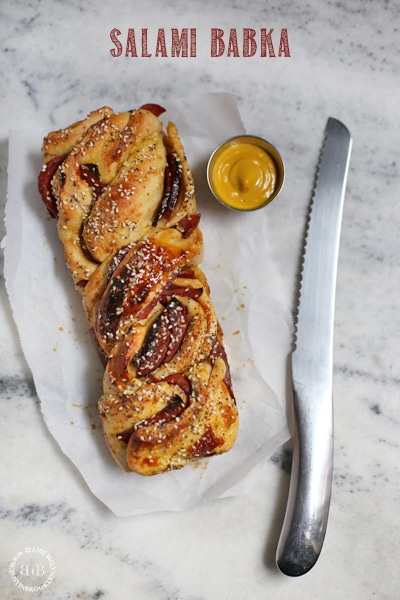 I…I…I…don't even know what to say…. but BREAKING THE INTERNET comes to mind!! Move over Kim Kardashian because I've got Salami Babka in the house!!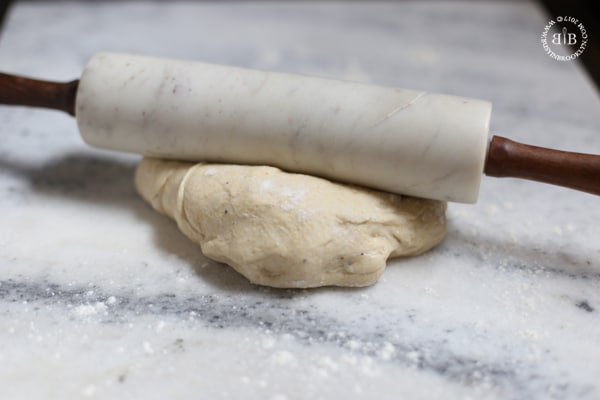 I don't know how I've held it in for this long – this gorgeous savory babka has been eating away at me (or have I been eating away at it?) ever since I conceived of it months ago… I wanted to shout it from the rooftops the second this baby came out of the oven, but it was not to be, because, as you know, I save all my SALAMI revelations for Purim! Yes, Purim. The holiday of booze, dress-up, and here at Busy In Brooklyn, SALAMI.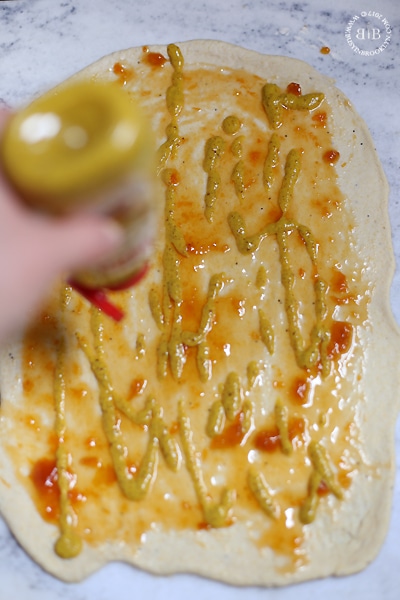 My salami hacks have been making their mark each year for the holiday, and I think I might have finally outdone my drunken hasselback salami, because, lets face it – ain't nothin better than bread – and when you fill that bread with the sweet and savory fillings of apricot jam, mustard, brown sugar and salami – well…. you basically BREAK. THE. INTERNET.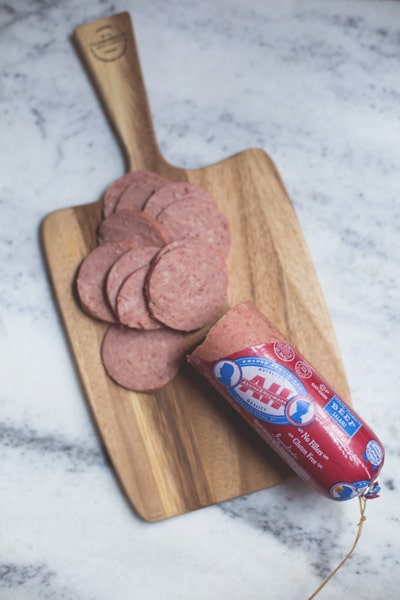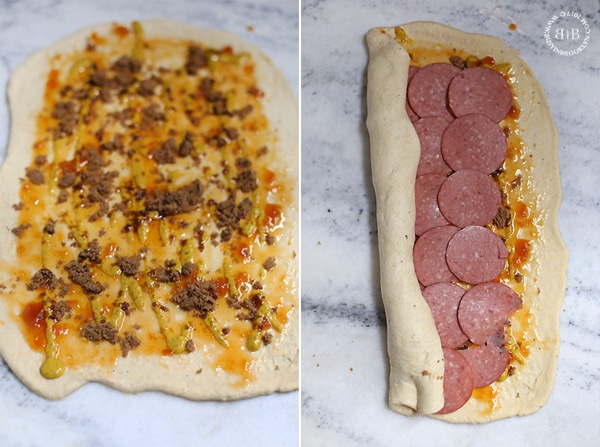 Babka has been all the rage this year, from the famous Bread's bakery babka (who's recipe was recently made public in the Baking Breads cookbook) to the spreads in The New York Times, Bon Appetit Magazine, and all that other stuff. I have to admit that I have never made true, authentic babka (with buttery brioche dough), although I often fill my leftover challah with gooey chocolate spread, twist it up and call it a day.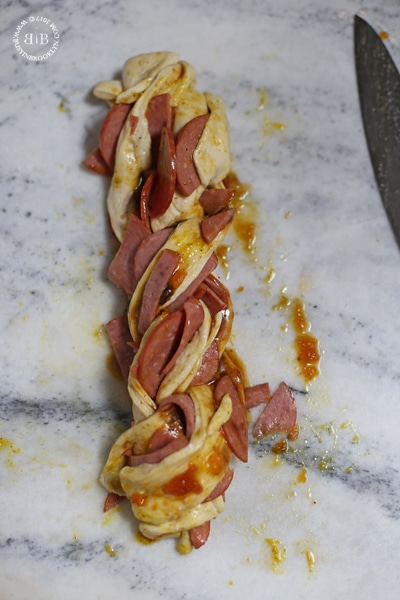 I've had savory babka on my mind for a while now, and I was kind of surprised that I haven't seen too many savory variations on the net. Especially since turning traditional sweets into savory adaptations is kind of a thing right now. My biggest obstacle with a salami babka was the brioche dough. The good stuff is loaded with butter and I just couldn't stand the thought of using all that margarine (the rules of kosher forbid me from eating milk with meat, so no butter and salami together). And yes I realize that's ironic since this thing is loaded with salami (insert facepalm emoji here!)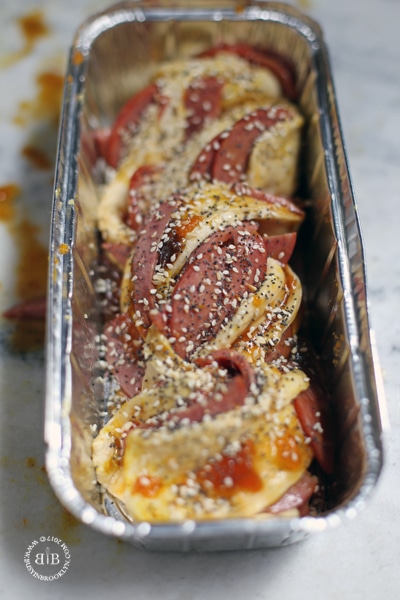 I considered going with a challah dough, but I finally decided I would make this super easy for everyone and just use pizza dough. Of course you can use any dough you choose, and even go crazy with the deli you stuff it with. Don't worry about all of the mess – the little bits of salami that poke out of the bread and get all crispy and caramelized are my favorite part of this recipe!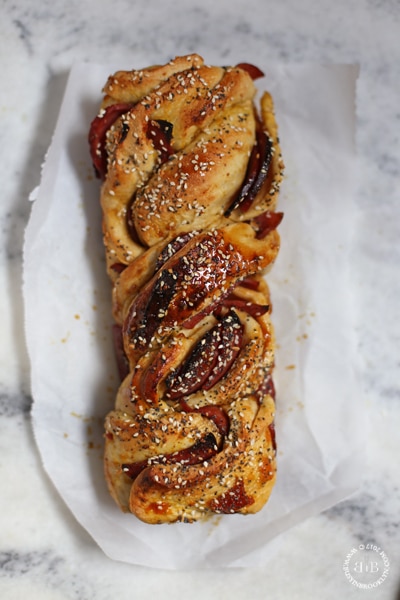 Now if you've missed my whole salami situation – the reason for my yearly Purim salami postings are due to a little nugget of information that I read a couple of years back. I don't know if it was true, or it was all a Purim joke – but it made mention of the fact that some people have a tradition to eat salami on Purim since it is hung, like Haman. I thought it was the coolest food custom I had ever read, so I adopted it. The part that you don't know though, is that that was a huge deal for me! Why? read on.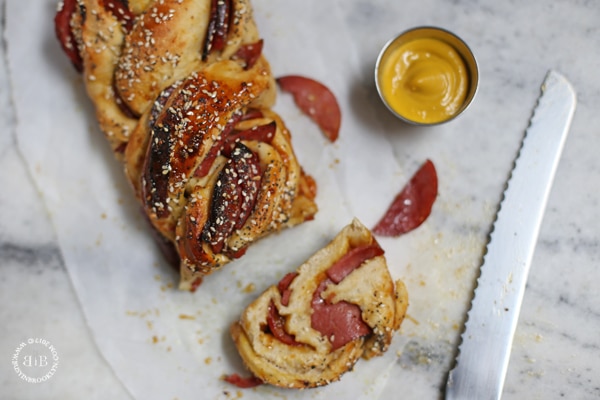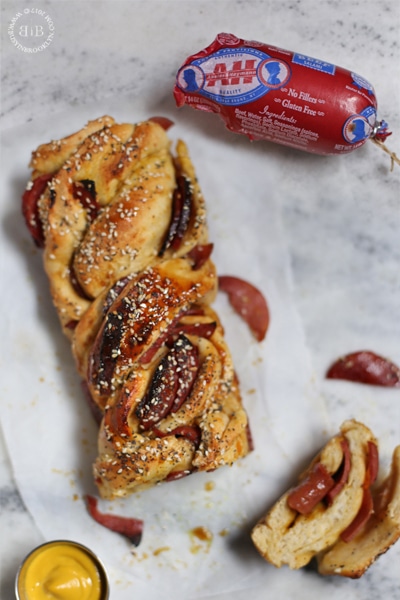 So growing up, my mom would make salami sandwiches every Friday afternoon for lunch for my siblings and I. She'd send us outside to the courtyard of our building to eat them, so we wouldn't make a mess inside the house before Shabbat. Little did she know, we all hated those little hard white pieces inside the salami (I'm pretty sure they were solid fat!), so one by one, we all chucked our salami sandwiches down the incinerator chute – every. single. week. My poor mom thought we were eating lunch and little did she know!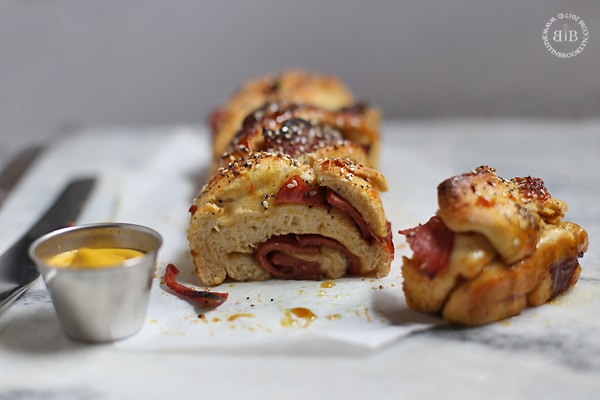 From thereon out, I never looked at salami again. For years. Until I got married and the only thing my husband knew how to cook from his Yeshiva days was salami and eggs. I always swore I'd never try it, until one day, he convinced me, and the rest is history! I learned that cooking out the salami fat leaves you with a super crispy, tasty bits of heaven that are so perfect for trashing up in fun ways!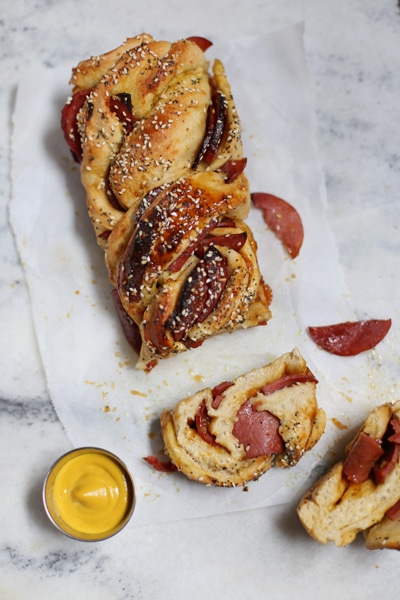 Just. Like. This. Lets get hangin'!
Salami Babka
1 lb. pizza*, challah or brioche dough
1/3 cup apricot jam
2 tbsp deli mustard
2 tbsp brown sugar
7 oz. Abeles & Heymann salami, thinly sliced
2 tbsp everything bagel spice
Method:
Preheat oven to 350 degrees. Flour your work surface and roll the dough out to about 11″ x 16″. Melt your apricot jam in the microwave or in a small saucepan and brush over the dough. Squeeze some mustard over the jam and sprinkle with brown sugar. Spread the salami slices out in one layer and starting from the long end, roll up jelly-roll-style. Slice the roll in half down the center, and gently twist the two strips around each other. Don't worry if some of the salami falls out, or if pieces stick out of the dough, just try to keep the layers from falling apart. Place the salami babka into a greased loaf pan and sprinkle with everything bagel spice. If any of the salami fell out, just tuck it into the sides of the pan.
Bake the babka until golden, about  35-45 minutes. Remove from the loaf pan and slice. Serve warm, with mustard for dipping.
NOTE: I know this recipe seems messy but the idea is to have some of the salami piece sticking out of the dough so that they get crispy and caramelized, while other pieces stay moist on the inside. The thinner you slice the salami, the more your babka will hold together, so try to slice as thinly as you can.
VARIATION: Try this recipe with kosher bacon, or other deli meats like turkey and/or pastrami.
*of course I used store-bought pizza dough because I'm about the 1-2-3!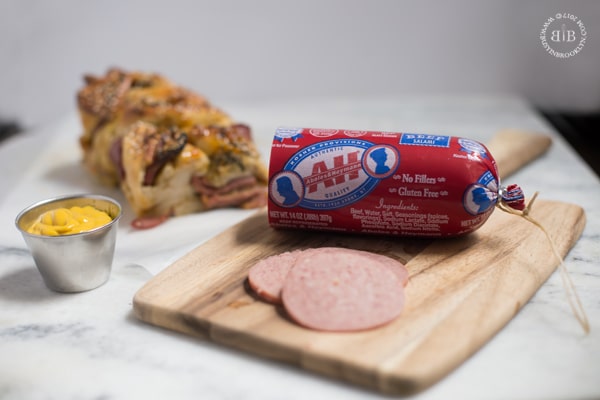 This post is sponsored by Abeles & Heymann. Follow them on Facebook, Instagram or Twitter! 
Related Recipes:
drunken hasselback salami
salami quiche
beer battered salami chips with beer mustard
salami chips with dipping sauce