I'm super excited to start off my guest posts with a recipe by the talented, creative and adorable Amy from WhatJewWannaEat! Amy and I met through the close-knit kosher blogging community and we share a love of creating fun twists on traditional Jewish foods. Amy is all about putting the JEW in everything, and her bagel posts on Insta always make me hungry! The girl knows the way to my heart (or should I say, my stomach?) 'cuz she put her own spin on one of my all time favorite dishes, shakshuka! I can't wait to cook up this dish, and with the Nine Days upon us, there's no better time to Jew it. (see what I did there Amy?!)
For more great recipes for The Nine Days, check out my Nine Days category, browse my Pinterest board, or scan through the dairy and fish categories in the index!
If you want to win a copy of Amy's soon-to-be-released cookbook, Sweet Noshings, plus a bonus gift from ModernTribe, don't forget to enter my GUEST BLOGGER CONTEST! More details here.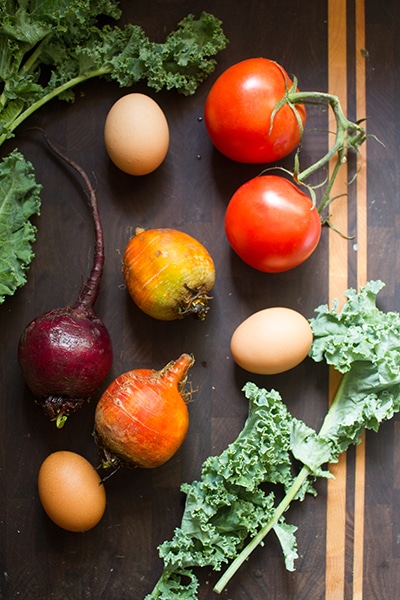 Shalom, y'all! I'm Amy from What Jew Wanna Eat, and I'm pumped to share a recipe over on Busy in Brooklyn today. On WJWE, I blog about modern takes on classic Jewish recipes, like Sumac Roasted Salmon or Chocolate Cardamom Halvah, and my first cookbook Sweet Noshings comes out in just a few weeks! I am also the owner of ModernTribe, an online shop for fun Jewish gifts. So I'm busy, but not as busy as Chanie. I'm impressed how she cares for five children all while running her popular blog and doing numerous cooking demos. So I was thrilled to help out when she asked me to guest post on BIB.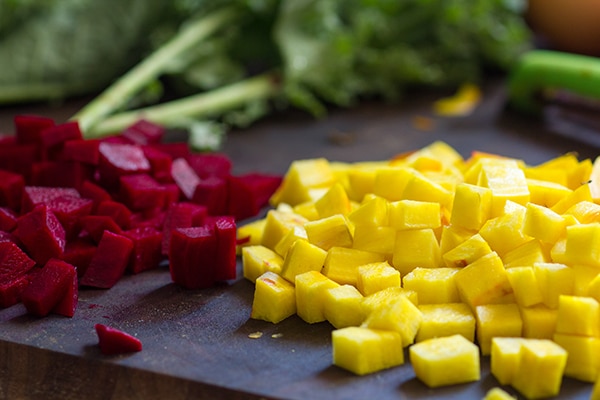 I've loved following Chanie for years for creative, sophisticated kosher recipes (like Cauliflower Nachos with Harissa Cheddar Sauce or Drunken Hasselback Salami) and daily eats/impressive Shabbat prep on her Instagram. Because I live in Austin, TX, I was online friends with Chanie before finally meeting her when I was in NYC last year. Now we are Internet and real life friends!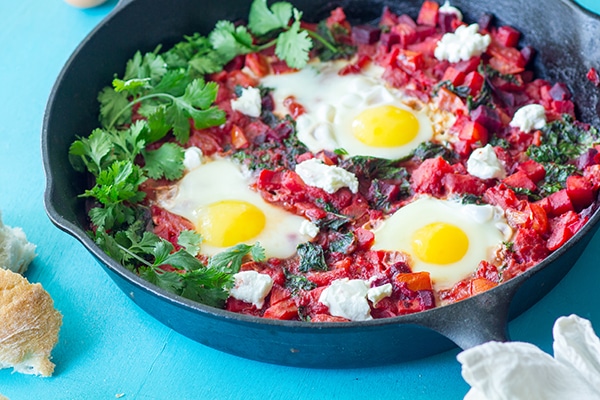 Chanie is an expert at using ingredients in surprising ways (Corndog Hamantaschen anyone?), and I love how she incorporates healthy elements into so many of her recipes. With it being the Nine Days, I wanted to create a healthy, hearty and dairy dish to share with y'all. Chanie has made a few versions of shakshuka over the years, so I thought I would offer my own! I love taking classic favorites, and putting my own twist in them, so I added earthy beets, kale and tangy goat cheese for lots of added color and nutrients to your basic shakshuka (which I also love). If you try this recipe, I'd love to see it over on Instagram!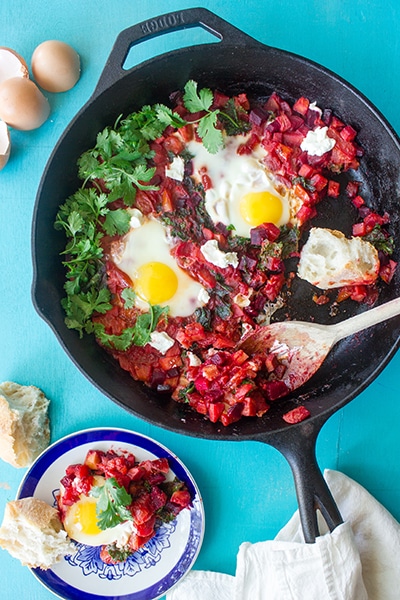 Beet, Kale and Goat Cheese Shakshuka
2 tablespoons extra virgin olive oil
1 ½ cups beets (can be a mix of yellow and red), peeled and diced
¼ cup white onion, diced
½ teaspoon kosher salt, plus more to taste
2 garlic cloves, minced
1 teaspoon ground cumin
½ teaspoon red pepper flakes
1 ½ pound fresh tomatoes, peeled and diced (or 1 ½ 14.5 ounce cans of diced tomatoes)
1 cup kale leaves, packed
¼ cup goat cheese
3-6 eggs (up to you!)
Cilantro for garnish
Crusty bread or pita for dipping
Method:
In a large sauté or cast iron pan, heat 2 tablespoons olive oil over medium heat. Add in beets and onion with ½ teaspoon of salt and sauté for 5-6 minutes until slightly soft. Then add in garlic and sauté for one more minute.
Add in cumin and red pepper flakes and stir. Then add in tomatoes and simmer uncovered until sauce is thick and beets are tender, about 10-15 minutes. Add more salt if desired. Then add in kale and stir to wilt.
Crack eggs one at a time into a ramekin and then gently pour each one into an egg-sized hole you make in the shakshuka, evenly spaced around the pan. This method helps the eggs keep their shape. Simmer eggs for about 5 minutes until the whites are just set. They will continue to cook from the heat of the pan.
Dollop with goat cheese, garnish with cilantro, and serve with crusty bread right out of the pan!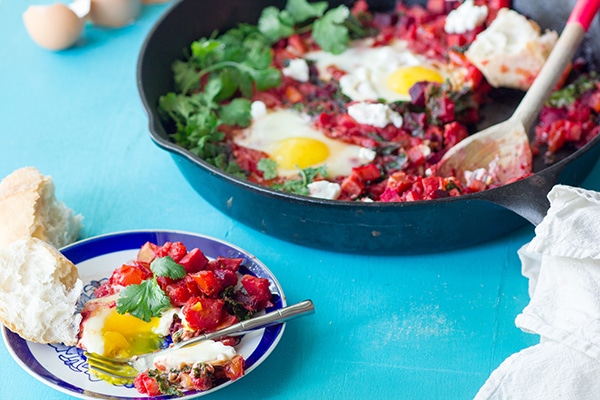 Related Recipes:
zoodle shakshuka
garbanzo bean shakshuka
spaghetti squash shakshuka
portobello shakshuka
quick and easy shakshuka