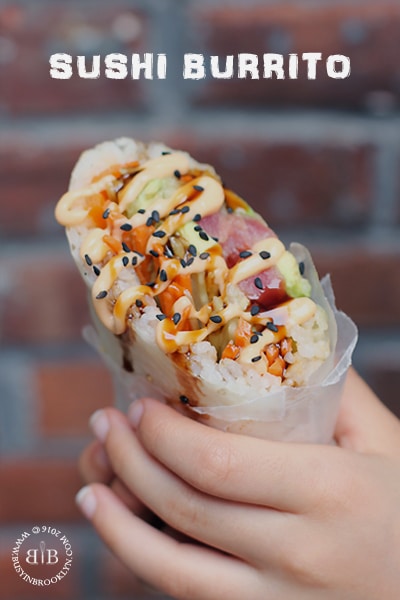 If you ever thought sushi would just be a passing trend, you're as shocked as the rest of us. And it's not just the kosher world either (although we might be the only ones with sushi counters in pizza stores!).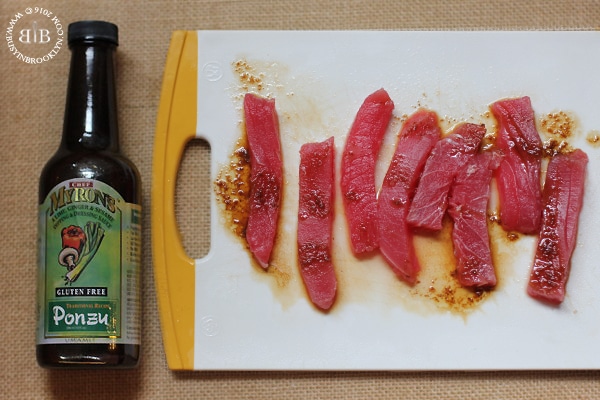 The world is awash with sushi rice bowl recipes, make-your-own-sushi parties and now, THE SUSHI BURRITO, or as some like to call it, the SUSHIRRITO.
A sushi burrito is basically an excuse to eat an entire overstuffed sushi roll in one sitting and call it lunch :) And I got no problem with that! Especially since Michel de France introduced these flavored sushi wrappers which I just love. I'm not a big fan of the fishy taste and chewy texture of nori (otherwise known as seaweed), so these gluten free wraps are a welcome surprise! I love that they come in chili, poppy seed and sesame seed flavors, and now my kids (who aren't fans of nori either) are happy to eat homemade sushi wraps as well. Can you say "Winner, winner sushi dinner?"!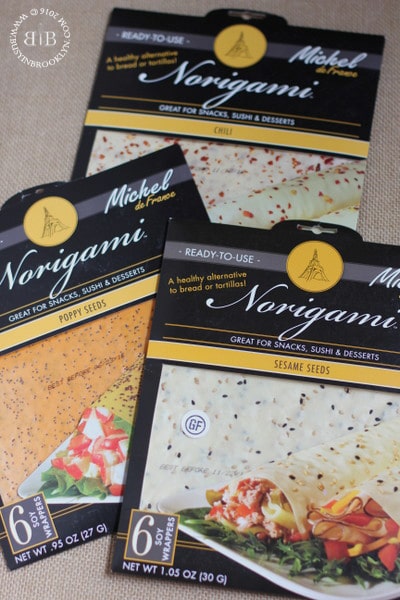 Turns out, these inexpensive gluten-free wraps make a great alternative to traditional wheat wraps for sandwiches too. Quick and easy turkey wraps are my go-to Friday afternoon lunch for the kids, and I'll definitely be trying all the Norigami flavors with that!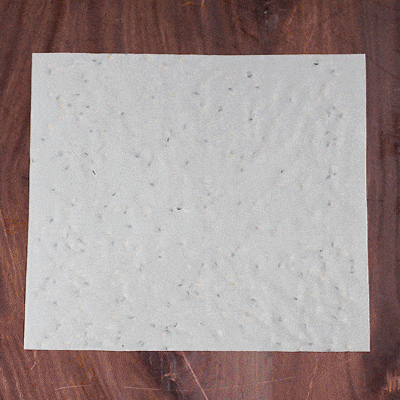 Now if you're intimidated by the whole thinly sliced julienned vegetable thing, do yourself and a favor and pick up my must-have kitchen tool of all time, the JULIENNE PEELER. It looks like a traditional peeler, except instead of peeling off a single strip, small blades along the edge of the peeler slice the peel into thin julienne strips. It's basically the best invention ever made.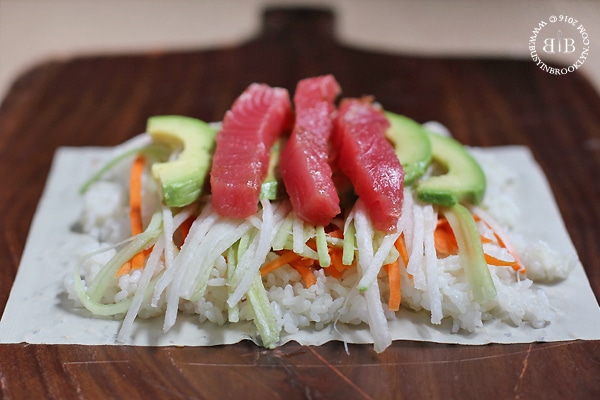 With that said, the only thing left to intimidate you about these wraps is maybe the raw tuna. I wasn't always a fan of raw fish myself, but I recently bit the bullet (or I should say, the protein) and went for it. I find that raw fish doesn't really have much of a flavor at all, which is why I like to lightly marinate the fish in Myron's ponzu sauce, which is also gluten free. Ponzu sauce is basically a light and refreshing lime, ginger and sesame sauce that's great for marinating or dipping, and it infuses the fish with great flavor. Of course topping everything off with some spicy mayo doesn't hurt either right? I mean, sriracha makes everything better.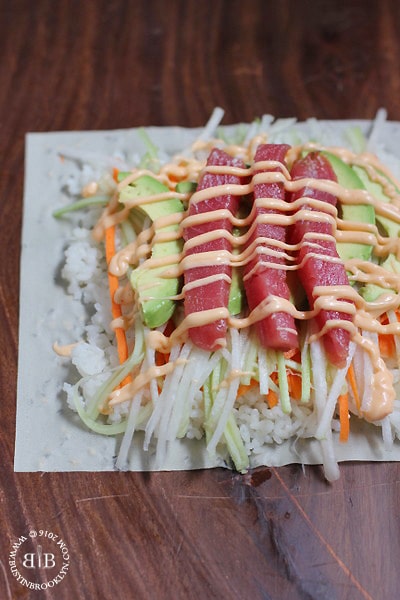 Now sushi everything has been around on my site for a long time. In fact, I made sushi salad famous before it was ever a thing! I went through a bit of a crazy sushi phase where I made candy sushi, sushi snowmen, sushi hamantaschen and even a 3-tier sushi cake. I'm a sushi nerd, what can I say?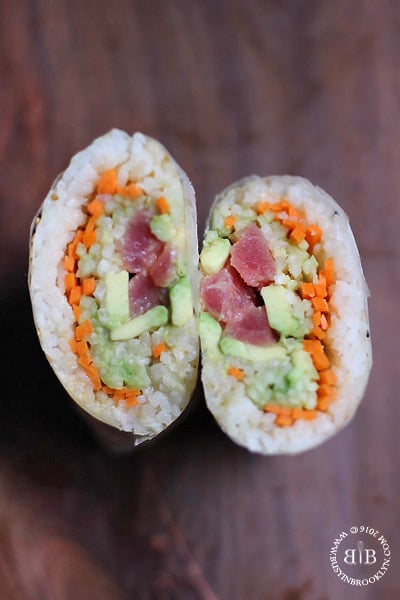 But getting back to traditional sushi eating…. the salad is definitely getting boring, and sushi rolls just seem like too much of a job. Which is why I'm totally loving the new sushi burrito craze and I hope you will too. With Shabbat going into Shavuot this year, six back to back meals call for light and refreshing lunch ideas – which is why these are absolutely perfect. You can even set up a bar and have people make their own. How fun?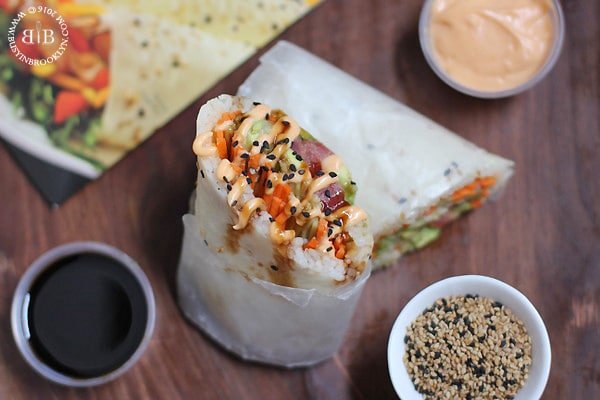 Don't forget to load on all the toppings because an extra dose of sweet sauce and spicy mayo are every sushi lovers dream. Are you drooling yet?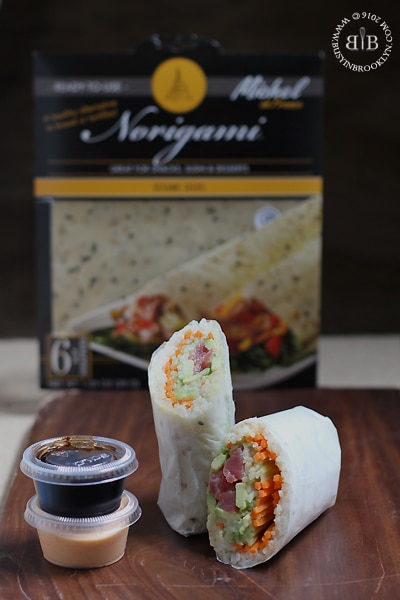 Signing off with a little shoutout to my kids, who served as my hand models in these pics when no one else was around! They were also more than happy to eat the leftovers (no raw fish for this pregnant mama!) so no waste is a win-win for this blogger mom!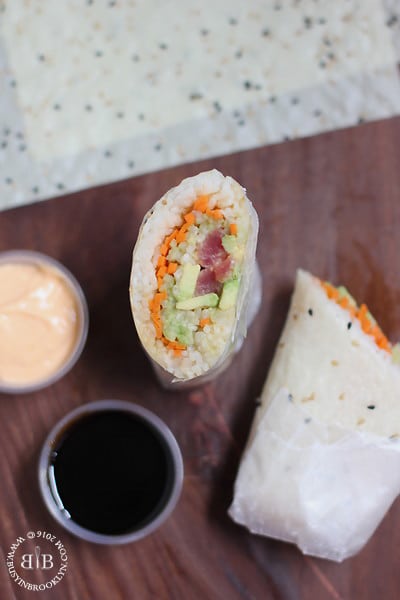 Sushi Burrito (Gluten Free)
4 Michel De France Norigami sesame seed soy wrappers
1 cup sushi rice, cooked according to package directions
1 carrot, peeled and julienned
1 cucumber, peeled and julienned
1 daikon, peeled and julienned
1 avocado, peeled and thinly sliced
1 sashimi grade tuna steak, thinly sliced
1 tbsp Myrons ponzu sauce, or, to taste
spicy mayo (recipe follows)
sweet soy sauce
sesame seeds, for garnish
Method:
Place the tuna steak in a bowl and stir with the ponzu sauce. Set aside to marinate. In a separate bowl, mix the mayonnaise, sriracha and rice vinegar.
Place a soy wrapper on a sheet of wax paper. Spread 1/4 of the sushi rice over the wrapper, leaving a border all around. Top with julienned carrot, cucumber, daikon, avocado and marinated tuna. Drizzle the filling with spicy mayo. Using the wax paper, lift the side of the soy wrapper and fold it over, using your hands to squeeze and tighten the wrap closed. Twist the edges closed, or tuck in the sides of the wax paper like a burrito. Slice the burrito in half and serve with dipping sauces.
VARIATION: Feel free to use your favorite sushi fillings such as edamame, thinly slice nori strips, mock crab, sushi grade salmon, julienned mango, pickled ginger and others.
YIELD: 4 sushi burritos.
Spicy Mayo
1/4 cup mayo
1 tbsp rice vinegar
1/2 tsp sesame oil
1 tsp sriracha (or, to taste)
Add to a bowl and stir to combine.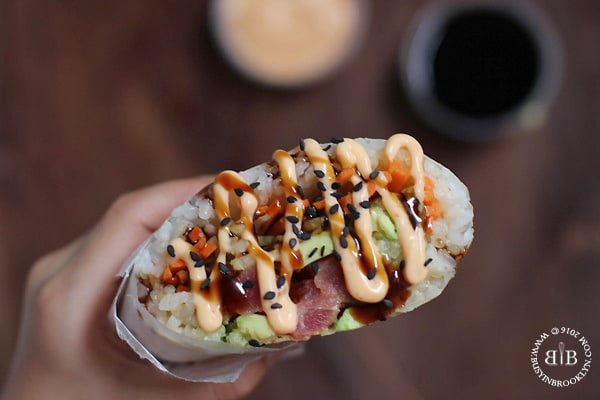 This post was sponsored by Crafted Kosher. Visit craftedkosher.com for a large selection of gourmet kosher products. Follow Crafted Kosher on Twitter, Facebook, Pinterest and Instagram.
Related Recipes:
sushi salad
sushi salad II
kani salad
kani Caesar salad with nori croutons
tuna sashimi