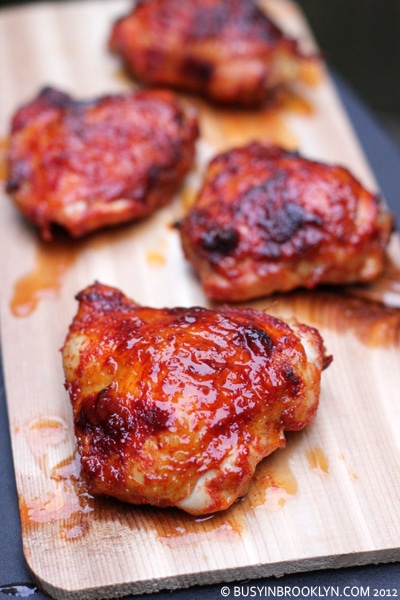 Being as I just started a culinary arts program at the Center for Kosher Culinary Arts, I'm back to the BIB Fast Food concept. BIB Fast Food is essentially quick and easy recipes with one simple picture and no step by step photos. And you really don't need 'em because the recipes are just. that. easy. So stay tuned for more of these fast food posts, about once a week.
This spicy garlic chicken is so moist and delicious. Here's the thing though. It's not really all that spicy (even though I use spicy garlic duck sauce). So when I say spicy here, I mean rubbed with spices! If you want a super spicy kick, just sprinkle on some red pepper flakes.
Don't forget to show your love by voting for Busy In Brooklyn as the Best Kosher Food Blog in the Joy of Kosher Best of Kosher Awards! You can vote once per day, per username. Vote Here.
Spicy Garlic Chicken
1 pkg bone-in chicken, cut in quarters or eighths
4 tbsp paprika
2 tbsp garlic powder
2 cups spicy garlic or sweet and sour duck sauce
Method:
Preheat oven to 350 degrees. Add paprika and garlic powder to a bowl and add a drop of water to form a paste. Rub the chicken with the spice rub and place in a baking pan. Bake, covered, for 1 hour. Remove from oven and baste with spicy garlic duck sauce. Return to the oven and bake at 400 degrees, uncovered, for 30 more minutes.
1 year ago: baked chicken meatballs
Post a Comment