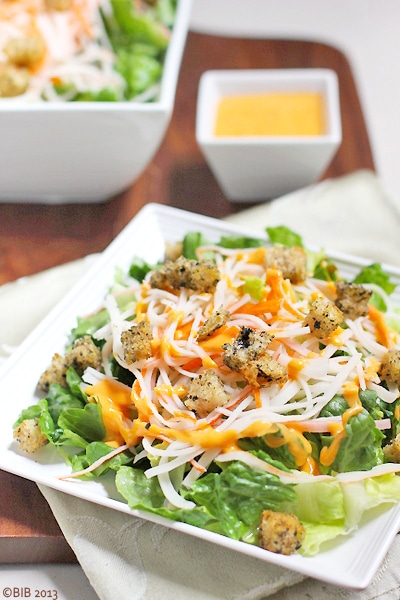 When the Kosher Connection team decided on "croutons" as the link-up theme for May, I was so excited to finally try out a recipe that I've been dreaming of developing for months now. Truth be told, I am not the biggest nori fan. I mean, I wouldn't eat the stuff if it didn't hold my sushi together. It's got that fishy quality about it that's just kind of, well, stinky. But you know what? when you use it to top off a kani caesar salad, it just sorta, goes.
Talking about dislikes, I used to have a serious aversion to surimi, those orange-colored mock crab sticks. But after I tasted this salad at my cousin's house a few months back, I was hooked. You see, it's all a matter of how you serve it. Pulling the kani apart into shreds and coating it in a spicy sriracha dressing takes it from what-is-this-spongy-orange-stuff-in-my-california-roll to what's-in-this-amazing-salad?! Seriously people, kani salad has changed my outlook on surimi forever.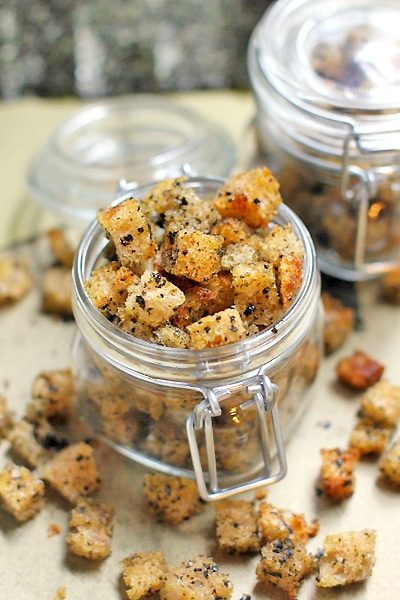 So that's sorta how this happened. At first, I came up with the brilliant concept of a nori-flavored crouton. But who would want to eat a nori crouton on a standard lettuce salad? I knew I had to incorporate some kind of seafood to bring the whole sushi concept together, but it also had to have greens to hold up the whole croutons thing. Alas, I figured I would do a take on a salmon-caesar salad with a Japanese-inspired recipe. This Kani Caesar Salad combines the classic Caesar concept with the awesomeness of kani salad, with nori croutons and a sriracha caesar dressing to round it out. If you think this salad looks good, just wait until you taste the dressing. It's got an amazing depth of flavor from the anchovies that is only made better by the Asian hot sauce, it's heat  balanced by the addition of sweet rice vinegar.
So, if you're looking to wow your guests with a nontraditional twist on a classic Caesar salad, give this Kani Caesar Salad with nori croutons a try. And don't forget to check out the Kosher Connection Link-Up below for more fun & creative twists on croutons!
Kani Caeser Salad with Nori Croutons
2 heads romaine lettuce
1/2 package surimi (8 mock crab sticks)
6 oz. leftover bread, cut into cubes
2 sheets nori seaweed
1/4 c. neutral-flavored oil, such as canola
sriracha caesar dressing (recipe follows)
Method:
Preheat oven to 400 degrees. Place nori sheets in the food processor and process until a dust forms. Place bread and nori into a large mixing bowl and drizzle with oil. Toss the croutons to coat with the nori dust. Place on a baking sheet and bake for 15-20 minutes, until croutons are golden and toasted.
To prepare the salad, wash and dry romaine lettuce. Chop or tear the lettuce to desired size and place in a salad bowl. Pull the surimi sticks apart into shreds and spread over lettuce. Drizzle with dressing and garnish with nori croutons.
Sriracha Caesar Dressing:
2 cloves garlic
3-6 anchovy fillets
2 tbsp rice vinegar
2 tbsp lemon juice
1-2 tbsp sriracha
1/2 cup mayonnaise
1/4 cup canola oil
Method:
Add everything except for oil to the food processor. Turn the food processor on and slowly pour in the oil until a creamy dressing forms. Add more oil, if needed, to reach desired consistency.
NOTE: anchovies are what gives Caesar salad dressing it's unique salty/umami flavor. If you're scared away, start with 1 or 2. Alternatively, you can add a few shakes of fish sauce.
1 year ago: cream of leek soup
2 years ago: home-made fish sticks