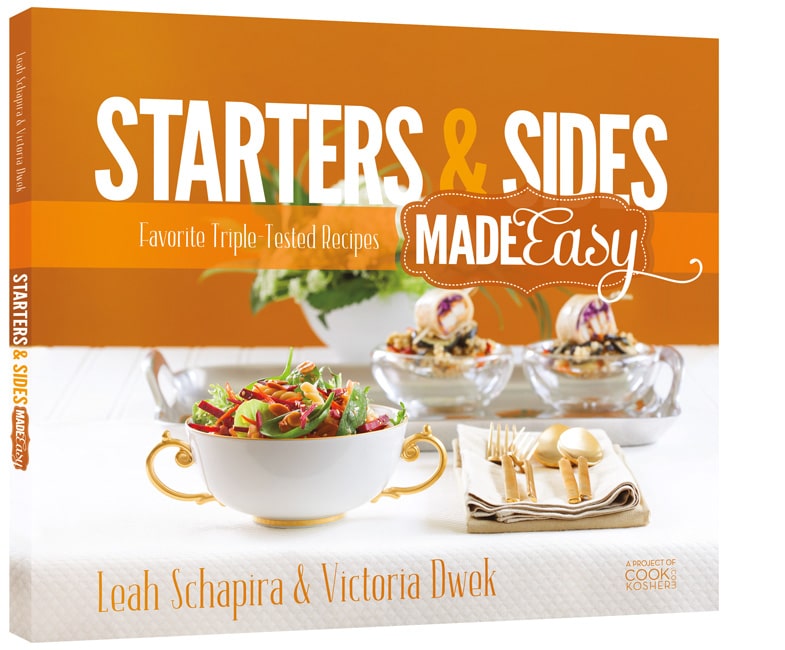 Leah Schapira and Victoria Dwek know a thing or two about food. Leah is the author of Fresh & Easy Kosher Cooking and co-founder of CookKosher.com, and Victoria is the managing editor of Whisk Magazine. The pair are always surrounded by good food, so they decided to join forces and write a cookbook together. Passover Made Easy was their first collection of favorite triple-tested recipes, and now, the two have done it again. They have moved on to create a series of "Made Easy" cookbooks including Starters & Sides as well as Kids Cooking (review coming soon).
There's something nice about a cookbook series. It's familiar and you know what you're gonna get. In the case of the "Made Easy" series, that's great graphics, building block recipes, plating ideas and great kitchen tips. I especially love the friendly "conversations" that Leah & Victoria have throughout the book. They are set out in speech bubbles, making you feel as if you're standing in the kitchen with two friends.
Starters & Sides Made Easy starts out with an elaborate spice guide to help guide you through the different herbs, spices and blends. It continues with building block recipes and chapters on vegetables, grains, meat & chicken, fish, dairy and sweet. The book finishes with ideas on how to convert some of the dishes from starters to mains. Each recipe is accompanied by a beautifully composed photo of the dish.
Some of the recipes I look forward to trying, include broccoli stuffed artichokes, sticky red potatoes, Yemenite yellow orzo rice, crispy beef, falafel cigars,  silan chicken salad, tangy tilapia nuggets, parmesan sticks, and whiskey sweet potatoes.
My only issue with this book is the size. I know it sounds weird but it sticks out of my cookbook shelf because it's wider than most cookbooks.
GIVEAWAY DETAILS:
Busy In Brooklyn is giving a copy of Starters & Sides Made Easy! To enter the giveaway, you must:
1. Share you favorite Chanukah dish in the comments below.
2. Follow Busy In Brooklyn on Facebook, Twitter. Pinterest, and/or Instagram (one entry per media channel you follow – please specify which ones you follow in the comments).
Winner will be chosen at random on Wednesday, December 4th, 8:00 PM.
BONUS RECIPES FROM STARTERS & SIDES MADE EASY: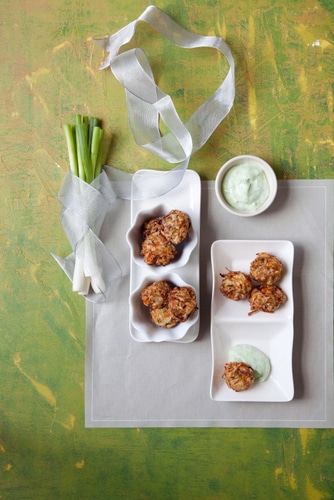 Coelslaw Balls with Jalapeno Dip
reprinted with permission from Starters & Sides Made Easy, Artscroll Shaar Press
Ingredients:
16 oz. coleslaw mix
1 1/2 teaspoons salt
3 garlic cloves, minced
1/2 tsp course black pepper
1/4 cup flour
3 tablespoons cornstarch
oil for frying
Jalapeno Dip:
3/4 cup mayonnaise
2 scallions, chopped
1 jalapeño pepper, seeded, ribs removed, chopped
2 tbsp water
1 tbsp lemon juice
1/2 teaspoon salt
pinch coarse black pepper
pinch sugar
Instructions:
1. Place the cabbage in a large strainer and sprinkle with the salt. Let stand for 15 minutes. Using both hands, squeeze cabbage very well to remove the excess water (it wont look watery to the eye, but plenty of liquid will come out when you squeeze).
2. In a large bowl, combine cabbage, garlic, pepper, flour and cornstarch. Mix until mixture becomes dough-like. Using a tablespoon and damp hands, form into falafel-sized balls.
3. Heat 2-3 inches oil in a saucepan over medium-high heat. Fry balls in hot oil until golden on all sides, 4-5 minutes total.
4. Prepare the jalapeno dip: in a small bowl, combine mayonnaise, scallions, jalapeno pepper, water, lemon juice, salt, pepper and sugar. Using an immersion blender, blend until smooth. Serve alongside coleslaw balls.
YIELD: 20-30 balls
AHEAD: You can freeze these balls, even after they are already fried. To reheat, spread them on a baking sheet and heat, uncovered in a preheated oven for about 10 minutes.
Cheesy Onion Rolls
reprinted with permission from Starters & Sides Made Easy, Artscroll Shaar Press
Ingredients:
2 cups flour
1 tsp salt
1 tsp sugar
1/2 tsp active dry yeast
1 tbsp butter
1 cup water
Filling:
3 tbsp butter, melted
1 onion, diced
1/2 cup mozzarella cheese
1 egg. lightly beaten
Instructions:
1. In the bowl of an electric mixer, combine flour, salt, sugar, yeast, butter, and water. Knead until dough is smooth. Remove to a greased bowl. Cover with a clean dish towel and let rise for 1 hour.
2. Prepare the filling: combine butter and onions.
3. Divide dough into 8 balls. Flatten each ball into a circle or square. Place a spoonful onion mixture and 2 spoons cheese in the center and fold two ends over the filing. Place an additional spoon onion mixture on top and fold over two remaining ends.
4. Brush with beaten egg and bake for 24 minutes.
AHEAD: These rolls with freeze nicely. Cover and rewarm when ready to serve.
RELATED POSTS: Passover Made Easy Cookbook Review