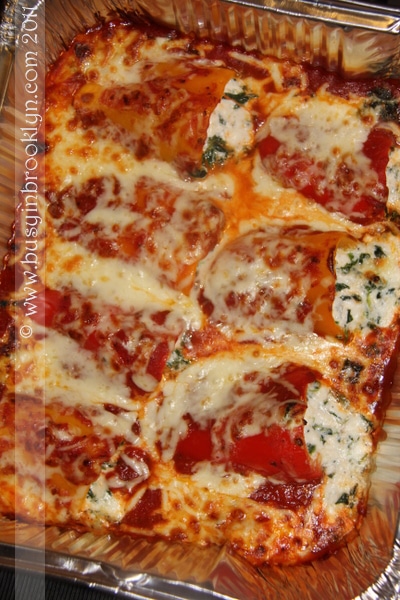 At one of our Chanukah parties recently (was Chanukah really that recent? It feels like ages ago!), my sister in-law decided to bring over some food for the low-carb dieters at the party. I was really intrigued by her idea of making stuffed shells without the pasta. Mini peppers stand in as a great replacement, adding color and sweetness to the dish. I decided to whip up my own variation by peppering up (pun intended!) a version of my mom's famous lasagna recipe. Truth be told – I still made some stuffed shells for my pasta-loving kids, but I was more than satisfied with my lighter and lower-carb variation.
Cheesy Stuffed Mini Peppers
1 15 oz. container ricotta or reduced fat cottage cheese
1/2 cup parmesan cheese
1 egg
1/4 tsp basil
1/4 tsp oregano
pinch of nutmeg
salt and pepper, to taste
1 10 oz. box frozen chopped spinach, thawed and squeezed to remove water
1 bag sweet mini peppers
1 jar marinara sauce
1 8 oz. bag shredded mozzarella cheese
Method:
Preheat oven to 375. In a bowl, mix cheeses, egg, spices and 1/2 of the spinach. Pour half of the marinara sauce into a 9×13 pan. Dot with remaining spinach. Cut the tops off the mini peppers and remove the veins and seeds. Fill with cheese mixture and place in the pan on top of the marinara sauce. Pour remaining 1/2 jar of sauce over the peppers and sprinkle with mozzarella. Bake, covered, for 30 minutes, or until peppers begin to soften. Uncover and bake for an additional 10 minutes, until the cheese is browned and crisped around the edges.
VARIATION: For traditional stuffed shells, use large shell pasta in place of the mini peppers.
1 year ago: spinach pasta