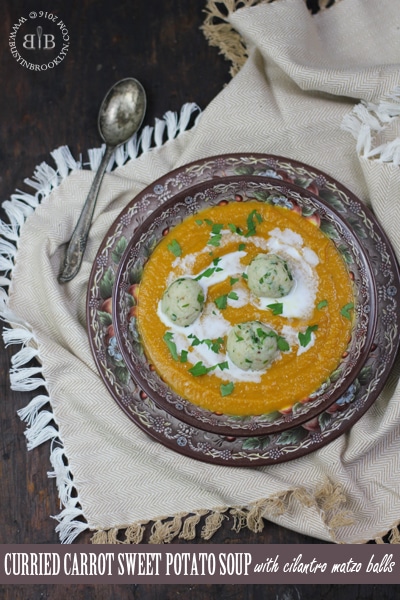 It's that time of year again. The season is (finally) changing, the leaves are starting to color, and Pumpkin Spice Latte is back on the Starbuck's menu. It's when all the blogs start to dish out their sweet pumpkin creations and I betchya thought I was one of them.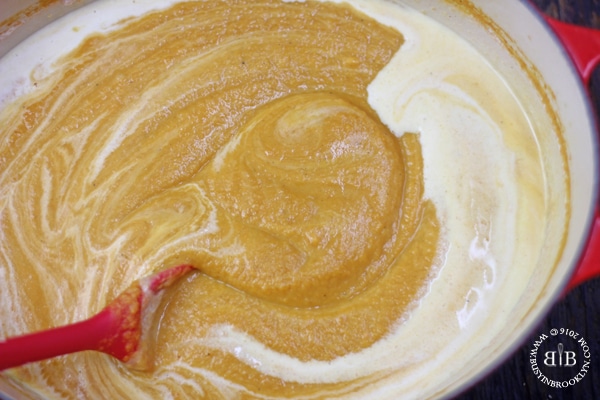 Pumpkin is alright. I even made my usual mini pumpkin pies for Rosh Hashanah last week. What I didn't make was tzimmes. Lets just say that that cloyingly sweet dish of honey-sweetened carrots and sweet potatoes (sometimes with added prunes) is not one of my favorites. My mom always makes a big pot (tradition!) with the addition of marrow bones and flanken, but somehow it always manages to make it's rounds around the table, barely making a dent in the heaping pile of sweetness. That's just it – the stuff is just. too. sweet. And the more I discuss holiday menu's with people, the more I hear that tzimmes is on the out (I guess my tzimmes roast is going to get buried real deep in the archives!)
Most people keep tzimmes on their menus because it's traditional to eat carrots over the holidays. Besides for the obvious symbolism for a sweet New Year, the Yiddish word for carrots is meren, to multiply, which is a blessing we hope for in the coming year. Not being a big fan of tzimmes, I try to incorporate my carrots elsewhere, such as in a raw slaw, or roasting them with some maple and harissa.
It occurred to me that with Yom Kippur upon us, and Sukkot not too far away, a savory play on tzimmes ingredients might we a welcome change. I decided to do that in the form of a soup, and to incorporate some of my favorite Thai flavors – curry (for some heat), honey (for some sweet) and coconut milk (for some creaminess). To make it festive and holiday worthy, I added cilantro matzo balls to round out the flavors and keep things exciting!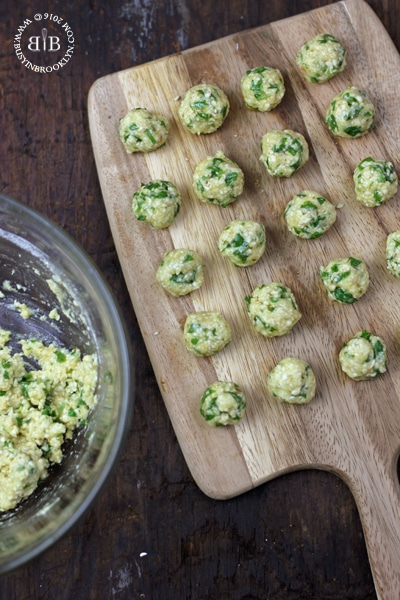 Truth be told, I'm not a big fan of cilantro but I am coming around. I used to find it completely intolerable but I am slowly sneaking in small amounts and it's growing on me. Honey + curry though are one of my favorite combinations and I use it in curries, chicken recipes, fish dishes, roasted chickpeas and even popcorn. There's something about the sweet and spicy that I absolutely love.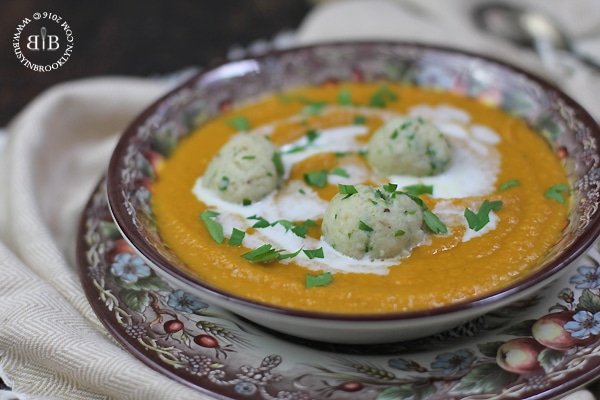 I can't tell you how many posts I've seen on Facebook recently lamenting the lack of savory recipes in kosher cookbooks. Every roast is smothered in a sweet concoction, chicken is doused in apricot jam and don't even get me started on the ridiculous amount of sugar in salad dressings. I mean, I get it. I grew up that way too. But the only way out of the sugar coma is to slowly reduce the amount of sweetness you add to recipes and to introduce more savory (and if you're open to it, spicy) food. It's all about conditioning your palette. If you go back to the old recipes on my blog, you can see for yourself how I've slowly transitioned to more savory foods. Now, when I taste a salad that's been doused in sweet dressing, I can't even swallow it.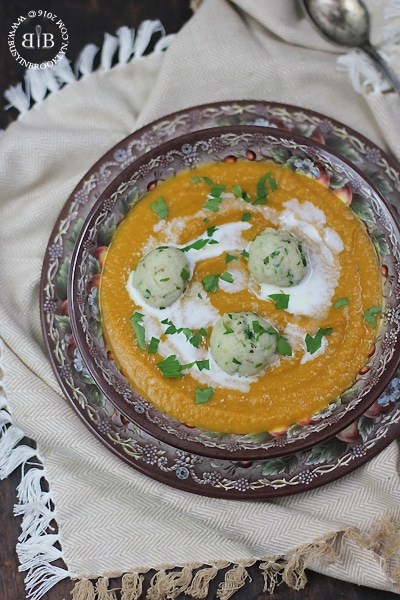 There's a place in food for all that sugar – it's called dessert, and that's why we all love it so much! And finishing a meal off with something sweet is precisely why you should start it with something savory. So, now that Rosh Hashanah is behind us, and we don't *have* to douse everything in apples and honey, lets welcome the New Year with a newer savory approach to food. This curried carrot and sweet potato soup is a great place to start because it's both sweet and savory with a nice amount of heat from the ginger and curry.
Wishing you a sweet New Year as sweet as honey and as spicy as curry. Shanah Tova Umetuka!
Curried Carrot & Sweet Potato Soup
1 large Spanish onion, peeled and diced
1 tbsp coconut oil
3 cloves garlic, minced
2 tsp minced fresh ginger
1 tbsp curry powder
4 large carrots (about 2 lbs), peeled and roughly chopped
3 medium sweet potatoes (about 1 1/2 lbs), peeled and roughly chopped
4 cups vegetable broth
1 14oz. can coconut milk
2-3 tbsp honey, or, to taste
salt and pepper, to taste
cilantro, for garnish
Method:
In a soup pot, saute the onion in coconut oil until translucent. Add the garlic and ginger and saute until softened. Add the curry powder and continue to saute until fragrant. Add the carrots, sweet potatoes, broth, salt and pepper and bring to a boil. Reduce the heat and simmer until the vegetables are soft, about 20 minutes. Puree with an immersion blender and add the coconut milk and honey. Taste and adjust seasoning, if necessary. Simmer over low heat for 10 minutes. If desired, you may adjust the consistency by adding more coconut milk, stock or water.
Cilantro Matzo Balls
1 packet Lipton matzo ball mix
2 eggs
1 tbsp canola oil
3 tbsp finely chopped cilantro
While the soup is cooking, prepare the matzo balls. Mix 2 eggs with 1 tbsp of oil and cilantro in a bowl. Add the matzo ball mix and stir with a fork until evenly combined. Refrigerate for 10 minutes.
Bring a pot of salted water to a boil. With wet hands, form matzo ball batter into small balls and place in the water. Simmer for 15 minutes.
To serve, ladle soup into bowls and garnish with coconut milk and cilantro. Add matzo balls.
NOTE: If you'd like a deeper cilantro flavor, you may increase to 1/4 cup or more. If you don't like cilantro, you can use parsley instead.
YIELD: approximately 8 cups.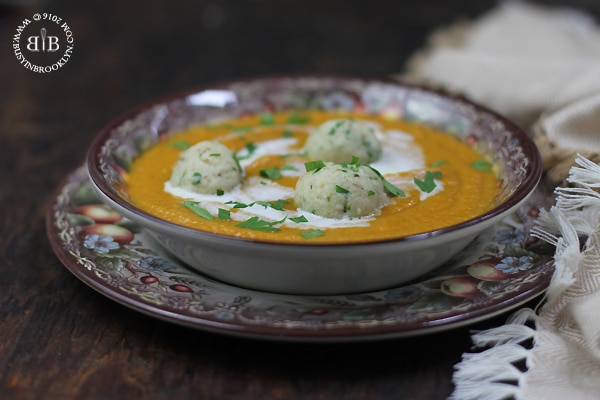 This post was sponsored by Lipton Kosher. All opinions are my own. 
Related Recipes:
peanut chicken curry
curry chicken salad
coconut crusted fish with curry aioli
curried rice salad
butternut squash soup with shallots and apples